'There is no need to damn American educational system'
Last updated on: October 12, 2011 18:43 IST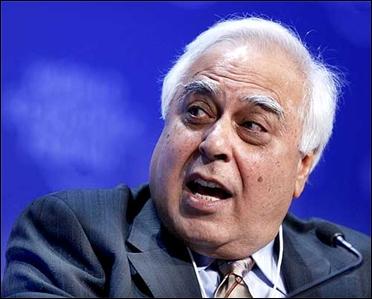 Kapil Sibal, minister of human resources and development, said that US institutions that wish to come to India should be accredited ones and should have been in the business for 20 years. Aziz Haniffa reports.
Minister of Human Resources and Development Kapil Sibal, who exhorted US investment in India's educational sector, has said that there are sufficient built-in safeguards in Indian law to keep out sham universities and colleges. Sibal had said that investments per dollar in India get a much better return than anywhere else.
Responding to a question on the duping of thousands of Indian students by the likes of Tri-Valley University and University of Northern Virginia, the minister said, "I don't think we should brush the American system in this fashion because of a few instances of sham universities and the kind of visas they've been getting without the requisite accreditation."
"We shouldn't damn the American educational system just as we don't damn the Australian system by the unfortunate incidents that took place in Australia," said Sibal. 
Sibal was in Washington to co-chair the US-India educational summit with Secretary of State Hillary Clinton.
Click NEXT to read further...
'Only accredited institutions welcome to India'
Last updated on: October 12, 2011 18:43 IST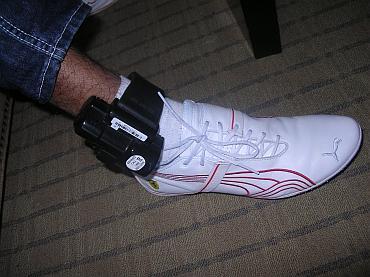 We've got a lot of collaborations to do with the American universities, but of course, that doesn't mean that we are going to allow these sham institutions to come to India, which is why we have a separate process of looking at these application by universities," said Sibal.
The minister said that institutions that wish to come to India should be accredited institutions and should have been in the business for 20 years. "That's part of the legislation. So any and everybody just can't come to India," he said.
"Number two, you have to go through the accreditation process in India. So, if you come to India, we will ensure through the accreditation process that you are a quality institution. If you want to set up a campus, then you have to set up $10 million, which would be a damper for sham universities wanting to set up shop in India," said Sibal.
Sibal said that institutions coming to India will be subject to all Indian laws, and unlike in the United States of America, there is an act coming up in Parliament -- the Education Malpractice Act -- which makes malpractices a criminal offence. He said that if something like the TVU or UNVA were to happen in India, the guilty will go to jail.
"All these caveats are already part of the legislation and hence India is well protected against such charlatans," said Sibal.
Click NEXT to read further...
'No education system and no collaboration is perfect'
Last updated on: October 12, 2011 18:43 IST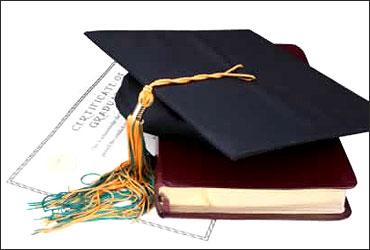 Sibal said that cases of Indian students who were victims of sham universities in the US, threatened with deportation and couldn't transfer to accredited universities, were aberrations that take place in any system. "No system is perfect. No education system and no collaboration is perfect," he said.
"There will be challenges along the road, but what's important is that we have added advantages as far as our countries are concerned, said. One, we are English-speaking -- a large population in India in English-speaking -- and two, we have at this point in time about 300 million people who belong to the middle class -- the entire population of the United States of America," said Sibal.
"If we grow at 8 percent, and I think this year the growth rate will be 8 percent, and if we continue at that rate, means that in the next 5 to 7 years or so, our middle class will be 500 million, which is more than the population of Europe," he said.
"We are an open government with a very strong judiciary and we are more democratic than the definition of democracy in some senses. We've seen it through the media of late; what better environment will you get in any part of the world, given those things," Sibal added.
Sibal said he did want to talk about other countries, but having those essential elements that make up the ecosystem for collaboration there was no better partnership than between India and the United States of America.
"If that opportunity is lost by you, then we will be doing harm to each other. This is the best opportunity you can have and this window is open because our children, the average age of an Indian by 2020 would be 29, which you will not get anywhere in the world," he said.
According to Sibal, the educated workforce from Japan to Australia and from Canada to Italy would be from India.
"The Korean minister came to see me the other day, and said that his country's big problem was that though they have all the technology, they have no children," said Sibal.
India's new ambassador to US, Nirupama Rao, who also participated in the forum, said that while there were several difficulties that Indian students in these universities were facing, "We are working with the US government to see that these difficulties are alleviated."
"But by no means, should you use this as a marker to define India-US educational linkages or the partnership we seek," she said.
Click NEXT to read further...
'Investment in India will give US a much larger return'
Last updated on: October 12, 2011 18:43 IST
Earlier, in his remarks, Sibal faulted the US model that students must come to the US for higher education and Washington's boast that there are 100,000 Indian students currently studying and attending universities and colleges in America.
"Let me assume it will increase to 200,000, but we have 200 million children waiting for a college education," he said. "So, your model that kids should fly across the Atlantic to go to Harvard, Stanford, Yale, wherever, is not a good economical model. Your investment per dollar gives you a very small return," said Sibal.
Sibal argued that the same investment in India, in collaboration with an Indian institution, will give the US a much larger return.
"So, instead of having 200,000 people come to the United States, you can actually with the same money, empower a million kids and then you can bring the 200,000 back to the United States," said Sibal.
Sibal also spoke of the philosophy behind the recent launch of the $35 tablet, Akash, and noted, "The rich in India and the children of the rich in India, can easily afford the tablets that are sold in this part of the world. They have access to them and they have no problems at all. But the poor in India -- and I am talking about these 150, 160, 170 million children, have no access to the iPad. They have no access to knowledge.
"It's a national imperative that we want to empower our children and we need to do it through new ways of technology. But it not just about new technologies, it is also about affordable and accessible technology," added Sibal.