'India better prepared than Japan to tackle disasters'
Last updated on: March 19, 2011 13:35 IST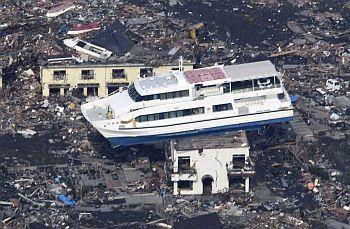 In the aftermath of Japan's earthquake as nations review their disaster management plans, our National Disaster Management Authority says India has little to worry about. Post the 2004 tsunami, the government has pulled up its socks and can handle a disaster much better than most other nations. Sahim Salim reports.
It's stocktaking time for India. Japan, which was supposed to be the leading experts on earthquakes, has been pulverised by a cumbersome disaster. The country, which frequently practiced mock emergencies, had the sophistication and cutting-edge technology to deal with such tragedies is now struggling to come to terms with the extent of damage caused by the earthquake and tsunami. Today, they find that both their technology and manpower are lacking.
For a country like India, which has far lesser sophistication and disaster management skills, it is time for some selfanalysis. How will we respond to such a disaster given the fact that a warning of the tsunami did not reach the fisherman on the coasts of Tamil Nadu in 2004.
"I will not say that we are well prepared for such a disaster, but I will definitely say that we are better prepared. The most important aspect in a disaster is awareness and we have come a long way in that department," NK Sinha, a member of the National Disaster Management Authority tells
rediff.com
.
Click on NEXT to read further...
India learnt its lessons from 2004 tsunami
Last updated on: March 19, 2011 13:35 IST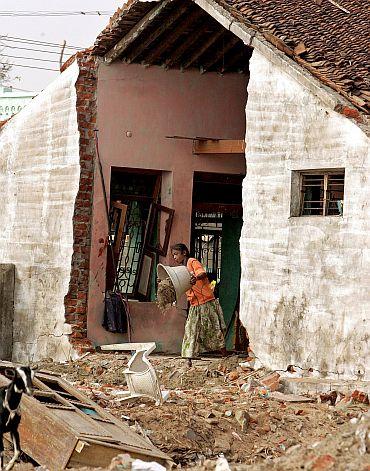 The NDMA have 10 battalions of para-military forces under its command who have been trained in rescue operations. They are been also asked to train locals in their particular districts so that people would know what to do in case a disaster strikes," Sinha says.
According to him, ever since the NDMA was set up in 2005, they have created a network so strong that it represents each district in the country.
"The NDMA is chaired by the prime minister. Then there are state-level disaster management authorities, which are chaired by the chief ministers. Then it is further divided into districts, which are jointly chaired by an elected representative and the district magistrate," Sinha said.
"In this way, we have been represented across the country, thus improving our communication network. Right after the tsunami struck the Indian coast, we set up a speaker system in both Andaman and Nicobar Islands and Tamil Nadu, wherein, a collector sitting in his office in the capital city can warn every coast in his about potential disaster," he added.
'India's disaster team faces petty challenges'
Last updated on: March 19, 2011 13:35 IST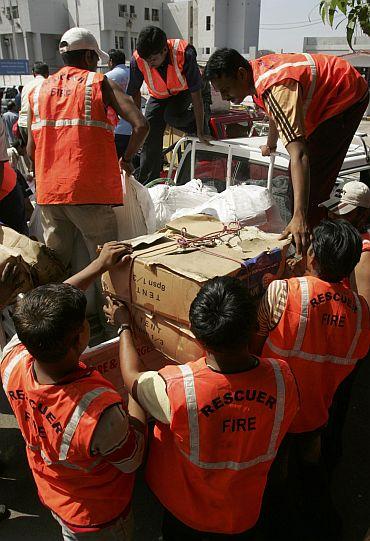 Another senior official at the NDMA says that they have the technology and sophistication to match European and American standards. But of course, the disaster management authority does face a few challenges.
"There are petty challenges in front of us. We had installed deep-sea sensors in the Indian Ocean to warn us of a pending disaster. These sensors are run by solar-powered panels. Can you believe that fishermen venturing out into the sea have actually stolen these panels? In fact, it is comical, we have just received information that there is an increase in the availability of solar panels in Orissa," the exasperated official said.
India's biggest worry: Flimsy infrastructure
Last updated on: March 19, 2011 13:35 IST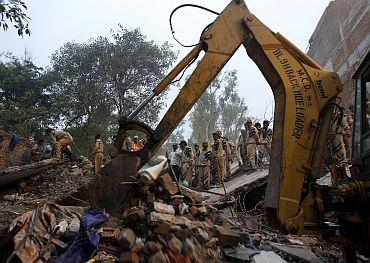 Sinha said that the other challenge they face is the infrastructure boom in cities. "There is a boom in infrastructure in Indian cities. Flimsy structures are built by violating all kinds of laws, especially in Delhi, which is in the high-risk zone as far as earthquakes are concerned. The building collapse in east Delhi in November last year occurred due to water accumulating in the basement. Imagine what will happen in case a flood strikes," he said.
According to him, building in cities across the country face similar problems. "Take for example the Khirki Village in south Delhi. There are so many flimsy multi-storeyed buildings in the area that one small earthquake can result in a disaster of tragic proportions. The challenge before the government is what they can do about these constructions. Why did the government allow these buildings to come in the first place? What is done cannot be undone, so we suggest the government to provide retro fittings to existing lifeline buildings like schools and hospitals so that they are safe in case of an earthquake," Sinha said.
We have the latest equipment to tackle quakes, tsunamis: NDMA
Last updated on: March 19, 2011 13:35 IST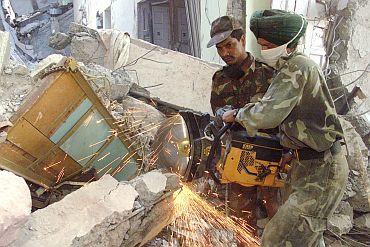 When asked about equipments available with the NDMA, Sinha said that the team is well equipped.
"We do have all the necessary equipments. What we do lack is heavy machinery because we don't have the means to transport them. For earthquakes, we have wall cutters, cameras that can go underground and other such sophisticated items. In case of a flood, we are adequately equipped with boats," he said.
When it comes to early warning systems, the NDMA has one in place in the Indian Ocean for tsunami or flood alerts. "We also have an early warning system for earthquakes in prone areas. Once these potential disasters are detected, it goes as an SMS to all members in the NDMA, including the district level authorities," Sinha said.
'Gujarat, Maharashtra best at disaster management'
Last updated on: March 19, 2011 13:35 IST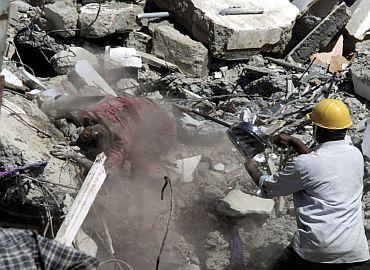 According to the NDMA, many states in the country are well prepared to handle disasters. For example, Gujarat and Maharashtra, in the aftermath of Bhuj and Latuir earthquakes, have bettered their disaster management.
"These two states respond well to our guidelines and are willing to set up infrastructure to tackle the aftermath of disasters. Hilly states like Assam and Nagaland are also prepared. There are some states in the country, which I would not like to name, that have a sluggish attitude towards our suggestions. Their attitude is more like let us see when it happens. That definitely has to change," Sinha warned.
'Will falter if calamity strikes Mumbai, Delhi'
Last updated on: March 19, 2011 13:35 IST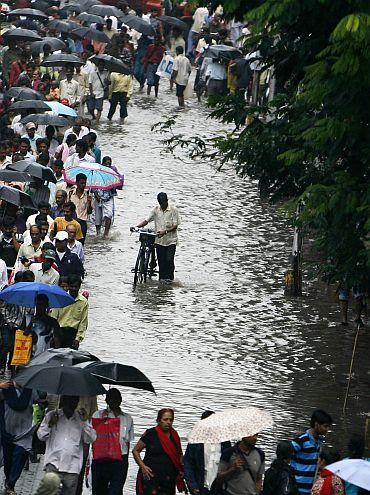 The NDMA says when it comes to floods, most states and areas prone to the disaster can survive.
"Coastal areas in the country are well prepared in case a flood strikes. People are aware of what to do. Where we falter is when disaster strikes in a non-prone area. People and authorities will not know what to do if a flood strikes in places like Mumbai or Jaipur or Delhi. That is another thing that has to change," Sinha said.
Disasters cannot be prevented. But what will help in the long run is make people aware of what to do in case a disaster strikes, he said.
"Do you remember when earthquake struck in Haiti? There were riots for food and water. That is how ill managed their disaster management team was. In Japan, nothing of the sort happened. That is because of people's awareness. That is our primary goal in India too. We want to promote awareness among people," Sinha said.