IN PICS: NYPD gears up for 9/11 anniversary
Last updated on: September 9, 2011 11:17 IST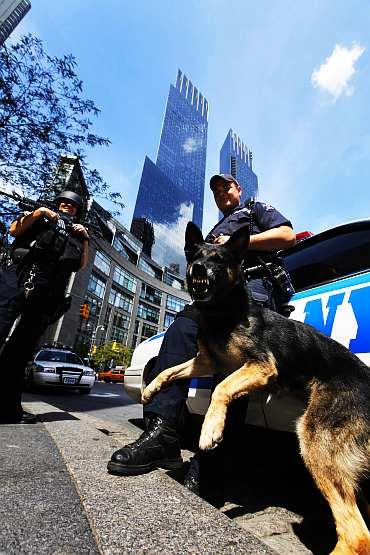 New York Mayor Michael Bloomberg on Friday said the new terror threat to the city ahead of the 9/11 anniversary is "credible but has not been corroborated". He asked people to remain vigilant as law enforcement officials further heightened security across the city.
The New York Police Department, Federal Bureau of Investigation and the intelligence
community has been on "heightened alert" as the 10th anniversary of the 9/11 attacks approaches "because we know that the terrorists view the anniversary as an opportunity to strike again," Bloomberg said in a hurriedly called news conference.
He said, "The threat (of an attack) at this moment has not been corroborated. I want to stress that it is credible but it has not been corroborated. But we live in a world where we must take these threats seriously and we certainly will."
Click NEXT to read further...
IN PICS: NYPD gears up for 9/11 anniversary
Last updated on: September 9, 2011 11:17 IST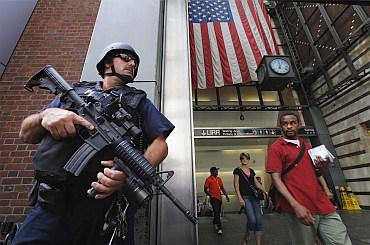 The police is deploying additional resources and taking several measures to keep the city safe, the mayor added. He urged people to be "vigilant" over the next few days and follow the "see something, say something" mantra religiously.
"Over the next few days we have to keep our eyes wide open," he said, adding that the public should not be intimidated by such threats and should not change its daily routine.
"The best way to fight the terrorists is to refuse to be intimidated by them. For 10 years we have not allowed terrorists to intimidate us and we will continue to live our lives without fear."
Bloomberg said he had spoken with Homeland Security Secretary Janet Napolitano about the nature of the threat.
Click NEXT to read further...
IN PICS: NYPD gears up for 9/11 anniversary
Last updated on: September 9, 2011 11:17 IST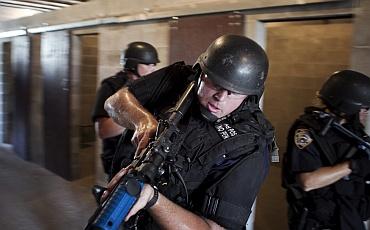 Janice Fedarcyk, assistant director in-charge of New York FBI said, "It is accurate that there is specific, credible but unconfirmed threat information. As we always do before important dates such as the 9/11 anniversary, we undoubtedly get more reporting in the coming days.
"Sometimes this reporting is credible and warrants intense focus, other times it lacks credibility and is highly unlikely to be reflective of real plots which are under way".
"We take all threat reporting seriously and we have taken all steps necessary to mitigate any threats that arise."  
Outlining the measures taken by the police department following the threat information, New York Police Commissioner Raymond Kelly said more dog squads and police vehicles will be on patrol and increased bombs sweeps of parking garages and other locations would be undertaken.
Illegally parked cars would be also be increasingly towed.
Click NEXT to read further...
IN PICS: NYPD gears up for 9/11 anniversary
Last updated on: September 9, 2011 11:17 IST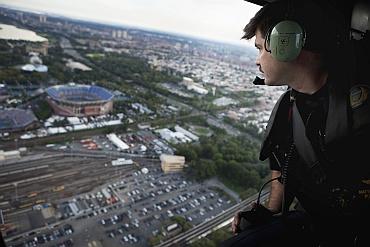 "We are taking additional precautions" like increasing bag inspections on subways and there will be heightened focus on tunnels, bridges, landmark locations, houses of worship and government buildings.
The police department will deploy quick reaction team comprising heavily armed emergency services officers and reserve of detectives trained in heavy weapons, Kelly added.
Kelly said a multi-agency exercise involving NYPD and New York, New Jersey transit authorities and the National Guard will be staged at key train stations such as Grand Central, Penn Station and Times Square.
"All of these precautions are on top of the already robust" security mechanism in place, he said.
© Copyright 2019 PTI. All rights reserved. Republication or redistribution of PTI content, including by framing or similar means, is expressly prohibited without the prior written consent.