In PHOTOS: Operation Cool in Fukushima
Last updated on: March 17, 2011 22:20 IST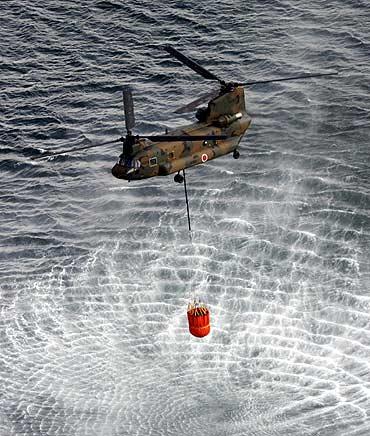 Japan on Thursday made desperate efforts to douse overheating spent fuel rods at its quake-crippled reactors in the Fukushima plant, dumping tonnes of water using helicopters and water cannon trucks amid growing concerns of a nuclear disaster.
A top United States nuclear expert warned that a "potentially catastrophic situation" could be round the corner.
"There is no water in the spent fuel pool and we believe that radiation levels are extremely high, which could possibly impact the ability to take corrective measures," the chief of the US Nuclear Regulatory Commission Gregory Jaczko said as the ominous nuclear cloud spread alarm in the US and other countries.
Click on NEXT to read further...
Japan's highest priority: Pour adequate water on the No 3, No 4 reactors
Last updated on: March 17, 2011 22:20 IST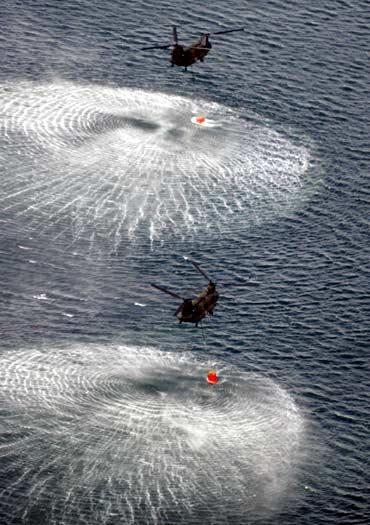 Two CH-47 helicopters of the Self-Defense Force scooped up sea water and released it over the reactors after another chopper checked radiation levels in the air, a week after the 8.9 magnitude quake and devastating tsunami rocked the country leaving 14,650 people dead or unaccounted for.
A rise in temperature causes water to evaporate and exposes the spent nuclear fuel rods, which can heat up, melt and discharge highly harmful radioactive material into the atmosphere.
Thursday's mission was part of efforts to cool the storage pools at the No 3 and No 4 reactors, whose cooling systems were not functioning. Four of the six reactors at the Fukushima plant have been affected by last Friday's twin calamities.
7,500 litre bags of seawater poured on reactors
Last updated on: March 17, 2011 22:20 IST
The choppers dumped four loads before leaving the site. On Thursday, they were forced to abort a similar operation due to concerns over high radiation levels.
The choppers dropped seawater in 7,500 litre bags and the operations will be intensified, Defence Minister Toshimi Kitazawa said in Tokyo.
Military trucks were also used to spray cooling water but the operations had to be suspended because of high radiation levels, the National Police Agency said.
"The highest priority now is to pour adequate water onto the No 3 and No 4 reactors, especially in their spent fuel pools,"
Kyodo
reported quoting Hidehiko Nishiyama, a spokesman of the state-run Nuclear and Industrial safety Agency. The two reactors were rocked by explosions earlier this week.
US military roped in to get clear picture on reactors
Last updated on: March 17, 2011 22:20 IST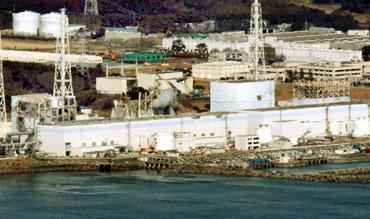 With no clear picture emerging on the exact status of the affected reactors, a US military unmanned high-altitude reconnaissance aircraft is being used to take images of the inside of the building that houses the No 4 reactor,
Japanese government sources were quoted as saying by Kyodo.
Although the No 1, No 2 and No 3 reactors that were operating at the time of the quake halted automatically with jolts, their cores are believed to have melted as they lost cooling functions in an ensuing tsunami.
An estimated 70 per cent of the nuclear fuel rods had been damaged at the No 1 reactor and 33 per cent at the No 2 reactor, Tokyo Electric Power Company, the operator of the plant, said.
The water level also dropped in the fuel pool at the No 5 reactor, posing the risk of overheating, according to the nuclear safety agency. The No 4, No 5 and No 6 reactors have had fuel rods taken out of their cores for regular checks.
Japanese government warns of massive blackout
Last updated on: March 17, 2011 22:20 IST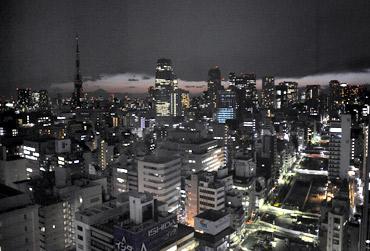 The Japanese government has warned the people to be ready for a massive blackout as power demands shot up due to dipping temperatures.
As emergency measures, railway operators have been asked to reduce the number of trains from evenings till night.
Several companies are sending their workers home early while some departmental stores in Tokyo have decided to close earlier than their scheduled timings. The government has advised people to limit use of power.
Japan struggles to pick up the pieces
Last updated on: March 17, 2011 22:20 IST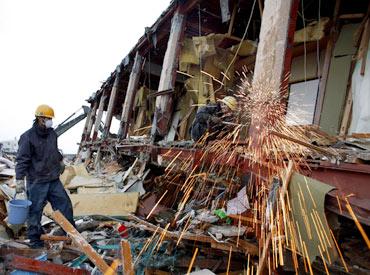 The police put at 14,650 the number of those killed or unaccounted for in last Friday's quake and tsunami. The number of confirmed dead climbed to 5,321, while the official number of missing touched 9,329, the National Police Agency said. A total of 2,383 people were injured.
However, in Ishinomaki, Miyagi prefecture, Mayor Hiroshi Kameyama told a municipal task force meeting that the number of missing people in the city of 1,60,000 was estimated to be 10,000.
According to NPA, 2,000 recovered bodies were identified in Iwate, Miyagi and Fukushima prefectures on Thursday morning, out of which 870 were handed over to their families.
In the severely-hit coastal city of Rikuzentakata in Iwate prefecture, the rubble removal work picked up pace, enabling the SDF to build roads so that rescue workers could search for victims across wider areas.
Mayor Futoshi Toba said, "There were some areas where we could not enter, but now we can go anywhere (in the city) by car." He, however, said, "We need fuels to heat, activate heavy machines and deliver relief goods to shelters, but we face difficulties."
Tsunami-hit Sendai airport reopens partially
Last updated on: March 17, 2011 22:20 IST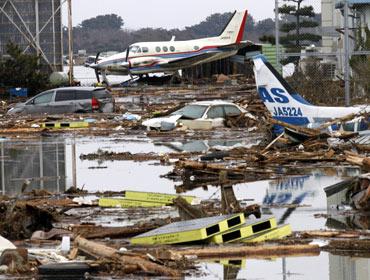 Sendai airport, which was submerged by a giant tsunami wave following the quake, reopened a part of its runway for use by police and SDF planes to transport relief material. It has not been decided when the commercial flights will resume.
Express bus lines between Sendai and Morioka as well as Morioka and Aomori were resumed on Thursday, connecting all of the six prefectural capitals, including Akita, Yamagata and Fukushima, in the Tohoku region, Kyodo said.
In another heavily-damaged coastal city of Ofunato in Iwate prefecture, elementary as well as junior and senior high schools reopened for the first time since the massive quake struck the region.
At the prefecture-run Ofunato High School, around 250 students arrived on foot or by bicycle. Ayumi Urashima, a 16-year-old student, was quoted as saying by Kyodo, "On the way to school, I met one of my friends who I had not been able to contact. We hugged each other."
Evacuate if within 50-miles radius of reactors: US
Last updated on: March 17, 2011 22:20 IST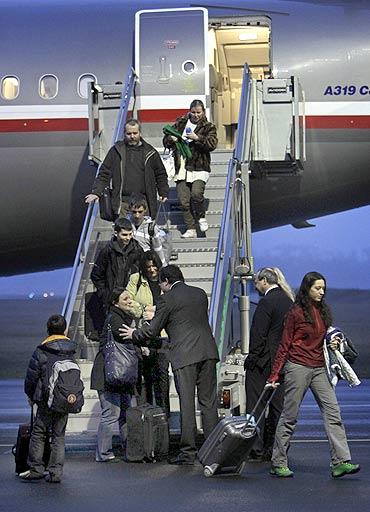 Amid increasing concerns about radiation exposure, the US asked its nationals within 50-mile radius of Japanese nuclear power plants to evacuate.
"Those American citizens who are within a 50-mile radius of the reactors evacuate from that area," White House Press Secretary Jay Carney said, after US President Barack Obama was briefed on the current situation in Japan by his national security team, including the Nuclear Regulatory Commission Chairman Gregory Jackzo.
© Copyright 2022 PTI. All rights reserved. Republication or redistribution of PTI content, including by framing or similar means, is expressly prohibited without the prior written consent.