Journalists hold rally to mark protest
Last updated on: June 13, 2011 18:34 IST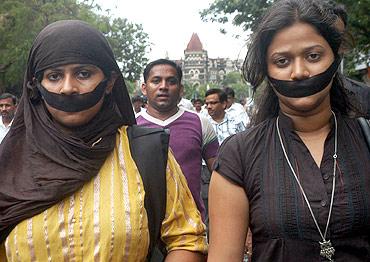 Journalists in the city on Monday staged a sit-in at the Mantralaya (state secretariat) premises, protesting the rejection of demand for a Central Bureau of Investigtion probe into the murder of senior journalist Jyotirmoy Dey.
"The 15 member delegation of journalists that met Chief Minister Prithviraj Chavan demanded a inquiry, but the demand was rejected," said Prasad Kathe, general secretary of Television Journalists' Association.
Journalists from both print and electronic media organisations and associations gathered at Patrakar Sangh in south Mumbai and marched toward Mantralaya.
Click NEXT to read further...
'State government is sensitive to feelings of journalists'
Last updated on: June 13, 2011 18:34 IST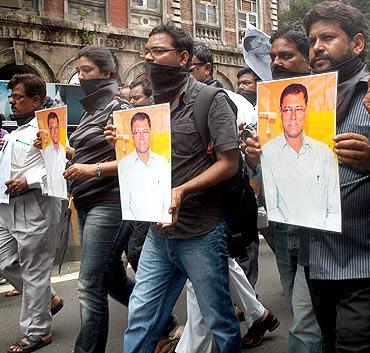 Assuring the agitating scribes of taking action, Chavan said, "The state government is sensitive to the feelings of journalists and is doing whatever it can to bring the assailants to book." He said he was personally monitoring the investigations.
The delegation that met the chief minister also demanded that an ordinance be passed regarding (proposed) a law to prevent attacks on journalists. The chief minister said he will put the draft before the cabinet on June 15.
Click NEXT to read further...
'Police expecting a breakthrough within 2 days'
Last updated on: June 13, 2011 18:34 IST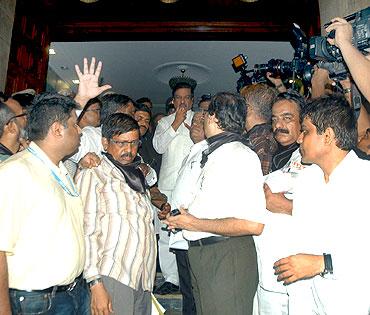 The newsmen, while demanding a CBI enquiry into the killing, also sought the resignation of Home Minister R R Patil and Mumbai Police Commissioner Arup Patnaik. However, the chief minister rejected this demand too.
However, Chavan assured the delegation that police had got some concrete evidence, and there would be a breakthrough within two days, Kathe said.
Organisations, including the Press Club, Mumbai, Marathi Patrakar Sangh, Mantralaya Ani Vidhimandal Vartahar Sangh, Mumbai Crime Reporters' Association and TV Journalists' Association, participated in the protest.
Click NEXT to read further...
'If not satisfied with action journalists will start a relay hunger strike'
Last updated on: June 13, 2011 18:34 IST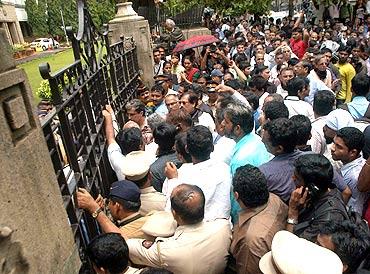 "We will wait till June 15... if not satisfied journalists will start a relay hunger strike," Kathe said. "After a week, we will move the Bombay High Court and file a petition seeking a CBI probe," he added.
Earlier in the day, a delegation of Maharashtra Pradesh Congress Committee met the chief minister at his official residence and appealed him to take urgent and appropriate steps to tackle the growing incidents of attacks on mediapersons in the state.
© Copyright 2021 PTI. All rights reserved. Republication or redistribution of PTI content, including by framing or similar means, is expressly prohibited without the prior written consent.