PHOTOS: Bengal erupts in CELEBRATIONS for Pranab
Last updated on: July 22, 2012 17:20 IST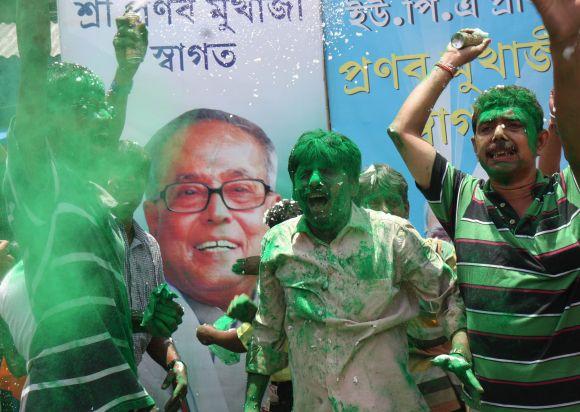 Celebrations have begun at United Progressive Alliance candidate Pranab Mukherjee native village Mirati in Birbhum district of West Bengal ahead of the formal declaration of the 2012 presidential poll results.
 
Locals were seen singing, dancing and celebrating. 
'Amder gorbo Pranab Babu' (Pranab Babu is our pride) said one of the banners put up near the gates of the house, where he conducts Durga Puja every year.
Huge flexi-boards were put up outside his ancestral house 'Mukherjee Bhavan', congratulating him on becoming the President-elect.
Songs specially written for the occasion were sung and there was beating of dhaks (traditional Bengal drum) outside the house.
 As the news of his win reached them, people played with colour and took out a procession.
 Mukherjee Bhavan will be decorated with lights and a community feast held tonight in the honour of Miriti's most celebrated son.
At Kirnahar, where Mukherjee's sister Annapurna Banerjee and her family stay and he puts up during his visits, arrangements were complete to light up the house with candles and lamps.

Mukherjee's election to the office of the President of India will bring an end the lament of Bengalis of not seeing a local boy occupying the highest constitutional post of the country.
 
Mukherjee, often referred to as the best Prime Minister India never had, began his political career in 1969 and has served in every Congress cabinet since Indira Gandhi was prime minister.
 
The counting of ballots began amidst tight security in Parliament House in the presence of authorised representatives of both Mukherjee and NDA candidate P Sangma. The ballot boxes of votes cast in Parliament House were taken up first for counting after which those from the states will be opened. 
Agencies
Please click NEXT to read further...
CONGRATULATE Pranab Mukherjee!
PHOTOS: Bengal erupts in CELEBRATIONS for Pranab
Last updated on: July 22, 2012 17:20 IST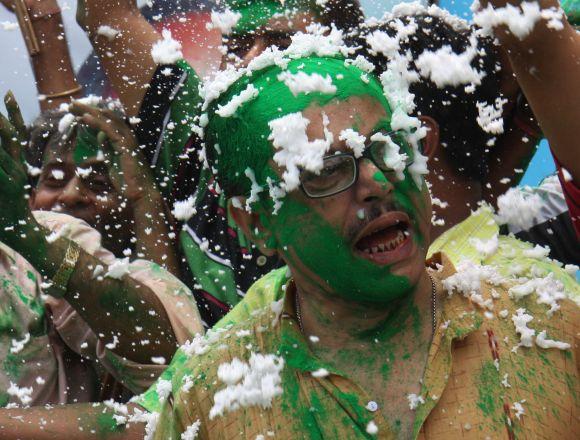 Authorised representatives inspected the seals of the ballot boxes and the counting began after it was ascertained that they were not tampered with. 
 
As many as 95 per cent of the 4,896 electors -- 776 MPs and 4,120 MLAs -- had exercised their franchise on July 19 at the polling centres set up in Parliament House and 30 other states and Union territories with assemblies. 
 
Mukherjee nears the finish line of Rashtrapati Bhavan, as his candidature has been backed by major outside allies like the Samajwadi Party and Bahujan Samaj Party besides the UPA. 
PHOTOS: Bengal erupts in CELEBRATIONS for Pranab
Last updated on: July 22, 2012 17:20 IST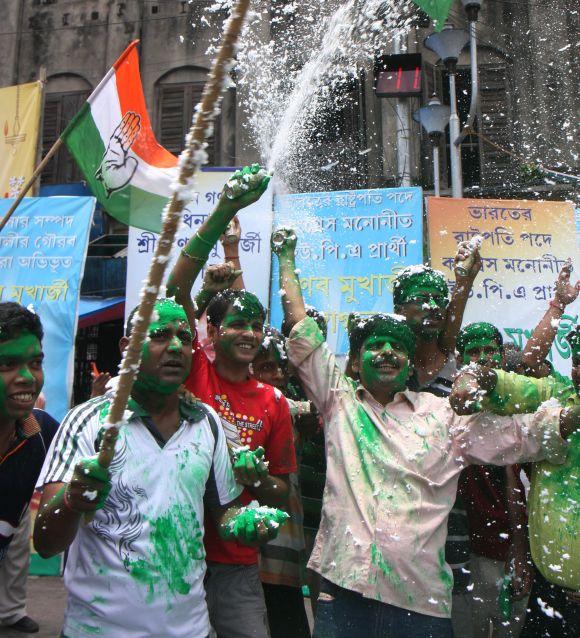 Trinamool Congress, Rashtriya Janata Dal, Janata Dal-Secular, Communist Party of India-Marxist, YSR Congress and Forward Bloc have also extended their support to Mukherjee along with National Democratic Alliance partners Janata Dal-United and Shiv Sena.
 
Even before the election results are to be declared for the President poll, friends, relatives and Congress leaders have made a beeline for Pranab Mukherjee's Talkatora Road residence in New Delhi to congratulate him.
Mukherjee is expected to emerge the winner by a comfortable margin in the poll and one of the first leaders to reach and greet him here was Rajasthan Chief Minister and Congress leader Ashok Gehlot.
PHOTOS: Bengal erupts in CELEBRATIONS for Pranab
Last updated on: July 22, 2012 17:20 IST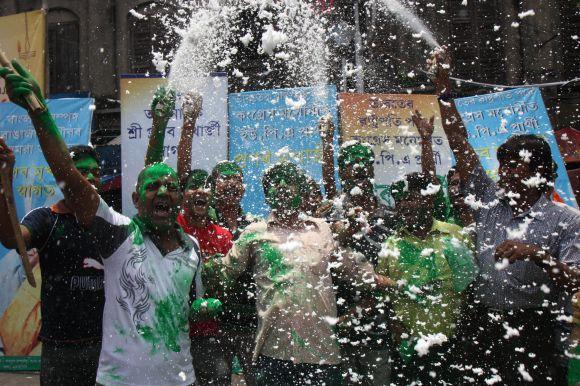 Explaining his early arrival, Gehlot told reporters gathered outside that he had come early to congratulate Mukherjee as he anticipated a rush later.
Following Gehlot's arrival, Congress party leader from Madhya Pradesh Suresh Pachauri also reached Mukherjee's residence. Mukherjee also received partyman Manas Bhuyian, who is a minister in his home state of West Bengal.
By the afternoon more visitors congregated at his residence with former Chhattisgarh Chief Minister Ajit Jogi and Maharashtra Congress leader Patang Rao Kadam being the known faces among them.
"I have come here to congratulate and have sweets," Jogi quipped while entering Mukherjee's residential compound.
PHOTOS: Bengal erupts in CELEBRATIONS for Pranab
Last updated on: July 22, 2012 17:20 IST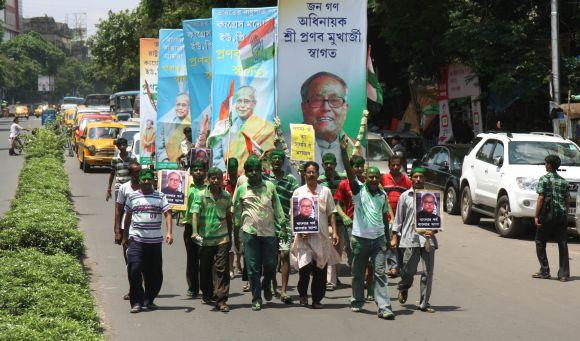 Outside the premises, Congress workers were distributing sweets and a seven-member band rendered the atmosphere festive with its celebratory music.
A sizeable contingent of security and police officers were posted at Mukherjee's compound due to high movement of VIPs.
P A Sangma, a former Lok Sabha Speaker, jumped into the fray playing the tribal card with the initial support of the Biju Janata Dal and the All India Anna Dravida Munnetra Kazhagam.


PHOTOS: Bengal erupts in CELEBRATIONS for Pranab
Last updated on: July 22, 2012 17:20 IST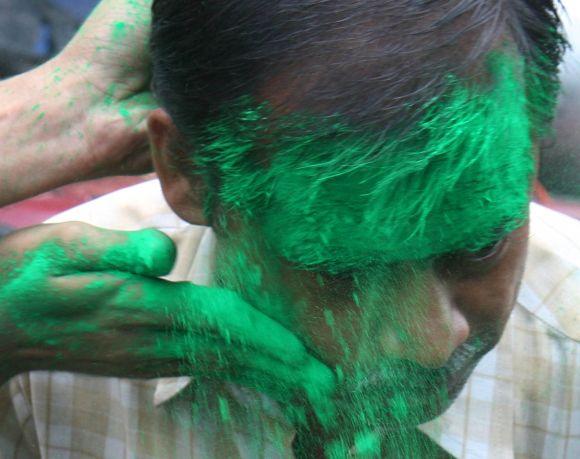 The BJP and Akali Dal decided to back Sangma, who quit the NCP, the party he founded with Sharad Pawar, to contest the election.
 
The new president will be administered the oath of office by the Chief Justice on July 25 at the historic Central Hall of Parliament.
 
The President of India is the head of state of the Republic of India. The President is the formal head of the legislature, executive and judiciary branches of Indian Democracy and is the commander-in-chief of the Indian Armed Forces. The powers to pardon and clemency are vested with the President of India.
TOP photo features of the week
Last updated on: July 22, 2012 17:20 IST
Click on MORE to see another set of PHOTO features...