In Dhaka: With Messi and Manmohan, without Mamata
Last updated on: September 15, 2011 14:05 IST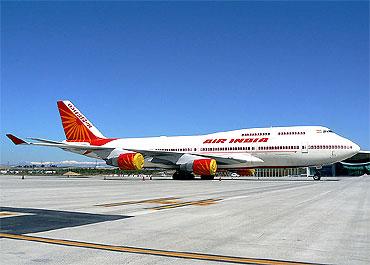 We see several huge banners of welcome strewn across the city. They are not for Dr Singh. The world's greatest footballer is in town, you see.
Rediff.com's Sanchari Bhattacharya, who travelled with the prime minister to Dhaka, provides a lively glimpse of the proceedings:
Bright pink and yellow luggage tags. Check. Passport. Check. Flight ticket for Air India One. Check.
I am going through the list of must-have items I need as I stand, bleary-eyed, at the AFS, Palam in Delhi. I am headed to Dhaka, Bangladesh, as part of Prime Minister Manmohan Singh's media delegation for his much-anticipated bilateral visit to the neighbouring nation.
Unlike most of the 30-odd journalists who will fly with me on AI 001, this is my first trip as part of the PM's entourage. I am endlessly excited and supremely nervous; also a little sleepy.
It is 6 am -- our official reporting time -- as all security formalities have to be completed by 7 am.
The formalities barely take any time. But I do have to flash my tickets and passport to several serious looking officials, over and over again, before I can make my way in.
After having some very questionable tea at the base, I make a beeline for the flight. It is difficult to believe that we are on an Air India flight; the stewards and stewardesses on board are actually good looking and polite! In fact, most of them smile more than models in a Colgate advertisement.
From the moment I sink into my luxurious seat, I feel like a member of the bridegroom's family at an Indian wedding. I am offered beverages, juices, pastries, sandwiches, rolls, hot/cold towels and what not. I lose count of the number of times I say, 'no thank you'.
In Dhaka: With Messi and Manmohan, without Mamata
Last updated on: September 15, 2011 14:05 IST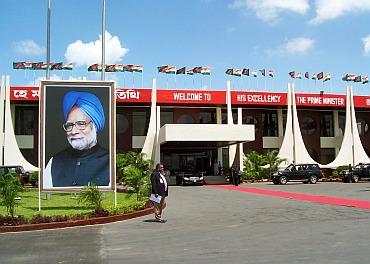 Officials from the ministry of external affairs and Special Protection Group personnel trudge in and out as the flight prepares to take off.
There is an announcement welcoming the PM, his wife Gursharan Kaur and the four chief ministers of Mizoram, Meghalaya, Assam and Tripura on board.
After a most delectable breakfast, I doze off, only to be woken up by feverish activity around me. One of the top officials accompanying the PM is here to give us a sneak peek into what to expect from the Dhaka trip. He fields the tough questions -- the Teesta Treaty falling apart, Mamata Banerjee's absence, Anup Chetia's extradition et al -- with the acumen typical of a seasoned diplomat.
Soon, it is time to land. The Hazrat Shahjalal Airport in Dhaka has giant posters of the PM and Sheikh Hasina, both of them smiling as broadly as the AI crew. Behind them, a red banner welcoming Dr Singh in Bengali and English is such a massive one that Chinese satellites could probably spot it!
Sheikh Hasina, smiling almost as much as her poster, welcomes Dr Singh. Somebody next to me croons, "Oh, I just love her sari."
Our PM, smiling genially, is introduced to the important members of the Bangladesh administration. He proceeds to receive what, after seven years in the hot seat, must be his 50th ceremonial guard of honour. I manage to elbow my way in to get a closer look but am intercepted by suspicious Bangladeshi security personnel.
In Dhaka: With Messi and Manmohan, without Mamata
Last updated on: September 15, 2011 14:05 IST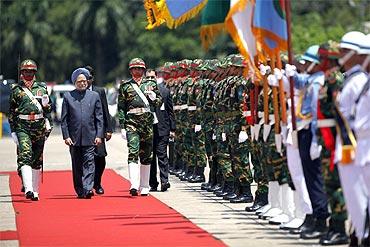 "Is it a camera?" asks the Bangladeshi security personnel, pointing at my innocuous Kodak. No, I feel like telling him, it is a bomb actually. But when I tell him, in Bengali, that it is indeed a camera, he turns immediately affable and asks his fellow suspicious security men to clear the way.
Our ride to the hotel from the airport, thanks to Dhaka's legendary traffic jams, is a long one. We see several huge banners of welcome strewn across the city. They are not for Dr Singh.
Argentina's Lionel Messi, currently the world's greatest footballer, is in town. And Dhaka has gone berserk with football fever.
"What is with these Bengalis? They can't play football to save their lives, but they act crazy about it," sneers a senior journalist. An argument defending our passion for football ensues and continues till we reach the hotel.
We are slightly startled at the sight of scores of Special Security Force personnel manning our hotel. Dr Singh is staying at a different hotel and we journalists can't be that important.
It turns out that Lionel Messi is staying at our hotel, hence the Fort Knox-level security. The hotel has turned blue and white for the grand occasion and many of its employees are wearing the Argentina team's jersey.
As I discuss my hopeful plans of running into Messi in the corridors, I am told that during the few brief seconds he is spotted outside his room, he is surrounded by a bevy of heavily armed men with perpetual scowls.
"You seem more interested in Messi than in Manmohan," adds my informer.
In Dhaka: With Messi and Manmohan, without Mamata
Last updated on: September 15, 2011 14:05 IST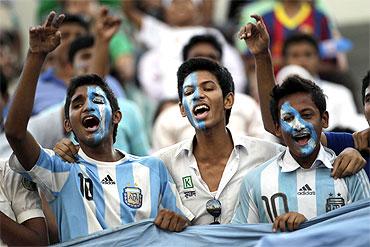 In the evening, as I sit in the bus ferrying Indian media personnel to the Bangaldesh prime minister's office, I see hundreds of Messi fans waiting enthusiastically outside the hotel. Some of them peer at our bus hopefully, probably wondering if it is carrying their hero.
"If they see us, they will be so disappointed that they might stone the bus," observes a scribe. "Anyway, we have disappointed Bangladesh enough by refusing to share Teesta's water."
Dr Singh and his Bangladeshi counterpart are holding talks on a host of crucial issues. The two nations are expected to ink a number of agreements in the fields of cooperation, trade and transit.
The wait for the two premiers to finish their talks is a long one, made a little more bearable by the snacks arranged for by the Bangladeshi PMO. Furious speculation on disagreements over agreements and deal breaking demands go on.
Every five minutes, a Bangladeshi official assures us that the 'the prime ministers will be here right away', while a harrowed man rushes to the podium and checks the microphones.
The premiers make their entry without much warning and minimum fuss. A sudden hush is the only signal that two of South Asia's most powerful leaders are here. Sheikh Hasina is wearing another beautiful sari while Dr Singh seems to have on the exact same half-smile he was wearing at the airport hours ago.
Several deals are signed and applauded; handshakes abound. Many hyped ones -- those on the Teesta, transit, access to ports -- remain in limbo.
Dr Singh then leaves for a banquet hosted by the Bangladeshi premier. We rush to the hotel to file our reports/bytes/analysis on the deals that were signed and the deals that were missed. MEA officials, incredibly efficient and helpful, urge us not to miss our dinner in all the filing frenzy.
In Dhaka: With Messi and Manmohan, without Mamata
Last updated on: September 15, 2011 14:05 IST
The next day unfolds on an unexpected note. As Dr Singh is addressing a room full of bureaucrats, academicians and politicians at Dhaka University, text messages alert us about the blast at the Delhi high court.
Later, a few of us decide to wait in the lobby of the hotel the PM is staying in, hoping to get a statement from National Security Advisor Shivshankar Menon.
Soon, we spot Dr Singh, External Affairs S M Krishna and Menon, who are on their way back after visiting the Bangabandhu museum.
"Sir, sir, could you say something about the blast?" we ask the PM, almost sure of a negative answer.
To our extreme surprise (and to the surprise of the SPG men who are trying to shoo us away), the normally taciturn PM readily steps forward to talk to us. In an unemotional but succinct, statement, he terms it an act of cowardice. "The fight against terrorism will be a long one," Dr Singh says, adding, "But we will win it".
Back at the hotel, as I grab a quick lunch, I am joined by two friendly Bangladeshi women, both employees of the Indian high commission in Dhaka.
"We have been working round the clock to put things in place for this visit. Your PM's visit is a very, very, important event for this country," says one of them.
After promising to visit Dhaka again, and for a longer stretch, I head back to the airport to catch my flight home.
In Dhaka: With Messi and Manmohan, without Mamata
Last updated on: September 15, 2011 14:05 IST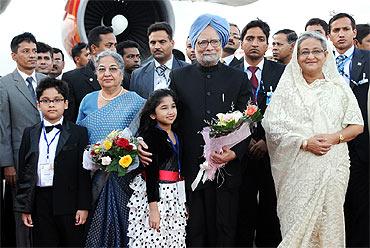 I am not sure if the welcome banner is still there, but a bright red carpet waits for the PM. ("Please, please don't walk on the red carpet, it will get soiled," implores a local official.)
Back on Air India One, the same wide smiles and the same range of endless savouries greet me. After the drinks and before the dinner, Dr Singh indulges us with a short media interaction.
Up close, he seems more relaxed (but with the same measured smile) and warmly speaks about his first visit to Dhaka years ago. The PM seems to have readymade, comprehensive and non-controversial answers for the variety of questions thrown at him -- on water sharing, the Delhi blast, Anna Hazare, the deadlock in Parliament and so on.
I squeeze a question in (and am later severely rebuked by the PM's media advisor Dr Harish Khare for chewing gum while doing so).
Dr Singh seems to veer off the script only once, when he asks the media personnel with a (wider) smile, "I do hope you were well taken care of."
Yes, we were Mr Prime Minister, thank you.