Imran Khan suspends talks with Sharif govt; vows to fight 'till the last ball'
August 21, 2014 18:03 IST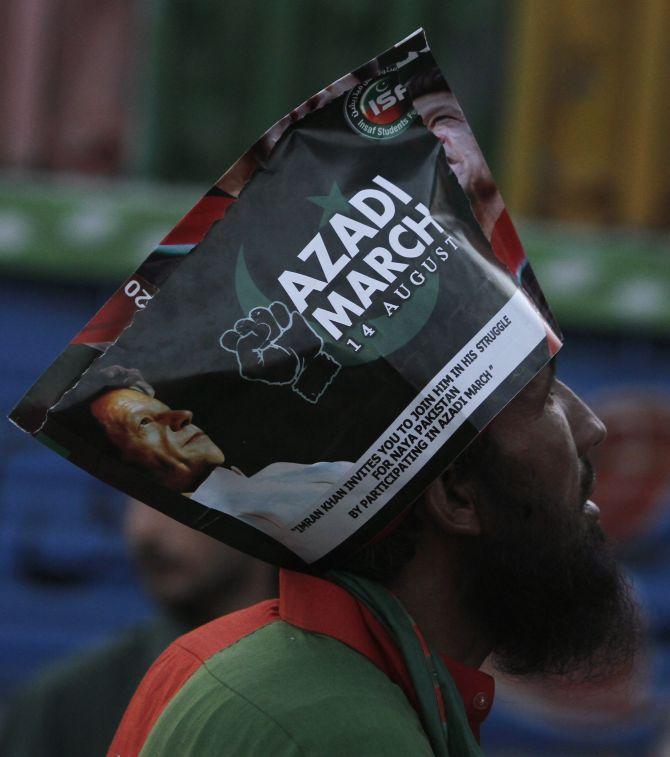 Pakistan's opposition leader Imran Khan on Thursday hardened his stand by withdrawing from dialogue with the government and vowed to continue his fight till the end, apparently buoyed by the Supreme Court's washing off its hands of the protests.
Pakiatan Awami Tehreek chief cleric Tahirul Qadri whose thousands of supporters have combined with Khan's supporters also stayed put in the 'Red Zone' where important government buildings including the Parliament House, Prime Minister House, President House, the Supreme Court besides the embassies are housed.
PAT whose leaders met with government representatives on Wednesday held no fresh talks on Thursday.
Please click NEXT to read more…
Imran Khan suspends talks with Sharif govt; vows to fight 'till the last ball'
August 21, 2014 18:03 IST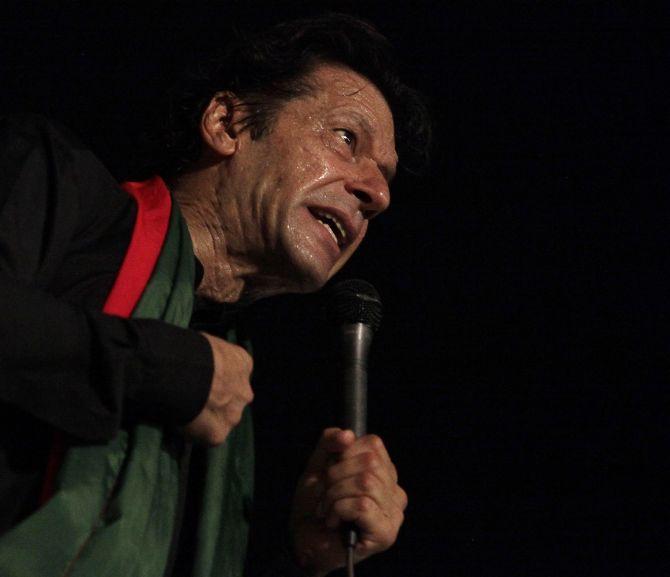 Khan relented late Wednesday night from his 'no-talks' position until Prime Minister Nawaz Sharif resigns. A team of\ his party leaders held discussions with the government representatives.
The Pakistan Supreme Court on Thursday rejected the government's plea for an order for the eviction of protesters besieging the Parliament, saying it is an administrative matter and should be dealt with in accordance with the law.
Emboldened by the court's stand, Khan upped the ante against the Sharif government, announcing that he would not talk to the government until the PM resigns.
A visibly charged PTI Chairman Khan on Thursday afternoon called on his supporters to expand the civil disobedience movement into all the provinces. "It is our democratic right to protest...we are not breaking any laws. I request the Supreme Court to have these containers removed so that life can return to normal," said Khan, addressing his supporters camped outside the parliament.
Please click NEXT to read more…
Imran Khan suspends talks with Sharif govt; vows to fight 'till the last ball'
August 21, 2014 18:03 IST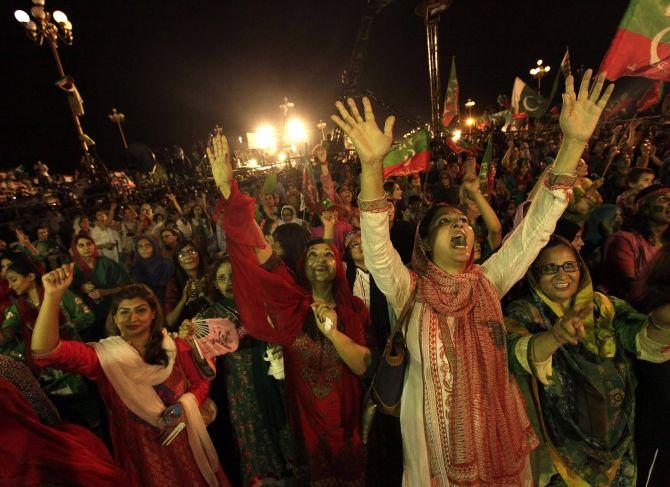 "The talks with the government are over. How can these talks proceed when we first want resignation of Prime Minister Nawaz Sharif?" Khan said.
Khan asked his supporters from all provinces to converge in Islamabad. He vowed to fight "until the last ball". "PTI suspends negotiations with the government committee. Their attitude is totally opposite compared to their dialogues call," the PTI party said on Twitter.
PTI leader Shah Mehmood Qureshi said the decision had been conveyed to Governor Punjab Chaudhry Muhammad Sarwar and it was taken because the government's actions were opposite to their dialogue call. "Police has begun crackdown against PTI workers and is once again blocking roads in Islamabad," he said.
Qureshi's statement came as the government team reached a local hotel here to hold talks with the PTI team which did not turn up for the meeting, Geo News reported.
© Copyright 2022 PTI. All rights reserved. Republication or redistribution of PTI content, including by framing or similar means, is expressly prohibited without the prior written consent.