Impossible for Rahul to become PM: Thackeray
Last updated on: January 9, 2012 17:21 IST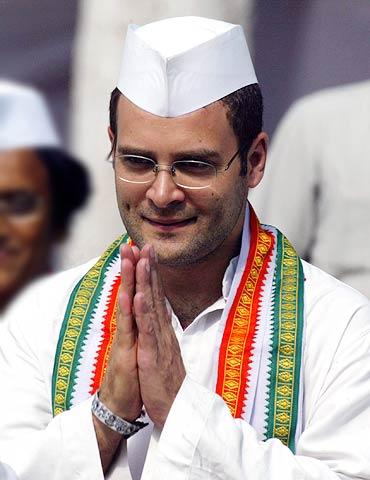 Targeting All India Congress Committee general secretary Rahul Gandhi, Shiv Sena chief Bal Thackeray said the Congress leader has no prospects of becoming prime minister of the country.
"Never. Its not possible," Thackeray said in the second part of his interview to his party mouthpiece Saamna, when he was asked whether the Congress scion will become the PM.
Thackeray said he does not see leadership qualities in today's Congress leaders. "The era of Gandhi, Nehru, Govind Vallabh Pant is gone. Now, there is nobody," he said.

Click NEXT to read further...

'Era of Gandhi, Nehru, Govind Vallabh Pant'
Last updated on: January 9, 2012 17:21 IST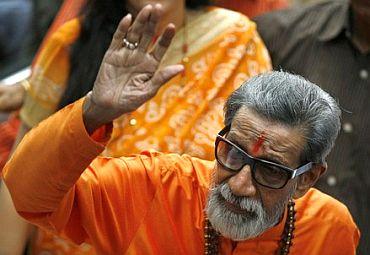 Hitting out at the Union Government for the 4.5 per cent minority sub-quota within 27 per cent reservation, Thackeray said the country will have to pay a very heavy price for this decision. "Mark my words. It is preparation for the country's second partition," he said.
Blaming Ahmed Patel, AICC president Sonia Gandhi's political secretary, Thackeray said, "He is the man responsible for the chaos."

'Dr Singh is like a wax figure'
Last updated on: January 9, 2012 17:21 IST
Likening Prime Minister Manmohan Singh to a "wax figure", Thackeray criticised him for "turning a deaf ear" to the demand for making Belgaum a union territory till the Maharashtra-Karnataka boundary dispute is settled by the Supreme Court.
"He heard the issue during a meeting with the all-party delegation from the state for only three minutes. What kind of leadership is this? There is no study of the issue," he said.
Check out our TOP photo features
Last updated on: January 9, 2012 17:21 IST
Click on MORE to see another set of PHOTO features...
© Copyright 2022 PTI. All rights reserved. Republication or redistribution of PTI content, including by framing or similar means, is expressly prohibited without the prior written consent.