Egypt celebrates Mubarak's fall with victory march
Last updated on: February 18, 2011 18:54 IST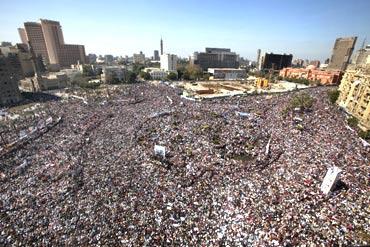 Waving flags and playing musical instruments, tens of thousands of Egyptians on Friday packed Cairo's Tahrir Square, the hub of the 18-day revolt that toppled President Hosni Mubarak, for a "victory march" and to keep up pressure on the new military rulers to carry out democratic reforms.
The groups, which had organised the uprising, called it the 'Friday of Victory and Continuation', reflecting both their achievement in forcing 82-year-old Mubarak out and their concerns about the future.
On the day of prayers and celebrations, many flag-draped protesters played musical instruments at the square, which wore a festive look and where a large number of children were also present.
Click on NEXT to read further...
Egypt celebrates Mubarak's fall with victory march
Last updated on: February 18, 2011 18:54 IST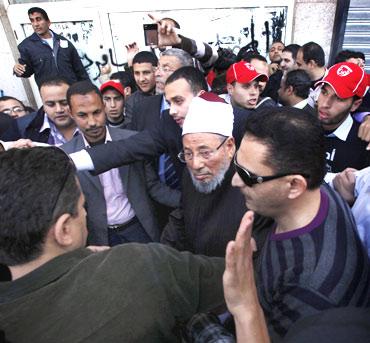 The Coalition of the Revolution Youth, an alliance of pro-democracy groups that helped launch the revolt, called on the gathering to remember the martyrs of freedom and dignity and justice,
Al-Jazeera
reported.
At least 365 people were killed and 5,500 injured during the protests against Mubarak's 30-year regime, according to Egypt's health ministry.
Pro-democracy activists also sought an investigation into the killings during the uprising, lifting the decades-old emergency law and support for the pay strikes by workers across the country. "We are going to commemorate the martyrs and in doing so we are awaiting justice," Mohammed Waked, a protest organiser, was quoted as saying by the pan-Arabic satellite channel.
"If those detained during the protests are not released, let alone the older political prisoners, it would be a bad sign," he said. "It would show the army is not sincere about political reforms."
Egypt celebrates Mubarak's fall with victory march
Last updated on: February 18, 2011 18:54 IST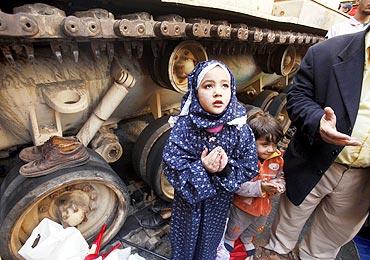 The coalition has vowed to maintain pressure to ensure the rest of its political demands are met, including the "immediate release of all detainees," it said in statement posted on Facebook.

The situation in Egypt remains unsettled amid labour strikes and apprehensions that the military council running the country may not implement promised democratic reforms.

Protest organisers have kept up pressure on the interim military government, demanding that political prisoners be freed, emergency rule lifted and fair elections held soon.

Rights groups have claimed that hundreds of people went missing during the protests and alleged army's involvement.
Egypt celebrates Mubarak's fall with victory march
Last updated on: February 18, 2011 18:54 IST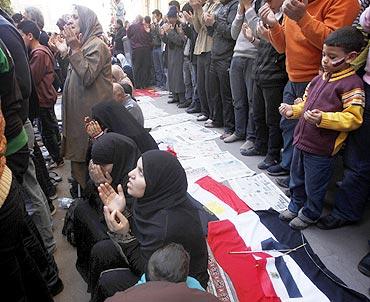 Since Mubarak's fall a week ago, Egyptian workers have been staging pay strikes despite calls from the military for them to return to work and warnings of "disastrous" consequences.
Workers are seeking resignation of leaders of state-controlled trade unions and company board members, accusing them of corruption, and demanding higher wages and better working conditions.
Egyptian authorities on Thursday arrested three former ministers, including ex-Interior Minister Habib el-Adly who was widely blamed for the brutality by riot police while trying to quell protests, media reports said.
The other two arrested were Ahmed Maghrabi, former housing minister; and Zuheir Garana, ex-tourism minister.
Egypt celebrates Mubarak's fall with victory march
Last updated on: February 18, 2011 18:54 IST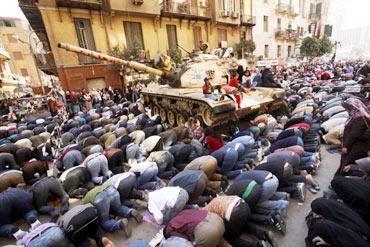 Meanwhile, the United States has announced $ 150 million in aid to Egypt in support of its transition towards democracy following the ouster of Mubarak.
The Obama administration is also dispatching William Burns, the under secretary of state for political affairs, and David Lipton, a senior White House adviser on international economics, to Egypt next week for talks with the interim military government on the issues related to transition.
© Copyright 2019 PTI. All rights reserved. Republication or redistribution of PTI content, including by framing or similar means, is expressly prohibited without the prior written consent.