AP govt in crisis as 73 MLAs quit over Telangana
Last updated on: July 4, 2011 17:13 IST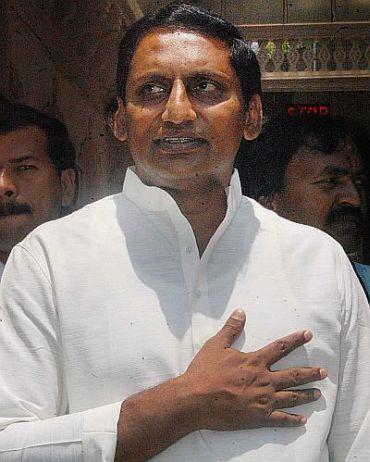 Vicky Nanjappa reports on the dilemma that the Andhra Pradesh government headed by Kiran Kumar Reddy faces in the wake of Congress legislators from Telangana resiging from their seats to press for a separate state.

The Andhra Pradesh assembly plunged into crisis on Monday with 71 MLAs both from the Congress (39 MLAs) and Telugu Desam Party (34 MLAs) resigning to their posts.

The Telugu Desam Party decided to go ahead with its resignations after it saw that the Congress MLAs had come out in majority.

Currently, 39 Congress MLAs have decided to resign and a couple more are yet to follow suit. However, around 11 MLAs from the Hyderabad region, have not yet made any decision as yet.

Sources say their resignations would depend on public pressure.

Constitutional experts say that the Kiran Kumar Reddy government is in crisis as of now.

Click on NEXT to read further...


AP govt in crisis as 73 MLAs quit over Telangana
Last updated on: July 4, 2011 17:13 IST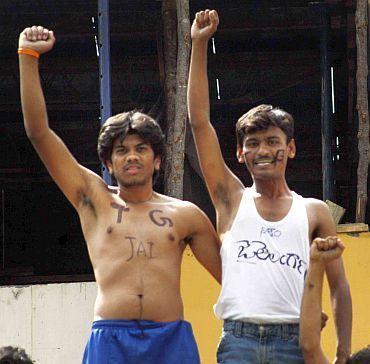 Although it may manage the magic number, but it would not have a moral right to continue.

With these resignations, the representation of an entire region ie Telangana is missing in the assembly.

However, there is a bit of time before the crisis becomes bigger.

The resignations, which were submitted to the Deputy Speaker as the Speaker is out of town, have not yet been accepted. They have been kept in abeyance as of now.


AP govt in crisis as 73 MLAs quit over Telangana
Last updated on: July 4, 2011 17:13 IST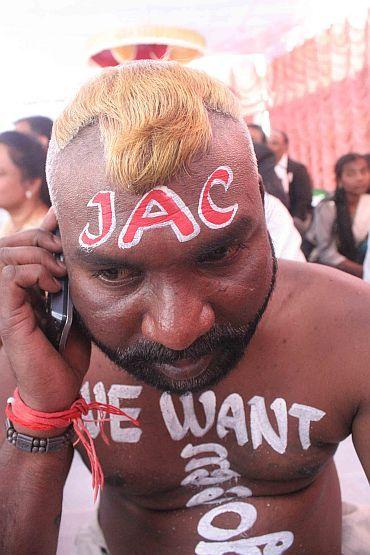 There is a clear cut directive from the high command not to acceot these resignations unless the meeting with the Telanagna leaders is complete at New Delhi on Monday evening.

Experts point out that once these resignations are accepted nine districts from Telangana will not have any representation in the assembly. A government cannot function in this manner.

If the resginations are accepted then the House may have to be kept under suspended animation. The issue of dissolving the House is the last option the Congress may take, as there are three more years for the term of this government to be completed.

Even at the Centre, there is confusion regarding the number with one camp saying all 12 MPs would resign while another maintaining that only 11 would go ahead.
In the house of 294, the Congress has 156 seats.


AP govt in crisis as 73 MLAs quit over Telangana
Last updated on: July 4, 2011 17:13 IST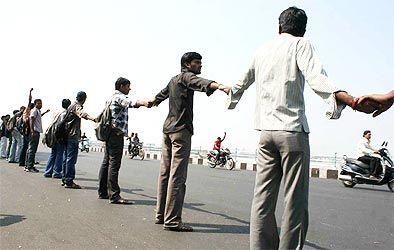 Rebel Congress MLA Konda Surekha also resigned from her post in line with the decision taken by her party colleagues demanding creation of Telangana state.
Surekha, who is currently sailing with YSR congress party, met Assembly Deputy Speaker Mallu Bhatti Vikramarka and submitted her resignation.
She represents Parakala in Warangal district, the hotbed of Telangana agitation.
After submitting her resignation, Surekha demanded that Telangana Rashtra Samithi (TRS) President K Chandrasekhar Rao and Medak MP Vijayashanthi also quit their posts within 48 hours.


AP govt in crisis as 73 MLAs quit over Telangana
Last updated on: July 4, 2011 17:13 IST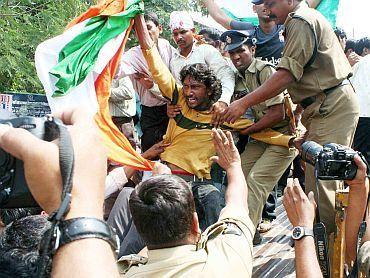 The Congress high command in New Delhi will hold a meeting with the MLAs from Telangana on Monday.

Reactions pouring in from the regions of Telangana indicate that all the people are behind their leaders.

We will ensure that they are elected with a record number of votes, voters from Telangana region say.

Lateed Mohammad Khan, the leader of the Telangana Forum for Muslims, says that he has been travelling across the region and the voters today have a change in heart.

It would be in the interest of these MLAs to live up to their promise and not go back on their word since it will prove fatal for them, he said, adding that there is a lot of enthusiasm among the people of Telangana as they always knew that something could happen only if the Congress MLAs from Telangana resigned and threatened to bring down the government.


AP govt in crisis as 73 MLAs quit over Telangana
Last updated on: July 4, 2011 17:13 IST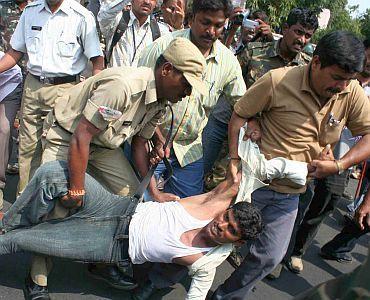 At the Osmania University, the students have decided to adopt a wait and watch policy.
The students say that it was very important that the Congress MLAs tendered their resignation.
We do welcome the resignations by the TDP as well. It does create a constitutional crisis, but the reaction from the centre would have come only if the Congress MLAs resigned. We are keeping a close watch on the developments and these MLAs, we suppose are wise enough not to back track. This is a make or break situation for them and if they back track it is better they take political sanyas, said Dr Prithviraj, the leader of the students.