I am not a liar, Digvijay on Karkare claim
Last updated on: December 14, 2010 19:13 IST
A day after he claimed of having proof of his phone talk with Hemant Karkare just before the 26/11 attacks, Congress leader Digvijay Singh on Tuesday said he has not been able to get the phone records but stuck to his remarks about threat to the police officer from right-wing Hindu groups.

"I am not a liar, there is no need for me to lie that I had spoken to (slain Maharashtra ATS chief) Hemant Karkare," Singh, who has recently been made party in-charge of poll-bound Assam, told media persons in Guwahati.

The Congress general secretary, who had on Monday claimed he had records to prove that he had spoken to Karkare, said he had requested the Telecom Ministry to get the record of the call between him and the police officer from its centre in Pune.

Click on NEXT to read further...


'I stand by what I said'
Last updated on: December 14, 2010 19:13 IST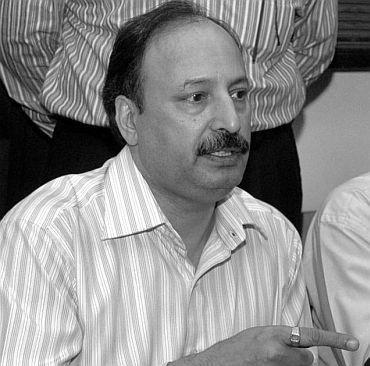 Singh said he had sent a request in this regard to the General Manager of BSNL at Bhopal but 'has got in writing from them that they cannot provide details of this number as the records are kept only for 12 months.'

He said he had spoken to Karkare from his number registered in Bhopal.

The Congress leader had said that Karkare had spoken about threats from right-wing groups during the telephonic conversation with him.

"There is no need for me to spread a lie. I stand by what I said. It's not a new thing and I have said it many times on the electronic media and to the print media," he said.

Dismissing as "absolutely rubbish" suggestions that he was questioning the investigation in the 26/11 case or meant to say that Pakistani terrorists were not involved in the encounter of Karkare, he said, "BJP is a master of double speak and is creating confusion" on his remarks.


'I am satisfied with the investigations'
Last updated on: December 14, 2010 19:13 IST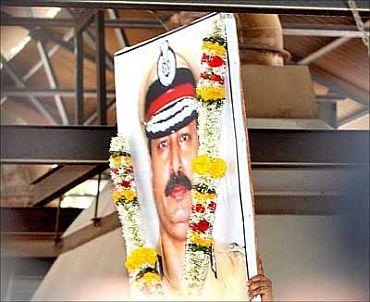 Singh said, "I do not have any doubt about involvement of Pakistani terrorists in 26/11. I am satisfied with the investigations."

He rejected former Assam Chief Minister Praful Kumar Mahanta's charge that he was using Karkare as a weapon for creating communal divide in the country.

"Mahanta is my old friend. He should stop making such statements," he said.

Continuing his tirade against the BJP, Singh said immediately after the incident former Governor Julio Rebeiro had also said that Karkare had met him a few days before the 2008 Mumbai attacks.


'I am grateful that BJP reacted strongly'
Last updated on: December 14, 2010 19:13 IST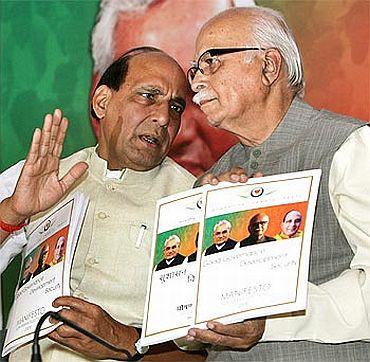 Karkare had told Rebeiro that "he was sad as senior BJP leaders Lal Krishna Advani, Rajnath Singh and some Hindu outfits were levelling baseless allegations against him and had raised questions on his honesty and integrity.

"I want to ask the BJP what right Advani and Rajnath Singh had to put question marks on Karkare's honesty and integrity. Was this act by a former home minister of the country not an attempt to influence the investigations and demoralise Karkare," he said.

Replying to a question, Singh said that he was "grateful" that the BJP has reacted strongly to his statement.