Fun and golf on Obama's holiday
Last updated on: August 28, 2009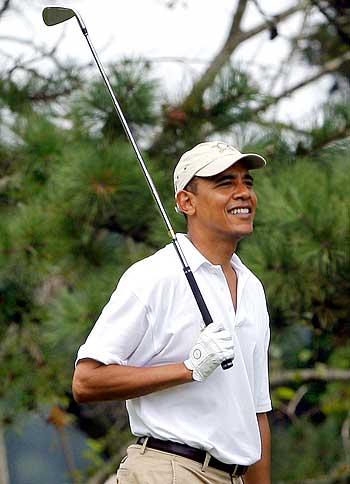 United States President Barack Obama, his wife Michelle and his daughters Sasha and Malia are enjoying their first vacation after occupying the White House in January this year.
Far from the maddening crowds of Washington, Obama is spending his time by playing golf, cycling across the countryside, visiting local monuments and eating out at popular eateries in the quaint island.
Obamas paying for the vacation
Last updated on: August 28, 2009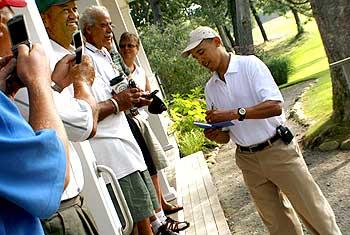 The White House has repeatedly stressed that the Obamas are paying for the vacation, including shelling out a whopping $25,000 for renting a local mansion called Blue Heron Farm, from their own pockets.
Historical connection
Last updated on: August 28, 2009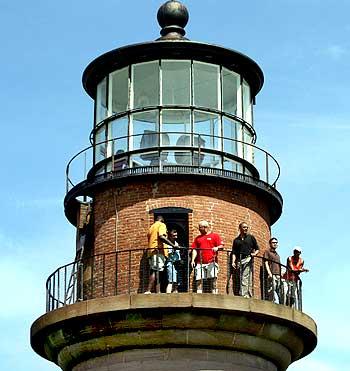 The picturesque island off the south of Cape Cod in New England also holds a special significance for America's first black president.
In the past, many black families flocked to Martha's Vineyard during the summers, tired of the racial discrimination they faced at more conventional holiday spots.
The island was also a favourite getaway for civil rights champion Martin Luther King Jr.
White House tradition
Last updated on: August 28, 2009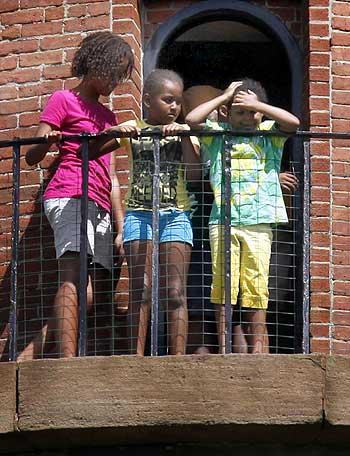 Obama's visit is also in tune with a White House tradition, as American presidents usually take a break during August, trying to beat the soaring mercury in Washington.
In fact, Obama's predecessor George W Bush was often chided for taking too many holidays, and faced scathing criticism for being on a vacation at his Texas ranch while the devastating Hurricane Katrina wreaked havoc on US coast.
Vacation in poor taste?
Last updated on: August 28, 2009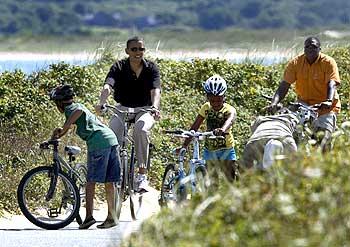 Even Obama's vacation has attracted the ire of many detractors, who believe that the President taking such an over-hyped vacation, at a time when most Americans cannot afford a vacation at all, was in poor taste.
Critics point out that Obama could have skipped the vacation and stayed put at the White House, to convey to the American public that tackling issues like high unemployment levels and a tottering economy was more important than taking a break.
Obama's popularity at all-time low
Last updated on: August 28, 2009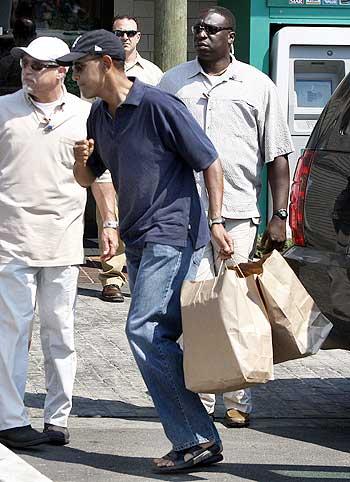 A recent poll by a leading American daily showed that Obama's popularity levels had hit an all-time low. While 60 per cent of Americans expressed confidence in Obama's decision-making skills when he completed 100 days as the US president, only 49 per cent have retained that confidence.
Obama's toughest test
Last updated on: August 28, 2009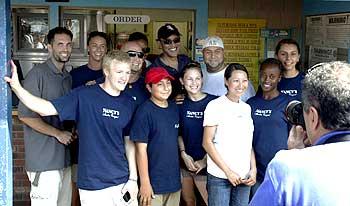 Obama also faces one of the toughest tests of his presidential careers, when he tries to push through his controversial health care reform bill through the Congress in September.
Obama's opponents have strongly opposed the bill that promises to overhaul the country's health care system completely.
Away from media glare
Last updated on: August 28, 2009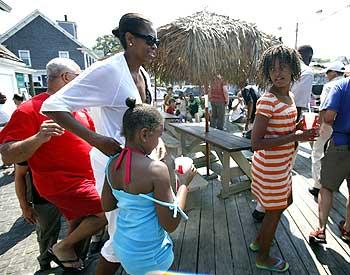 Though the White House has urged the press to respect the privacy of the President and his family while they are on vacation, Obama himself addressed mediapersons to express his grief over the death of Senator Ted Kennedy.