How long will Egyptian army hold its guns?
Last updated on: February 7, 2011 14:16 IST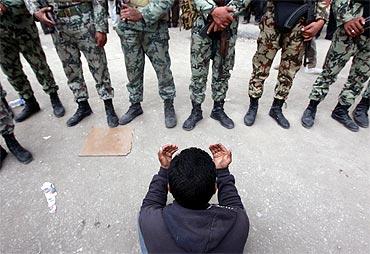 A history of crushing dissent indicates that the Egyptian army's tolerance for protesters may not hold if its interests are threatened.
When bread shortages swept Egypt in 2008, the government didn't rely on the free market or its own warehouses, but turned instead to army bakeries to churn out millions of flat loaves to calm the angry masses. 
A few months later, as fire raced through the upper house of parliament, soldiers helped put out the flames.
Egypt's military has been an enduring force for stability and the quiet power behind President Hosni Mubarak's 30-year rule.
Text: ANI 
Please click NEXT to read further..
Egyptian army's 'unique role'
Last updated on: February 7, 2011 14:16 IST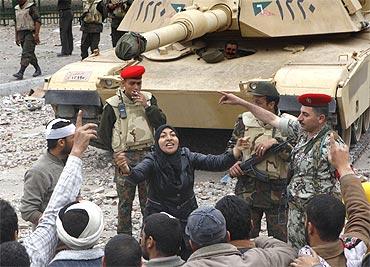 According to the Los Angeles Times, that tanks and smiling soldiers are now spread across the capital and accepted by anti-government protests is a testament to the army's unique role in keeping the public trust while remaining loyal to one of its own, an embattled 82-year-old president.
American diplomatic cables released by the whistle-blowing web site WikiLeaks, which predate by several years the current crisis, suggest that the Egyptian military may be too rigid and unwilling to adapt to a new political era and the prospect that for the first time since 1956 the nation's president will not come from its ranks.
Since that memo was written three years ago, Egypt has been dramatically altered by 13 days of widespread demonstrations to overthrow Hosni Mubarak.
How long will army navigate middle ground?
Last updated on: February 7, 2011 14:16 IST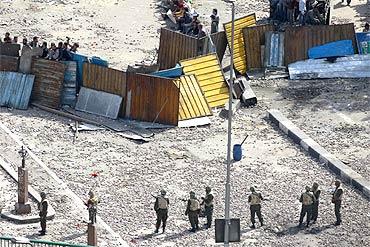 The political calculations and the police state that held the ruling party together are being redrawn. 
The bulk of the party leadership, including President's son Gamal, resigned Saturday, a further sign that the younger Mubarak has been forced to give up any ambitions to rule Egypt.
The army has vowed not to fire on protesters and has appeared to at least tacitly support the demonstrations.
What is unclear, though, is how long the military can navigate the middle ground between a rattled government and a restive people.
Source: ANI