How Left intends to make Obama's visit unpleasant
Sahim Salim
in New Delhi
Barack Obama is not his predecessor. So why are India's Communists giving the American President the Bush treatment? Sahim Salim finds out.
After being undecided for weeks, India's Left parties have announced nationwide protests during US President Barack Obama's visit.

Expect sit-in dharnas, poster campaigns, public meetings, campus rallies and other forms of protests lasting a week.
There are disagreements though within the Left parties about the duration and style of protests during Obama's maiden visit to India.

The Left parties, who protested vehemently during then US president George W Bush's visit in March 2006, have not reached an agreement whether to boycott Obama's address to the Lok Sabha and Rajya Sabha on Monday evening.
The four major Left parties -- the Communist Party of India-Marxist,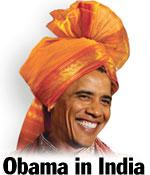 the Comnmunist Party of India, the All India Forward Bloc and the Revolutionary Socialist Party -- will hold a nationwide protest on November 8. This decision was arrived after several telephone discussions between senior Left leaders.
While the CPI-M, CPI and RSP are not keen on large-scale protests, the Forward Bloc has planned a week-long protest.
Image:
CPI-M General Secretary Prakash Karat
Photographs:
Jayanta Dey/Reuters
'We will register our protests even inside Parliament'
"We will observe a nationwide protest week from November 6 to 12. On the 8th, we will join the other three Left parties and protest together," Forward Bloc General Secretary G Devarajan told
Rediff.com
Traditionally, no disruptions have ever taken place during a foreign Head of State's address to Parliament, but Devarajan hints that that may not be the case during Obama's parliamentary address.
"We are of the view that if you are shouting outside against the US president, some kind of noise should also reach inside," Devarajan said.
"We will meet on Wednesday, after which we will come up with a decision. We are not saying we will boycott (Obama's speech), but we will register our protests even inside Parliament," the Forward Bloc leader added.
His party also plans to mobilise farmers against the visit.
"American products are going to be introduced in India at highly subsidised rates. This will ruin our farmers. We have also roped in students and aspiring migrants to come out, as employment opportunities for these young men are fast dwindling in the US. Something has to be done about this," Devarajan said.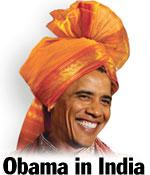 Other Left leaders are not enthusiastic about boycotting or protesting against Obama's speech.
"Our party has not decided to boycott the speech," Rajya Sabha MP and senior RSP leader Abani Roy told
rediff.com
"In case some of us do not want to attend the meeting, they don't have to," Roy added. "We will not force them. But as of now, we are not boycotting the parliamentary address."
Image:
A Left demonstration
Photographs:
Rediff.com
'We are not boycotting Obama, but US policies'
CPI-M General Secretary Prakash Karat has left it to party MPs to decide if they want to attend Obama's address.
"We are not boycotting Barack Obama," CPI-M Politburo member Brinda Karat said. "We are boycotting certain polices of the US government."
The Left parties were said to be kindly inclined towards Obama, the first African-American US president. But after they did not notice 'positive changes' in US policies, they have reverted to their anti-America stance.
Left leaders are also aggrieved that 200 Amerian business leaders will arrive in India during the Obama visit.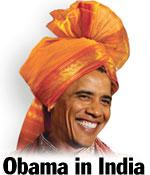 "It looks like the visit is intended to sign business deals rather than promote understanding and cooperation," one CPI-M leader said.
During the protests, the Left parties will raise the Bhopal gas tragedy and an American corporation's complicity in the incident; US interference in India's foreign policy; scrapping the India-US defence framework agreement; withdrawal of 50,000 US troops in Iraq; political settlement in Afghanistan; and ending the US embargo on Cuba.
Image:
CPI-M Politburo member Brinda Karat
Photographs:
Rediff.com