How Kutch was raised from the rubble
Last updated on: January 28, 2010 12:09 IST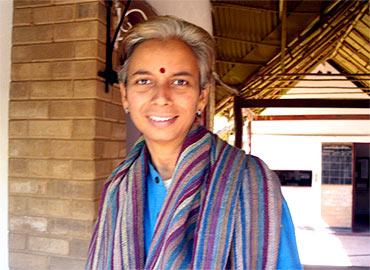 Nearly a decade after Kutch faced its worst-ever earthquake, rediff.com's Sheela Bhatt in a two-part series picks up lessons that the recently shaken Haiti could learn from -- tales of achievements that Haiti could emulate and lessons of failings that Haiti should avoid.
Haiti reminds Indians of Kutch. The rescue, relief and rehabilitation of earthquake victims have local requirements that vary from region to region but, the story of how Kutch was reborn after the devastating earthquake of January 26, 2001 can became a useful template for Haiti.
Nine years after the devastating quake which killed around 12,000 people (only Kutch), Kutch is on the fast track of development.
The earthquake of magnitude 7.9 on the Richter scale has become the agent of change. Probably, Kutch has changed faster in the last nine years than any other part of India. The victims' resilience, the Kutchi spirit of enterprise, middle-class aspirations, government policy, wide-spread use of mobiles phones, Asian Development Bank-World Bank and other institutes that poured in more than Rs12,000 crore of financial aid has not only changed the landscape of Kutch, it has also brought about social, psychological and cultural changes.
Money is coming in with pressures and tensions in common people's lives. Bhuj-based Sushma Iyengar, distinguished social-activist and one of the country's finest experts on relief and rehabilitation management, tells the story of new Kutch that was born from the womb of disaster.
In an exclusive with rediff.com's Sheela Bhatt, she recalls the earth-shattering event, besides narrating Kutch's absorbing journey from being one of the remotest parts in the country to the mainstream.
A first person account.
"The memories of the past nine years are quite fresh but on second thought it seems, really, a long journey for Kutch. We have changed so much in the last nine years. When the earthquake happened the first response was to reach out and to support. It happened in true spirit of Gujarat.
The support came from all parts of India, also. As it happens in disaster, the first 15 days is when the human kindness flows. But, after those 15 days the reverse happens. The crisis, calamity and disasters of this nature completely decimates an individual's ego. You are just a small speck in a huge mass of tragedy. That breaking down of ego leads to other eccentricities. There seems a spirit around that seizes you. That actually gives you the energy for things to happen and move forward. What we saw in Kutch was unprecedented and lead to tremendous external and internal support.
Text and pictures: Sheela Bhatt
The rise of true nationalism
Last updated on: January 28, 2010 12:09 IST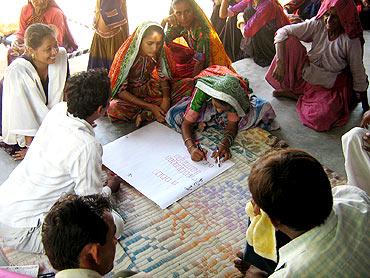 I remember many people and events that moved us all in that crisis. One week after the earthquake, a truck came from the coastal area of Andhra Pradesh that faces regular risks of hurricanes and floods. They brought a huge box of clothes where we were working in Municipal Park in Bhuj. He told us that he has been asked by the community to ensure that the clothes are actually delivered to victims of the earthquake. He asked for directions to the villages and sites. Then he said something that touched us deeply.
Looking at the heap of clothes that he had brought, he said: "These are all new clothes. These have come from the poorest of the poor in the community that regularly faces natural disasters and knows what it means to get old clothes!"
They collected money on hearing about disaster in Kutch, bought new clothes and send their men to hand deliver it to poor people of Kutch. We are so used to see pettiness of many rich people in giving donations that such story completely humbles you.
Somebody from Haryana came driving continuously for 48 hours. They brought lots of blankets from money raised from two families. They persuaded these men to reach Kutch as fast as possible. There are innumerable examples of individual efforts. I remember a housewife who came from Mumbai. She stood in one corner of the park for some two days. She observed us working without any water or food. She quietly started feeding us lunch. She would just hand over packed lunch in our hands. A week later we realised how she found her work and how she did it with care.
In another case, a young boy near Anjaar who had lost eight people in the family was helped by people to rise above the tragedy. He had lost his parents, young wife and children. To bring him out of the shock, the villagers sat together. They brought the excavator-tractor from somewhere and asked him to climb into the tractor. They assigned him the job of clearing the debris of the village.
The village elders quietly told us, "
Ene dukh thi bahare kadhva no che
." (He must be pulled out of his miseries). To pull him out of his trauma he must help other victims, the elders decided. It was exactly trauma counselling. You can't even count such magical stories.
Bharma is the symbol of the new Kutch
Last updated on: January 28, 2010 12:09 IST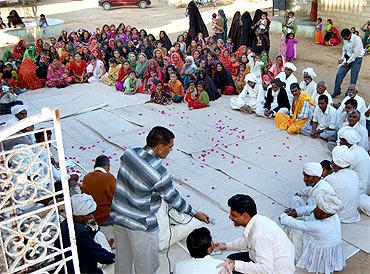 After the earthquake, Bharma and her immediate family thought of moving out of Dhobarana village for a better life and job prospects. Suddenly she realised by doing so, she would lose her immediate family. Her sense of isolation was extreme. So she and her husband decided against moving out of her ancestral village. She said, "I have my village with me. I will pick up the threads and rebuild my life." She did farming, she knew embroidery. She got re-settled.
But five-six months ago, she committed suicide. In the last one decade, gradually her husband got old and had become blind. Her children got separated and moved into the cities. After the earthquake, the nuclearisation of families started for the first time in the villages of Kutch. Each one had their own house. Her husband was ignored by the children. She didn't find the way out of this new social situation. She was losing her support system, her social security. She could not fall back on anything. We were completely shocked when she died.
In 2001, after the earthquake she had courage and grit to rebuild life but after the rehabilitation and development of her village she lost her nerve. How life has changed, how Kutch has changed. It's the indication of a new Kutch that is taking shape.
We have never heard before that in that region somebody committed suicide because children are ill-treating you. It was so upsetting. In a way it is so urban. Families have become nuclear. Upward mobilisation is happening. Along with it habitats are changing. Social security is declining. It's not the case that health care and insurance has increased. But, your traditional support system is gone. This is not new in urban India or towns. But in border villages of Kutch it's a new phenomenon.
Kutch is the success of the owner-driven rehabilitation
Last updated on: January 28, 2010 12:09 IST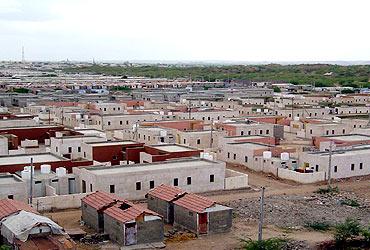 One thing that has definitely worked in Kutch is community or owner-driven rehabilitation and reconstruction. That has created the template for other disasters. Through disasters you can focus a lot on empowerment of people. When disaster strikes you feel strongly to put back things in 'normal' mode. You don't trust people who are affected to do it. The donors, NGOs, state government, contractors and civil society tries to take over that process of normalisation, rehabilitation and reconstruction. Two disconnected processes go on parallel.
When calamities strike you don't trust people with their own lives, their ideas for resettlement and designs for their houses. It's to former chief minister Keshubhai Patel's credit that he trusted the people. To a large extent, the state trusted its people to rehabilitate themselves.
I am not saying it was the case across all places, but largely it was the case. There was the policy connect. There was the policy where Gujarat government asked people do you want to make your own house or do you want NGO to make it for you? When the owner wanted to make his own house he was given money directly. Or, victims signed MoUs with the NGOs and state gave money for houses.
Kutch is now a reference point
Last updated on: January 28, 2010 12:09 IST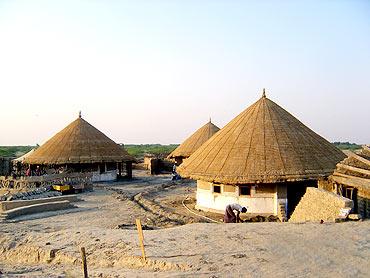 In the last nine years, 76 percent of Kutchis constructed their own house. Development is so fast here that 20 per cent more homes have been rebuilt than those were affected. Almost 3.2 lakh new homes were rebuilt. The old city of Bhuj, Bhachau and Anjaar towns were largely destroyed. Overall, these places have been reconstructed which is unprecedented. Bhuj has expanded by almost 55 square km.
I am satisfied with the speed of rehabilitation in Kutch. We have, now, a reference point.
There was no sluggishness. Here ideas of reconstruction that came on paper were put into action.
Here enforcement was seen. There was energy in the government, there was a spirit to develop within people. There is impatience in people and also the enterprise. An owner-driven policy played a huge role. That came from the government in consultation with civil society. It started in villages and then extended to urban society.
People restored their lives faster. There was a sense of urgency in people to get back to normal life. Another issue that unfolded together was earthquake restoration and Kutch becoming major industrial site for activity. Nobody looked at Kutch 20 years back. But, once money for infrastructure came industries followed. The government used earthquake rehab to create a platform for attracting industries. It was done by design. Two things moved together. Plus, around 2002, the national economy was expanding, mobile phones came, SEZ policy came. I am happy with the rehabilitation of Kutch, but am I happy with development? I would not say so."
Part Two: Why development in Kutch raises quesitons.