Help us sort out Kashmir issue, Pak tells China
Last updated on: December 16, 2010 12:16 IST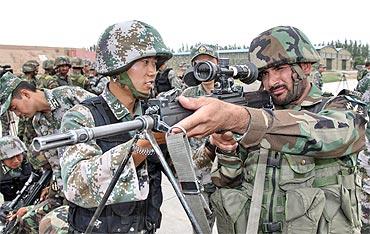 Pakistan expects China to play a 'bigger role' in persuading India to hold a sustainable dialogue with it to resolve Kashmir and other issues, the country's top envoy to Bejing has said.
"We hope China will, over time, be able to persuade India to have a sustainable dialogue with Pakistan for the resolution of all outstanding issues, including Kashmir," Pakistan's Ambassador to China Masood Khan told the state-run Global Times in an interview. 
His comments assume significance as they come just hours before the crucial talks between Prime Minister Manmohan Singh and his Chinese counterpart Wen Jiabao in New Delhi.
He said Pakistan also expects China to play a bigger role in promoting peace and stability in the region. Pakistan had earlier indicated that it would seek China's intervention in the peace process between the two countries. But India is against any third-party intervention.
'Our friendship has remained unaffected'
Last updated on: December 16, 2010 12:16 IST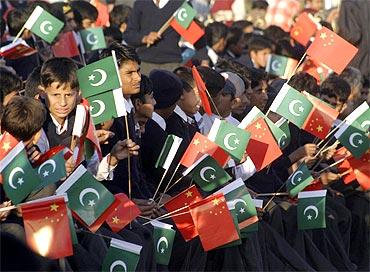 After his India visit, Wen will head to Pakistan on Friday on a three day visit to hold wide-ranging talks with the Pakistani leadership.
Khan said the China-Pakistan strategic alliance, often described as an 'all weather friendship' by both sides, remained unaffected by the 'many changes' that have taken place in both countries.
"Many changes have taken place in both Pakistan and China since the two countries established diplomatic ties 60 years ago. Our friendship has remained unaffected by these changes, and our ties have soared to new heights with every passing year," he said.
"The most important thing we have achieved over this period is the complete political reliability between our sides," he said.
'Both sides are trying to upgrade economic ties'
Last updated on: December 16, 2010 12:16 IST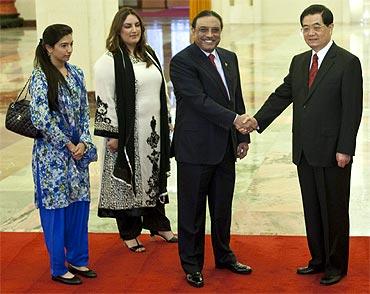 Khan attributed the 'solid friendship' to the mutual trust and respect between Beijing and Islamabad. He said that this solidarity has brought about good results in defence and military cooperation between China and Pakistan.
"The two armed forces have been cooperating very well in the fields of military industrial production and joint training," he said, referring to the burgeoning defence ties with two countries jointly manufacturing the fighter jet JF-17 Thunder.
The newspaper reported in November that the Pakistan Air Force would buy Chinese avionics and missiles to equip 250 of these jets. Khan, however, said the two countries have not yet realised their trade potential.
"Pakistan and China have realised their economic relations are not as strong as their political ties. But both sides are trying to upgrade economic and trade ties," Khan said.
"We have already established a joint free-trade commission, and we launched a five-year development programme in 2006 to strengthen such relations," he said.
'Pakistan-China Friendship Year'
Last updated on: December 16, 2010 12:16 IST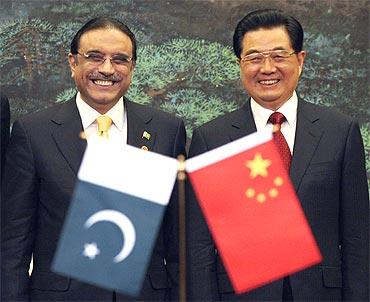 Meanwhile, Pakistan Prime Minister Yousuf Raza Gilani said his country is 'anxiously waiting' for Wen's visit.
"It is not only about government-to-government contacts with China, it is also about people-to-people contact," Gilani said in an interview with Xinhua news agency.
Gilani said Wen's visit will focus on the strategic partnership, economic and trade cooperation and people-to-people contacts.
He said he is grateful to China for its prompt assistance to the flood-hit people in Pakistan. China pledged $250 million aid for this year's floods.
The next year will mark the 60th anniversary of the diplomatic relations between the two neighbours.
"Pakistan has declared it as the Pakistan-China Friendship Year, during which a number of events will be organised," Gilani said.