'Hang the men who raped my daughter, monsters who raped Mumbai girl'
Last updated on: September 05, 2013 15:28 IST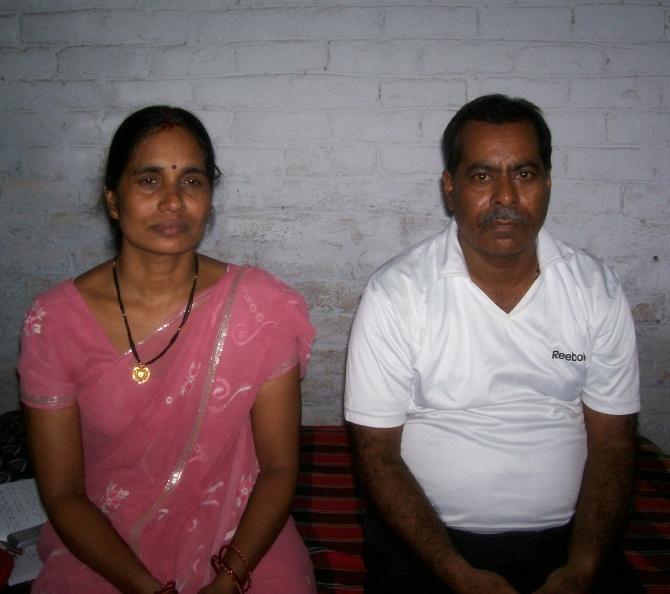 As the Delhi gang-rape trial winds to a close, the family who lost their only daughter speak of their eight-month trauma and the desperate need for capital punishment for all rapists, including the five men who brutalised the Mumbai photojournalist last week. Swarupa Dutt reports
On Friday, August 23, the Singhs watched the news on TV with growing anger and frustration. A photojournalist, just a year younger than their daughter, had been gang raped in Mumbai.
"How many times do we have to re-live what happened to our daughter? The Mumbai incident is just like our case. When will it end? Humein pata hai yeh kabhi khatam nahin hoga. (We know this [rape incidents] will never come to an end.) These monsters are not scared of the law, so it will happen again," says Asha Singh, 46, the mother of the Delhi braveheart.
Their daughter -- who was given different names by the media, like Aamanat, Damini, Nirbhaya -- was brutally gang raped by six men in a moving bus in December 2012. Beaten, kicked, bitten; a rod inserted into her that destroyed her intestines. Doctors treating her at Delhi's Safdarjung Hospital said they had never seen rape injuries so horrific.
Aware that her name means 'hope', Asha, smiles. "It was hope of a better future that kept us working hard. Ab bhi humein asha hai (We still have hope). We hope that those men who did this to my daughter will be hanged," she says. "We hope that those men who raped the girl in Mumbai are also hanged."
It's been eight months after the incident. Eight months that they have been learning to cope. This too shall pass, they have been told. Time heals, they have also been told. But, for the Singhs, time stands still.

Click NEXT to read further...
'This is like a weeping wound which will never heal'
Last updated on: September 05, 2013 15:28 IST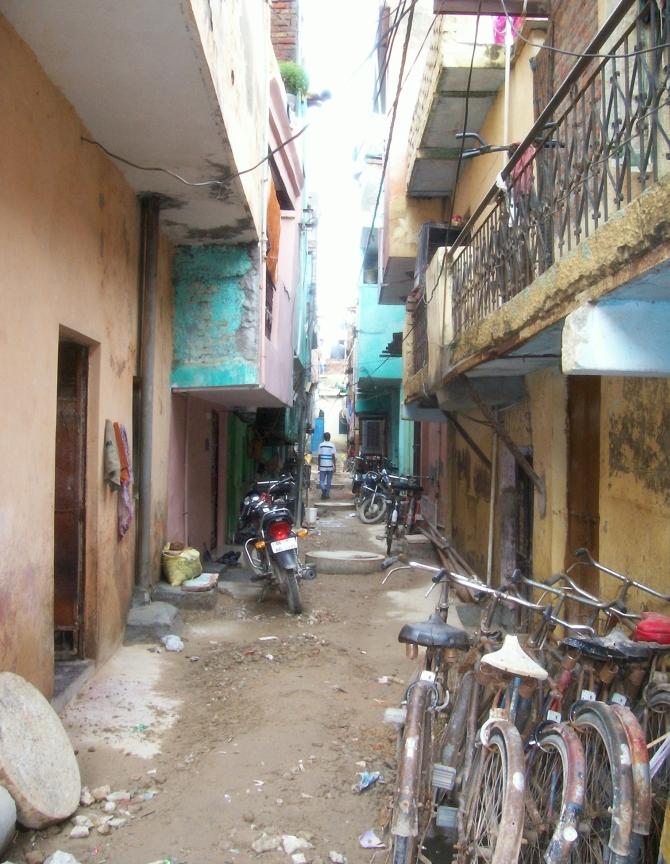 Sitting on the bed in one of the two rooms in his modest house in Delhi's Mahavir Enclave, Badrinath Singh, 53, says, "This is like a nasur (a weeping wound) which will never heal. Time hasn't changed anything. At work, at least my thoughts are not with my daughter.
"But she (pointing to his wife) spends all her time at home thinking about what happened to our daughter. Ab toh hausla nahin banta hai. Kya karen, majboori hai manna parta hai (We don't have the strength to go on any more, but we have to accept what has happened)."
The four adult accused in the case -- Mukesh Singh, Pawan Gupta, Vinay Sharma and Akshay Thakur -- are being tried by a fast-track court in Saket, New Delhi. The verdict is likely to be delivered in the first week of September. The prime accused, Ram Singh, died in custody in Tihar jail on March 11 and the case against him was abated. On August 22, the Supreme Court allowed the juvenile justice court to give its verdict on the teenager, who was 17 when he allegedly raped the girl.
In hospital, the girl battled bravely, telling her mother in a hand-written note that she wanted to live. She also gave two crucial statements to the police. "She told me how those monsters pinned her down. They sat on her arms and legs, they bit her," says her mother. "People compare them to animals. Animals eat other animals and discard the half-eaten carcass. But this happened with a human being! Un logon ne kaise, jiteji, ek insan ko nochke kha gayen! (How could these men eat her up alive!)
"We request the government, look at what they did to her and then give your verdict. This is not only about rape," weeps Asha, quietly.
The girl's father looks away and says, "Tab bhi hum asha (hope) par hi ji rahe the (We were hopeful even when she was hospitalised). Doctors told us she would not survive and that even if she did, her injuries were so grievous, she would never be able to lead a normal life. Chaha jaise bhi ho woh bach jaye. Kisi bhi tarah bach jaye (We wanted her to live, come what may)," he sighs.

Click NEXT to read further
'We were happy Ram Singh died, it doesn't matter how'
Last updated on: September 05, 2013 15:28 IST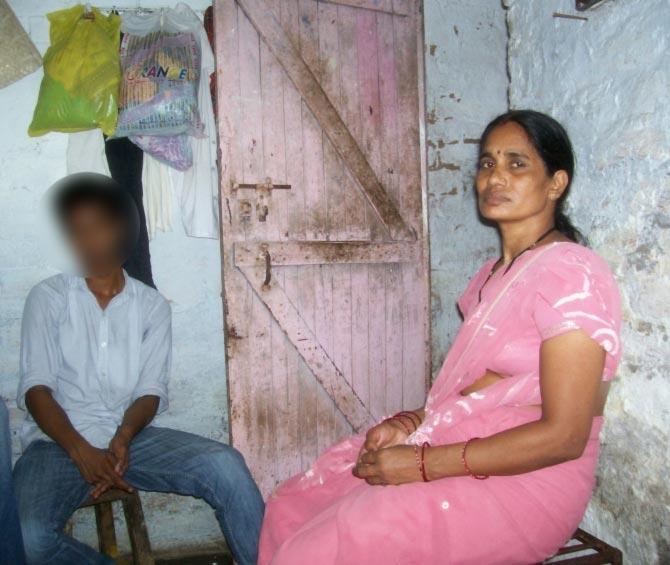 The girl's brother, Gaurav, 20, who has been quiet all this while, tells his father impatiently, "She didn't have any intestines, how could she survive? God knows how she lived for 13 days."
Now composed, Asha says, "Pata tha woh nahin bachegi, par hope the. (We knew she wouldn't survive, but we were hopeful). She drifted in and out of consciousness, she was in great pain, but initially she could speak. So we thought, yes, she will survive. We thought, we are family, we know her better than the doctors, of course, she will live. Par doctor hi sahi the (But the doctors were right)."
She died on December 29, 2012, uniting the family with a nation anguished and outraged over crimes against women. In those 13 days she lived and for weeks thereafter, India responded with people across socio-economic divides taking to the streets, braving lathi-charges, water cannons and police detentions.
"Two days after she died we went to our village (Ballia in Uttar Pradesh). There is no electricity there, no TV, so it was only after we returned on the 18th (January 2013), that we were told about the protests. Haan, logon mein badlav aayi hai, par kanoon mein badlav nahin aayi. Woh juvenile ko phaansi honi chahiye (Yes, there is change in society, but not in the law. The juvenile accused should be hanged)," says Badri Singh.
The Justice Verma Committee, which was formed to look into crimes against women, ruled against recommending the death penalty even in the rarest of the rare rape cases, and did not favour lowering the age of a juvenile from 18 to 16.
What this means is that according to the Juvenile Justice Act, the juvenile accused, who was 17 when the gang rape took place, faces a maximum of three years in a correctional facility or a remand home, including the time he has already spent in custody.
"Everyone thinks we want revenge for what happened to our daughter. Even if all five get the death sentence, our daughter is not going to come back to us. But if they are not given the death sentence, especially the juvenile, it will send out a wrong message to people that you can do something like this, and get away it. Those men have to be given an exemplary sentence and it can only be death," says Badrinath. "We were happy Ram Singh died. It doesn't matter how he died. It matters that he is dead."

Click NEXT to read further
'We are proud of our girl, rapists should be ashamed'
Last updated on: September 05, 2013 15:28 IST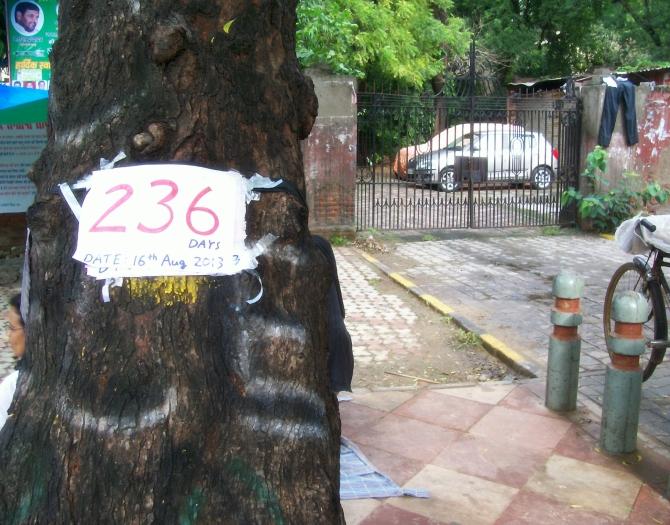 Arthvyavastha bane ki aage kisike saath aisa na ho. (Law and order should be strong enough to ensure this doesn't happen with anyone else) No mother, no family, should go through what we are going through. No child should be raped. (In this interview conducted entirely in Hindi, the family uses the word rape never the Hindi, balaatkar.) Only the death sentence can ensure less crime," says Asha.
In what is unprecedented in rape cases in India, all the six accused were arrested days within the incident. A fast-track court was set up with hearings every day. A commission was set up on December 23, 2012, to look into amendments to criminal law for quicker trial and enhanced punishment to criminals committing sexual assault of extreme nature against women. All the five men will be convicted, though the quantum of punishment may or may not be the death sentence. That is the miracle she wrought.
Consider this: According to home ministry data, between January and November 2012, of the 754 rape accused arrested in Delhi, only one was convicted. Some 403 face trials, while investigations are pending against 348 and two others were discharged. Just one person was convicted for rape in this period.
Just as the incident forced the government to change the law, her parents changed perceived notions on women and rape survivors. That it is never the woman's fault. That the perpetrators should be ashamed, not the victim and therefore stigma should not be synonymous with rape, that the girl child is no different from the boy. This, in a country where courts have often pushed for the rapist to marry the survivor so that marriage could be her deliverance from the 'shame' of rape.
"Had she survived, she would have told the world her name. So how can we keep quiet?" asks her mother. Badrinath's decision to go public with her name did not go down well with the extended family. "Newspapers and TV reports called her a gang rape victim. We gave our daughter a beautiful name and I wanted the world to know her by it. Not as a victim. Humein uspe garv hai, sharm toh woh logon ko hona chahiye jisne uske saath aise kiya (We are proud of her; the people who did this to her should be ashamed)," says her mother
"So many people have told us that she has brought shame to our family. Lekin jo aise sochte hain unhe sharm honi chahiye (People who think like this should be ashamed.) The nation should be ashamed. It never crossed our minds that we should be ashamed. What did she do wrong? That she took a bus?" asks Asha.

Click NEXT to read further...
'She was a son, not a daughter'
Last updated on: September 05, 2013 15:28 IST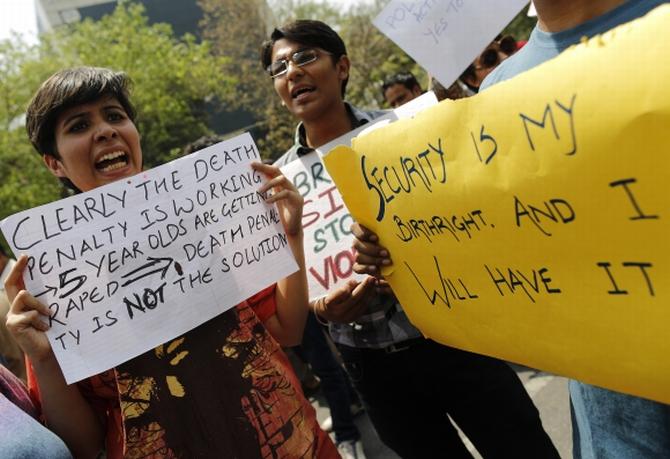 The girl's brother, Gaurav, adds, "If we hide anything, it's as if we did something wrong. Didi ki koi galti nahin thi (My sister can't be blamed)." Gaurav is 20, three years younger than the girl. The third sibling Saurav is just 15 and withdrawn.
Their mother smiles, "We were so happy when she was born. He (pointing to her husband) distributed sweets to the staff in the hospital. People from his workplace came to see her with gifts. Not for a moment did we think, arre ladki hui hai (a girl has been born).
"We used to celebrate her birthday, all their birthdays. Not in a grand way, because we couldn't afford it, but those days were special. When she began tutoring children, we even bought mithai and called their friends in the neighbourhood. We always lacked money, not happiness. Now nothing, absolutely nothing, makes us happy anymore."
In a country where according to government figures, 30 lakh female babies are killed at birth or in the womb, Badrinath says, "Humne toh usse kabhi beti nahin bulaya, I always called her beta. She was a son, not a daughter.
"In fact, the best decision I made was to sell our land in Ballia for her education," says her father. The girl was in Delhi in December on vacation after completing a four-year course in physiotherapy from Dehradun. She was to begin her internship in the city on Monday, December 17, 2012.
"I was told I should invest in my sons, not her, since she would get married and go away. But I thought that if I don't give her the money her dreams would remain unfulfilled. She wouldn't have been happy. And who am I to stand in her way? It was just a piece of land after all. As parents, if we can, we should never stand in the way of our children's dreams."

Click NEXT to read further...
'My daughter was such a fighter'
Last updated on: September 05, 2013 15:28 IST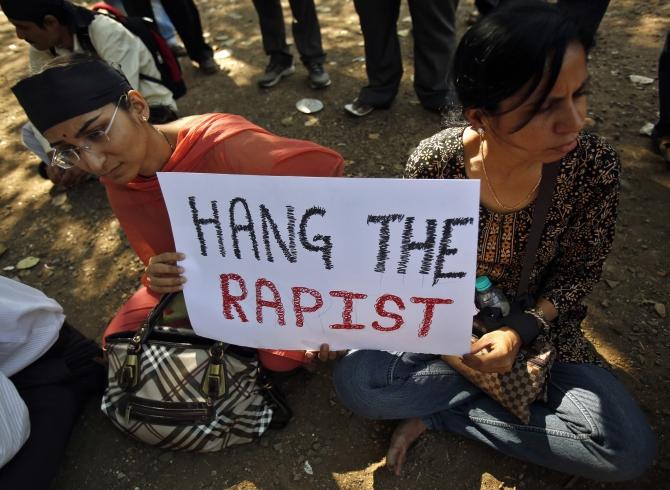 Hesitantly Asha admits that her daughter was her favourite, but is quick to add that her sons are very dear as well. "As she grew older we became friends. And I always thought she will go away when she gets married, but these boys will always be with me. I didn't realise then that she would go away forever."
Badrinath says he remembers telling her she should think about getting married soon. She sat me and down and said, "Papa, abhi aap do saal chup rahiye. (Dad, don't bother me for two years) After two years I will get married to whoever you want, wherever you want. Just give me two years to prove myself. We also thought it would give the family time to recoup financially when she began working."
Marriage seems to remind her parents of Awnindra Pandey, her friend, who boarded the rogue bus with her on December 16.
"My daughter and Awnindra were friends, nothing more. Pata nahin kya kya likhte hain unke baren mein. (We wonder at all these things that are written about them). Why can't two people just be friends? He used to call her on her phone often and if she couldn't take the call he would speak to us. If she spoke to him on the phone, it was generally in our presence. There was nothing to hide," said Badrinath.
"We knew she was going out with him that day. I go back to that day every day. I stood at the door and waved goodbye and she said she would be back at 8 pm. She was always careful and always called me when she reached her destination and on her way back. That day, she didn't call. After 8.30 pm, I called her and when she didn't answer her phone we called his number, but it was switched off," says her mother. "You do know what happened after that. I keep thinking about it. How can anyone want those men to live?"
Click NEXT to read further...
'In death, my daughter has made good her promise to secure family'
Last updated on: September 05, 2013 15:28 IST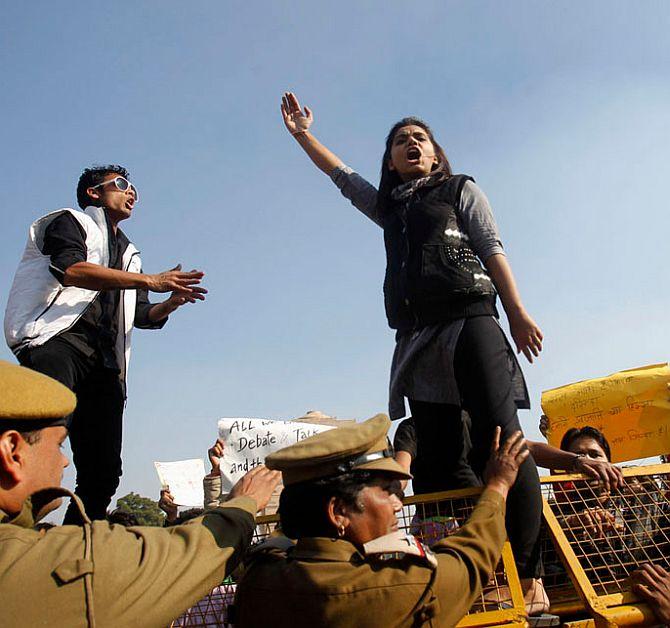 Speaking on the phone about the Mumbai gang rape, Gaurav says, "Cities have to be made safer, but unless these men know that they will be put to death if they rape a woman, these incidents will go on."
Revisiting that night at Safdarjung hospital, Asha says, "Her face was swollen, her eyes were closed, her lips were split. The doctor tapped her face and when she saw us she started crying. Even then I thought it was an accident. When I came outside the room, the doctors told us.
"She used to cry because she was in severe pain, but she told me not to worry, she would get better. My daughter was such a fighter."
The family reiterates the need for the death sentence, a locus they refuse to move from throughout this interview.
"Yeh jo mindset ke baarein mein log baat karte hain, how will the mindset change if the law doesn't," asks Asha. "I believe that if girls are told to follow rules -- don't wear this, don't talk to that person, don't do this, don't do that -- boys should be made to follow the same rules. Why should there be a different set of rules for women?"
Her mother says her daughter was never made to conform. She hated going back to their village in UP. She found she had nothing in common with her relatives. She wore western clothes, had her hair streaked in the neighborhood beauty parlour, listened to English music, watched Bigg Boss with her brothers while her parents slept in the next room.

"Itne sangharsh kiye, raat din padhai ki, sirf ek hi khayal aaya man mein -- ki humein aage badhna hai, hamare family ko humare saath aage badhana hai. (She worked so hard, studied night and day just so that she could be successful). The atmosphere in the house was upbeat, we were so happy. Toh phir bhagawn, aisa kyun hua? Hum nahin mante hain ke bhagwan hai, (Why did this happen? We don't believe in God anymore)," cries her mother.
In death, as much in life, their daughter has made good her promise to secure her family's future. Her father says they have money now -- a 'compensation' of Rs 15 lakh from the Delhi government and Rs 20 lakh from the UP government and a house. One member of the family has also been promised a government job. "People say we benefited from the incident. I want to tell them that if they are mothers or fathers, they will realise what it is to lose their child."
He says the money is not theirs. "It's our daughter's. So if and when we spend it, it will be on educating her brothers. That was her dream and we won't let it die. But so far, we haven't touched it."
Her mother says, "We have to live whatever life there is left for us, but I keep asking myself why am I still alive? We want to ask God, where did we go wrong? Why did this have to happen to us? Why did you not save her? I keep asking questions, but I never find the answers."

Click on NEXT to see related feature...