Gujjar agitation: Why Gehlot needs to act quickly
Last updated on: December 25, 2010 11:40 IST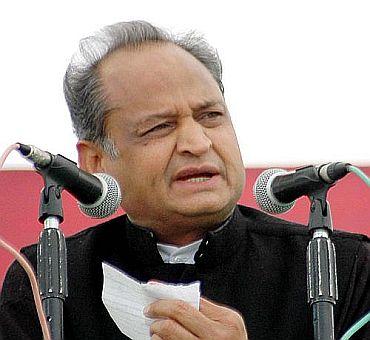 Aditi Phadnis
Two years ago, in the run-up to the assembly elections, no one but Rahul Gandhi believed there would be a change of guard in Rajasthan, and, least of all, a person as uncharismatic, even dull, as Ashok Gehlot would become chief minister.
Gandhi told party colleagues with quiet confidence that the Congress party would win the election and Gehlot would be chief minister.
Had C P Joshi, current minister for rural development, not lost from his constituency, Nathdwara, by one vote, it might have been hard to decide whether Joshi or Gehlot would be chief minister.
The two are chalk and cheese. Joshi is irascible, blunt and hates being asked for favours. Gehlot is moderate, gentle and unaggressive. They are also not particularly fond of each other.
In fact, at a meeting where Gehlot was present, Joshi remarked, soon after the assembly elections: "I was a follower of Ashok Gehlot. Now I am his collaborator. For each person he has to decide at some point The earlier relationship between us was of leader-follower and now it is of leader-collaborator".
But despite their differences (and they persist), they made a formidable team and scripted victory not just in the assembly elections (96 out of 200) but also in the Lok Sabha (19 out of 25).
But it was Simple Simon Gehlot who became chief minister. In the first few months, Gehlot managed to consolidate the Congress party's hold in the assembly: six MLAs from the Bahujan Samaj Party merged the unit with the Congress.
He secured the support of independents leading to numerical security. But he could not -- and has not -- been able to shrug off the image of being a weak, ineffectual chief minister. And now, he, too, is faced with the same problem that had confronted his predecessor, Vasundhara Raje -- the Gujjars are at it again.
Please click NEXT to read further..
What exactly is the problem?
Last updated on: December 25, 2010 11:40 IST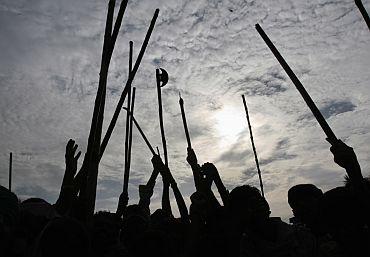 A court order has said that the Gujjars -- a middle pastoral caste -- should not be entitled to special reservation in government jobs. Theoretically, the Gujjars should have got a share of the Other Backward Classes pie -- the Jats are considered Other Backward Classes and get 27 per cent reservation.
But the problem is, they corner 99 per cent of the 27 per cent. So the Gujjars said they wanted a special 5 per cent quota. The matter reached the courts and the high court stayed the quota since that would have exceeded the 50 per cent limit.
Then the Gujjars stumbled upon another stratagem. Gujjars and Bakarwals are considered nomadic tribes and enumerated as a Scheduled Tribe in Jammu and Kashmir, and Himachal Pradesh.
So why can't we also be Scheduled Tribe, reasoned the Gujjars. This matter came up during the Vasundhara Raje regime and what followed was a backlash from the other important Scheduled Tribe in Rajasthan, the Meenas.
Legal debacle leads Gujjars to agitate again
Last updated on: December 25, 2010 11:40 IST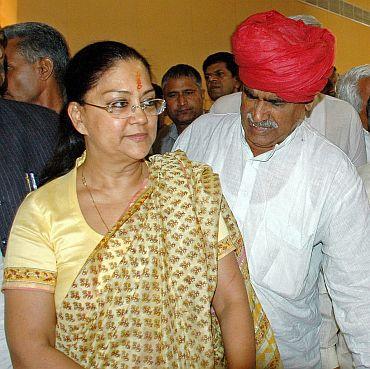 Raje overcame the agitation by introducing a new legislation -- the Rajasthan SC, ST, OBC, Special OBC Act, 2008 -- providing a 5 per cent reservation for Gujjars and three other communities and 14 per cent for Economically Backward Classes.
The elections defused the matter, especially as the main Gujjar leader, Col K M Bainsla, opted to fight an election (unsuccessfully) with a BJP nomination.
It came up again when soon after his election, Gehlot said he would restart recruitment in government jobs (around 50,000 jobs were up for grabs) and that there would be a special reservation for Gujjars, subject to legal review. The legal review has gone against the Gujjars. And they are agitating again.
The impasse worsens
Last updated on: December 25, 2010 11:40 IST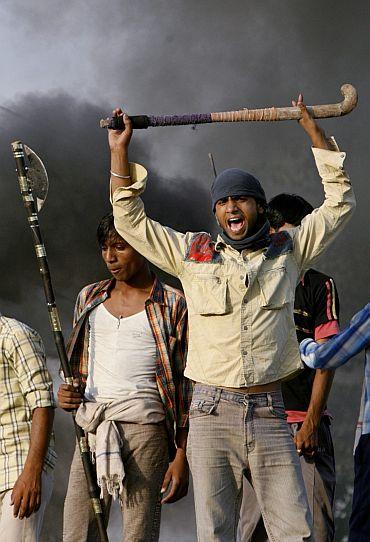 It is really hard to tell if their claim -- that they are a tribe and, therefore, should get a 5 per cent reservation -- is justified. What is true is that the majority of the Gujjars in Rajasthan are desperately poor.
Gujjars say their lifestyle and that of the Meenas is identical. Yet, one group enjoys the privileges of being Scheduled Tribe while the other is denied.
The Meenas own nearly 60 per cent of the total land. The Gujjars constitute 7 to 8 per cent of the Rajasthan's population and are under-represented in the defence services, the bureaucracy and the services sector.
No Gujjar has ever been appointed member of the Rajasthan Public Service Commission, vice chancellor or judge of the Rajasthan high court.
Gehlot tried to defuse the problem. But former Prime Minister Chandra Shekhar used to cite Kautilya to define leadership. Every king has a raja danda, the royal seal. This gives him authority.
He can choose to exercise his authority; or not. And if he doesn't exercise it he cannot expect to be called a good king -- as in the Babari Masjid case where people began massing in Ayodhya, the government knew it was all going to hell but did nothing; or in  Rajasthan where crowds of Gujjars have been preventing trains from running and despite being forewarned, the government has done nothing.
This is the tourist season and the Gujjars, who feel they have no stake in anything, want to do maximum damage.

The situation is heading inexorably towards a round of police firing and more "martyrs" as in 2007 when 26 died in police firing. Why doesn't somebody intervene? Where are all the leaders?
Source: