Searching for the statesman in Narendra Modi
Last updated on: December 5, 2012 12:41 IST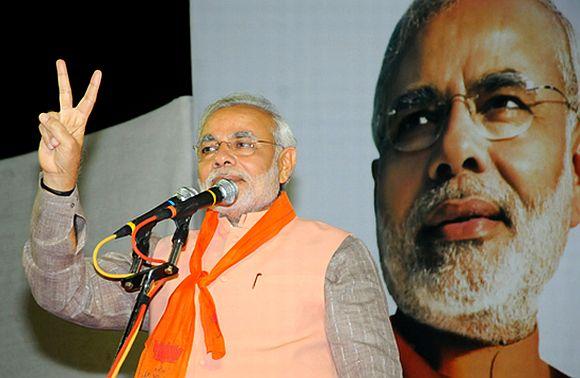 'Through his Election 2012 campaign Narendra Modi has not shown any signs to suggest that he is confident enough to take the risk to set new standards to don the national leadership.'
His attempt to stoop low to conquer is avoidable, entirely, in view of his comfortable position in the ongoing election campaign.'
Rediff.com's Sheela Bhatt identifies the factors that are not going well for Modi.
Part I: Five factors that favour Modi

For a political leader who wants to become prime minister, the journey to transform himself from a regional-level politician to a statesman-like visionary should be more important than winning an election.

Gujarat Chief Minister Narendra Modi's move to expand his stage, raise the bar for the nation's development and set a value system for the nation's youth is, to put it mildly, controversial.

Through his Election 2012 campaign Modi has not shown any signs to suggest that he is confident enough to take the risk to set new standards to don the national leadership.

His attempt to stoop low to conquer is avoidable, entirely, in view of his comfortable position in the ongoing election campaign.

All surveys suggest that Modi and his Bharatiya Janata Party will win the election. There is visible anti-incumbency in rural Gujarat, but there is no wave 'to throw out the Modi government' among a majority of the state's voters.

Still, with the help of typical Modi rhetoric, the chief minister is trying to communalise the current election. Out of nowhere last week, he alleged that the Congress has planned a conspiracy to make 'Ahmedmiyan Patel' chief minister and that the party does not have the courage to openly declare the candidature of Patel, Congress President Sonia Gandhi's political secretary.

A statesman-in-the-making is expected to raise the bar of public discourse, but Narendra Modi is unable to do so. So far.

Please click NEXT to read further...
Modi has failed to give a single Muslim candidate an election ticket
Last updated on: December 5, 2012 12:41 IST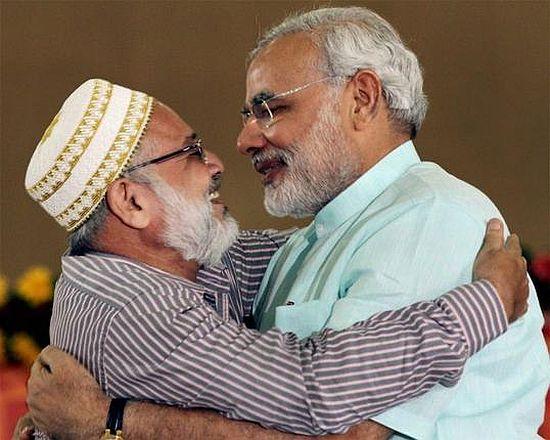 Zafar Sareshwala in an interview to Rediff.com, reveals how correctly, cleverly, and covertly, Modi built bridges with Gujarati Muslims.
After 2003, Modi has provided enough access to Muslim community leaders at his home and office. He has done a remarkable job to convince and win over some of them.
While releasing the BJP manifesto for the Gujarat election, Modi has said he wants large-scale development, he wants speed, and he will impart skills without bias to all 60 million Gujaratis.
Still when an election comes around, Modi feels anxious and insecure. Not one Muslim candidate has been given a BJP election ticket in Gujarat's 182 constituencies.
In India, all social, cultural and political pressure groups, legitimately, look for a part of the pie in power politics during an election.
A senior BJP leader told Rediff.com, "We didn't give any tickets to Muslims because we don't believe in appeasement. We believe in a candidate's ability to win."
The argument is too weak to accept. On one hand, Modi's party proudly says that even a novice can win elections in the chief minister's name. They claim Modi is the only issue in Gujarat. Then why deny around 9 percent of the state's population any representation in the assembly?
Please click NEXT to read further...
Modi failed Modi by playing safe
Last updated on: December 5, 2012 12:41 IST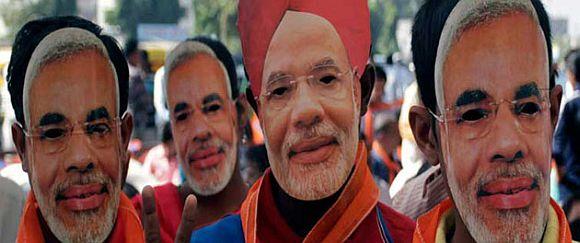 After the delimitation of constituencies exercise, there are 12 constituencies in Gujarat where minority voters will make the difference.
Modi could have selected one or two seats to send out the signal that the BJP is ready to bring the Muslims of Gujarat into mainstream politics. Modi did not do so for many reasons.
One, he is wary of Pravin Togadia of the Vishwa Hindu Parishad and Gordhan Zadaphia of the Gujarat Parivaratan Party taking advantage of such a decision. Both leaders are helping former chief minster Keshubhai Patel and founder of the GPP. Togadia and Zadaphia are working to ensure that the Leuva Patel community votes against the BJP.
Modi is unsure of the support of the 'hard Hindutva' elements of the Sangh Parivar. Dissident Leuva Patel leaders and disgruntled members of the Sangh Parivar have joined hands in Saurashtra.
The battles in pockets of Saurashtra and Surat is more Rashtriya Swayamsevak Sangh versus Rashtriya Swayamsevak Sangh. The RSS's Gujarat chapter is, largely, against Modi while Modi has a clear mandate from the RSS national headquarters in Nagpur.
The 'indiscipline' in the Sangh Parivar is a distinct feature of the 2012 Gujarat election.
By giving one or two seats to Muslim candidates, Modi felt he may lose 6 or 7 seats due to the likely propaganda directed against him by Togadia's shrill campaign. Since Modi aims to win more than 117 assembly seats, every seat matters to him.
Also, the Gujarat BJP's assessment is that Muslims and even Hindus don't vote for a Muslim candidate if he is a BJP nominee. So, why waste a seat?
If this assessment is correct, then Modi could have given a seat where more than caste combinations, the BJP's writ runs or his charisma sells.
Modi should have tested if the BJP's Hindu voters accept a Muslim candidate in Gujarat. The man who wants to be in national politics in less than 12 months' time has not been able to take the risk for the greater good.
He had a great opportunity to spread his net and attract pan-Indian supporters, even send signals internationally. In Bihar and Uttar Pradesh, new windows of opportunity would have opened for him and his party if he wanted to pitch for development instead of adopting the dangerous short cut of whipping up Hindu emotions, covertly and overtly.
If, this time, with his undeniable charisma, even if two Muslim candidates had won on the BJP ticket, Modi would have transcended many psychological barriers. But he didn't take the risk. Maybe he doesn't want to.
In this election, he has given enough indicators to his voters by tacitly visiting Somnath, Pavagadh, Bahucharaji and other temple towns, frequently.
Had Modi given a ticket or two to Muslims, the Congress would have been jolted to its core. Its historic claim to a pan-Indian presence cutting across caste, religion and class in Indian society would have got a modern-day challenger.
But Modi failed Modi by playing safe.
Please click NEXT to read further...
Modi has scant respect for institutions
Last updated on: December 5, 2012 12:41 IST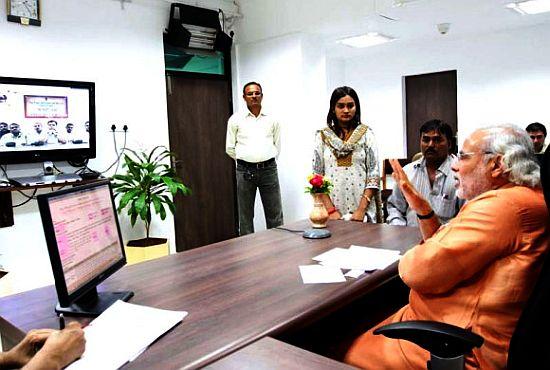 It is surprising that Modi has scant respect for the legislative assembly. In the last ten years the chief minister has made the Gujarat assembly redundant.
In almost ten years, from December 2002 to February 2012, the Gujarat assembly has met only for 304 days. This is shocking! On the floor of the assembly Modi never encourages debate.
Given a choice, his government would like to withdraw the MLAs' right to quiz the government during Question Hour. There is little doubt that many BJP leaders are acutely embarrassed about the power-less assembly under Modi's rule.
In the appointment of the Lokayukta, Modi has taken a defensive legal route. He steadfastly refuses the appointment of the state Lokayukta that the Congress has demanded for some time.
One cursory look at BJP and Congress candidates gives an idea how most MLAs represent the vested interests of industrial, ago-industries and real estate lobbies.
As a Rediff.com report notes, there are 104 criminals and 147 crorepatis contesting the Gujarat election. Many of these 'criminal' candidates are allegedly involved in white collar crimes.
By resisting the Lokayukta and making the assembly ineffective, the public's interests are directly compromised.
Please click NEXT to read further...
Watch out for delimitation, Keshubhai, local factors
Last updated on: December 5, 2012 12:41 IST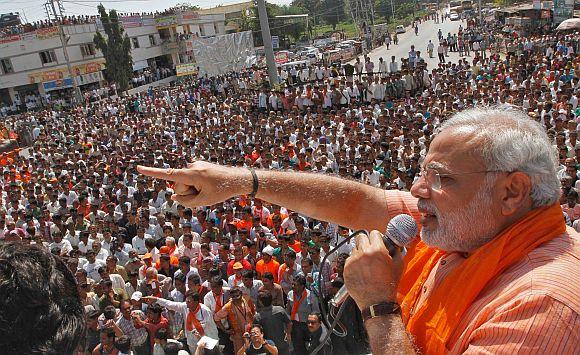 Indian elections are always capable of surprises.
Many observers in Gujarat say that Indian elections are becoming similar to 20-20 cricket matches. It is not possible to predict till the last over. Most voters expect Modi to come out with some gimmick in few last days before voting to change the mood. That's exactly not a compliment.
Will Gujaratis give Modi a shock this time?
Ten days before the election, that possibility appears unlikely, but there are issues that will impact Modi's fortunes.
The BJP won 49.12 percent of the vote in the 2007 assembly election; the Congress won 32 percent.
A swing of almost ten percent is possible only when a political earthquake occurs. No tremors are visible so far. But there are signs that reveal that Modi, the invincible, has become weaker, vulnerable, on a few counts.
1. Keshubhai Patel is likely to fight a vigorous battle with Modi to cut the BJP's Leuva Patel votes.
Naresh Patel, an apolitical leader of the Leuva Patel caste, may ask the Patels of Saurashtra to vote for Keshubhai Patel's newly-formed GPP.
Saurashtra-Kutch has 58 assembly seats; the BJP won 43 seats in this region five years ago.
2. This is the first assembly election to be conducted after the delimitation exercise. There is an element of suspense.
The delimitation exercise has more or less made the seats uniform and smaller. The winner's margin is likely to be precariously low if there are triangular contests.
Keshubhai Patel's party is banking on this change. GPP candidates will make a difference if the expected victory margin is low.
3. The Congress party is notorious for giving tickets to unworthy candidates. This time, Tushar Chowdhary, the Congress leader in south Gujarat and a minister of state at the Centre, is accused of malpractices in the distribution of election tickets.
But, surprisingly, the Congress has selected good candidates in many constituencies.
In four constituencies, Congress Members of Parliament are fighting the assembly election. They are formidable candidates. The Congress's Koli candidates are better than the BJP's candidates from the community.
4. The Muslim factor is a little more visible now. That will help the Congress in more than a dozen seats; Muslim voters will be an influencing factor in another 15 to 20 seats.
5. Koli strongman Purshottam Solanki is ailing, and sulking. He is an accused in the Rs 4 billion fisheries scam. He was Modi's bridge to reach out to the Kolis, Gujarat's largest social group, and the BJP's muscle man in Bhavnagar and neighbouring districts.
Please click NEXT to read further...
There are endless compromises that Modi has made
Last updated on: December 5, 2012 12:41 IST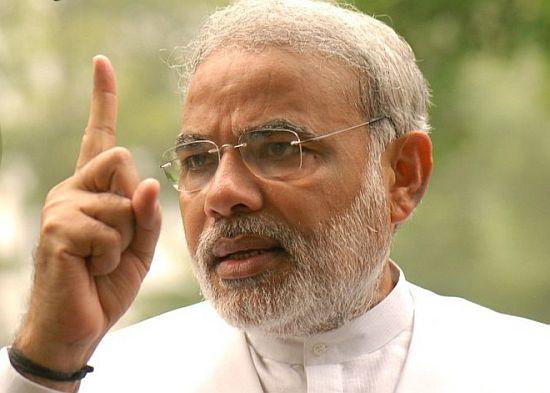 6. The Congress's television campaign has been successful in registering the voters' attention, at least.
Model-actress Tulika Joshi's line 'Disha pan badlashu ane dasha pan (We will change the direction and economic level of the state)' in the Congress advertisement, is a big hit. Joshi has become a celebrity overnight.
There were rumours that she would contest the election against Modi in the Maninagar constituency, but the chief minister got a breather when the Congress fielded Shweta Bhatt, suspended police officer Sanjiv Bhatt's wife, against him.
7. Anti-incumbency is visible in the rural areas because Modi's model of development takes time to trickle down. Wealth is distributed asymmetrically.
Modi's 'neo-middle class' campaign at the launch of the BJP election manifesto precisely reflects the existence of serious issues in the rural and semi-urban areas.
8. There is also fatigue at Modi's penchant for high-blitz publicity and colourful, expensive, propaganda.
9. Corruption in Gujarat is institutionalised, widespread and deeply entrenched at all levels, as it is in Mumbai, Hyderabad or New Delhi. The burden of crony capitalism is felt by the poor and neo-middle class.
10. There are endless compromises Modi has made. He has selected Jairajsinh Jadeja, Kantibhai Amritya and Babubhai Bokhiria respectively as the BJP candidates from Gondal, Morbi and Porbandar. All three nominees have serious criminal cases pending against them.
Bokhiria is allegedly involved in a mining scam and has gone to jail for it, while the other two BJP leaders confront murder charges.
Poonam Madam, who is supposedly close to Reliance Industries, got the Khambhalia ticket in Jamnagar a few hours after leaving the Congress party.
In Gandhinagar, businessmen are more influential than elected BJP MLAs.
Please click NEXT to read further...
Ghar nu Ghar
Last updated on: December 5, 2012 12:41 IST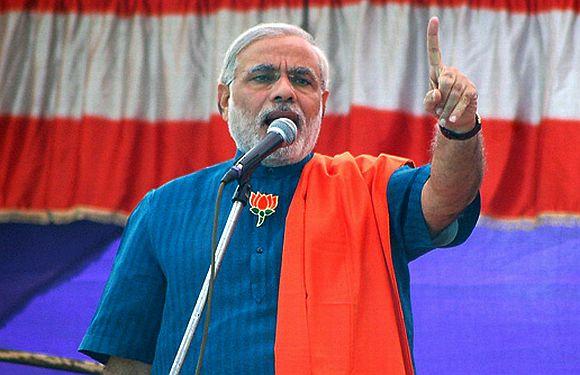 Ghar nu Ghar is a sweet phrase in Gujarati that means 'A house of our own.'
Modi is considered a master of political jingles and slogans, but he was beaten hollow by the state Congress this election when it promised a 100 yard plot and a Rs 100,000 loan for construction of a 30 square metre house to women, if the party was elected to power.
Modi's claim of all round development of Gujarat was exposed overnight when hundreds of thousands of poor women rushed to collect the forms. Poor women with unfulfilled dreams queued up at 500 locations all over Gujarat to collect the forms distributed by the Congress.
It was a Congress gimmick to match Modi's politics of symbolism.
It was a surreal situation when Shining Gujarat's hidden and silent poor appeared on its streets to buy the Congress's dream that will never be realised.
The poor were willing to be fooled, but the Congress made its point at their expense. The Congress was selling a false promise, but the Modi government was rattled to see hundreds of thousands of women collect forms to get a cheap house, indicating the state's failure to provide housing in two decades of non-Congress rule.
Please click NEXT to read further...
Neither the Congress nor BJP will fulfill the promises of 'Ghar nu Ghar'
Last updated on: December 5, 2012 12:41 IST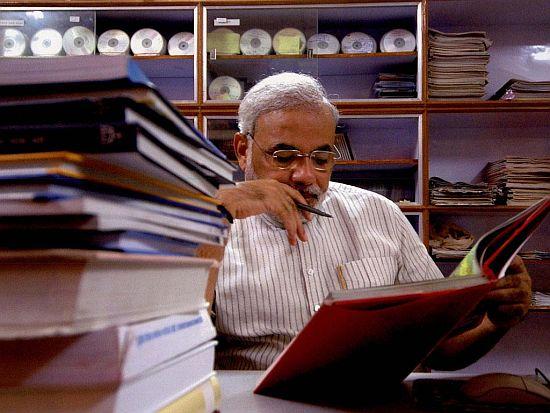 The Modi government received a jolt to discover that beyond the 'neo-middle class and urban middle-class,' there is a Gujarat waiting for development.
Even the middle class is unable to afford a home in Gujarat due to the steeply increased price of land.
The Congress' offer of cheap housing touched a raw nerve among millions of homeless farm labourers and poor people in the state.
On December 3, while releasing the BJP's election manifesto, Modi spent much time explaining the BJP's counter-offer to build 5 million new houses at a cost of Rs 330 billion.
Modi said he would head a dedicated department to implement this scheme under the Mukhya Mantri Gruh Samrddhi Yojana.
In the last two decades, the Congress has not contributed much as the main Opposition party. This is the first event where the Congress can get credit for forcing the Modi government of the 'neo-middle class and urban middle-class' to turn 'pro-poor'.
It is another matter that neither the Congress nor BJP will fulfill the promises of Ghar nu Ghar even if given a chance. Both parties will merely produce statistics at the end of five years.
Please click NEXT to read further...
The marriage season and low voter turnout worry the political parties
Last updated on: December 5, 2012 12:41 IST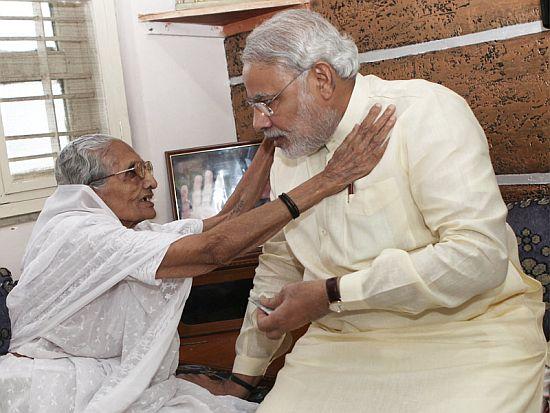 Due to delimitation, the constituencies have become smaller and the margin of victory will shrink. Right now, there is no wave in Gujarat.
Election fever has not picked up.
The BJP rallies do not attract large crowds.
There is genuine worry for the political parties. Their calculations will go awry if the middle-class urban voter turnout is low due to the marriage season.