'Modi is Gujarat's lion'
Last updated on: December 16, 2012 13:56 IST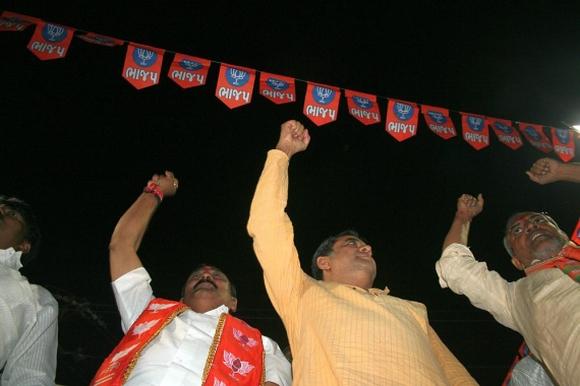 At a campaign rally in Patan in northern Gujarat on Friday, actor Paresh Rawal was at his sarcastic best as he spewed venom on the Congress and urged the voters to "perform Congress's last rites" on December 17, when Gujarat votes in the second phase of the state elections.
There was almost a stampede when Rawal reached Patan at 7.45 pm, nearly two hours behind the scheduled time of 6 pm.
People waiting to catch a glimpse of Rawal sat all across the main square in Patan and on the road, in balconies, atop terraces, on top of a statue of Dr Babasaheb Ambedkar, on a huge concrete gate and atop the traffic police's towing van.
Though the public meeting was purportedly to campaign for Bharatiya Janata Party candidate Ranchhodbhai Rabari, Rawal was more interested in telling the people what Modi had done so far, what he could do in the future and why they should elect Modi again.
Emulating Chief Minister Narendra Modi's mannerisms and oratory, Rawal left the voters of Patan mesmerised and baying for the Congress's blood.
"Modi toh Gujarat no sinh chhe (Modi is Gujarat's lion)," he said and the crowd erupted in huge applause.
Canvassing for Narendra Modi as the future prime minister of India, Rawal beseeched the people to elect Modi and the BJP in Gujarat with a huge mandate, so that he could weed out the corruption that the Congress-led United Progressive Alliance government has now become infamous for.
"These people know that if a person like Modi comes to the centre he will tear them apart. When Modi roars in Gujarat, their dhotis get loose in Delhi. When Modi raises his eyebrow in Gujarat, they lose their sleep in Delhi," Rawal said.
Reportage: Prasanna D Zore in Patan
Click on NEXT for more...
'This is India's second war of independence'
Last updated on: December 16, 2012 13:56 IST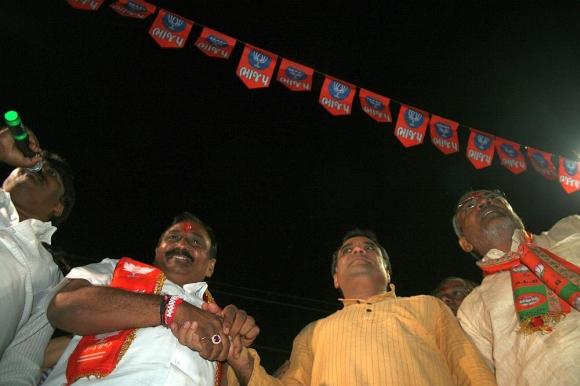 He added, "Modi is like Shankar (Lord Shiva). Because when the Congress party is spreading the poison of corruption and communalism in the entire country, Modi has kept this poison from spreading to Gujarat. Modi has drank this poison and kept it in his neck; he did not let it slip down. That is why Modi is the best person to adorn Kailash Parbat (the mythological abode of Lord Shiva) like Gujarat."
Lacing his speech with strong rhetoric, Rawal said, "Do you see even a single person in this country who can match Modi? This is the seat of Gujarat's chief minister and a lion (Modi) sits here. Bakri na bachcha thi aiyyaa na besaay (A goat's kid cannot sit here)".
Rawal roared, "On December 17, we have to perform the 13th day rite of Congress party. And on the 20th (the day of counting) we have to perform Congress's pinda daan ceremony and eat sweets (huge applause)."
Rawal continued his diatribe, "On the 20th you have to finally bring down the curtains so that Gujarat gets rid of this disease named Congress. And you should rout them in such a manner that they should not raise their head again in Gujarat. They should not dare to contest elections again. Their ghosts should also dare not come back to the state again".
He termed the Gujarat assembly election as India's "second war for independence".
"This is not an ordinary election. Please understand this. This is a historic election. This is no battle, this is no war; this is the struggle of the people of Gujarat for India's second independence. This is the second war of independence to get rid of Congress's corruption. You have to vote for Modi saheb with a huge majority and send him to Delhi. It is no big deal for Modi to become a CM now. If not Modi, then who else can become the PM," he asked.
The crowd responded with 'Modi banse aapro PM' (Modi will become our PM now).
Click on NEXT for more...
'Only Soniaben and Manmohan Singh cannot see'
Last updated on: December 16, 2012 13:56 IST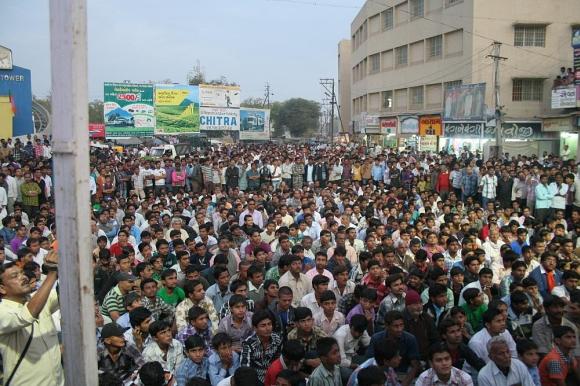 Rawal told his listeners that actors like Amitabh Bachchan, Akshay Kumar, Ajay Devgn and him were not interested in getting money or land plots or any post in the BJP in lieu of campaigning for Modi.
"We have come here because one man is working without any selfish motive for the betterment of the people of the state. If I don't stand behind or support such a personality then as a Hindustani I should be ashamed of drinking my mother's milk. We Gujaratis would be called eunuchs if we don't support Modi," he said.
"Modi has been working for the people of Gujarat without any vested interest or selfish motive. You might feel that Pareshbhai has taken a lot of money from the BJP andis doing dialogue-baji in its favour. But let me tell you this -- it is not in the BJP's DNA to offer money and get people's support," he added.
Rawal did not spare even Prime Minister Manmohan Singh who had, while campaigning in Gujarat, observed that minorities feel insecure in the state.
Rehashing a popular joke about the PM, Rawal told the audience that Dr Singh won't open his mouth even when he goes to the dentist. The dentist would have to open his mouth using a fork.
"But when he comes to Gujarat what does he say? That minorities are not safe in Gujarat," said Rawal.
"Arre tamhari bhali thay (May God bless you)," Rawal said caustically.
"Manmohan kaka, in the last ten years, Gujarat has not even heard the C of curfew. Gujarat's mothers and sisters can freely roam its streets even at 2 in the morning. Show me even one state in Hindustan where women feel safe like they do in Gujarat. But Congress will never see this. They will do whatever they can to malign Modi," he added.
"Gujarat's strides in development under Modi's rule have been seen by everybody. But only Soniaben and Manmohan Singh cannot see the development of the state," Rawal observed while concluding his 20-minute fiery speech.
Click on NEXT for more...
TOP photo features of the week
Last updated on: December 16, 2012 13:56 IST
Click on MORE to see another set of PHOTO features...