'It's not difficult for Modi to convince Muslims'
Last updated on: December 17, 2012 10:25 IST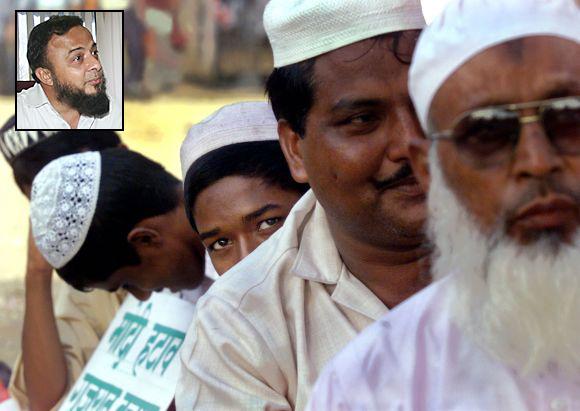 Zafar Sareshwala tells Rediff.com's Sheela Bhatt why Muslims are better off under Narendra Modi's rule than they were under the Congress.
Zafar Sareshwala, a businessman and Muslim activist, initiated the dialogue between Gujarat Chief Minister Narendra Modi and Gujarati Muslims.
In the final part of his interview with Rediff.com's Sheela Bhatt, Sareshwala explains why he had a change of heart after vehemently opposing Modi at first.
Part I of the interview: 'Gujarat's Muslims have no option but to talk to Modi'
My family was scared when I went to see Modi. I met him at the St James Court Hotel in London in 2003. He was a chief minister with a two-thirds majority.
We said we will meet alone. He knew we had come with grievances. Maulana Isa Mansuri of the World Islamic Council was also there. We spoke to Modi about everything -- right from the morning of February 27, 2002, about his not visiting Muslim camps.
The best part is maybe he didn't accept all our contentions, but we discussed everything.
We said 'You have done this and this'. He was defending, saying no on a few issues, accepting a few others.
Don't you think 2,000 people have been killed?
Don't you think the destruction of Muslims has occurred?
I said 'Modisaab, the buck stops with you. I am not getting into who is responsible or not. Modisaab, you are the chief minister.'
And before that, I said 'Modisaab you are talking about five crore Gujaratis, are we included in that?' He said, 'Of course, you're part of it.'
He said 'I've ensured that water from the Sabarmati river passes through Jamalpur and Shahpur (Muslim areas in Ahmedabad).'
And he admitted that 'Yes, yeh mere kaal mein hua hai aur mujhe isse dhona hai. (It (the riots) happened under my regime and I have to bear the burden of it.)
When the meeting ended, he said, 'Let's come to brass tracks.' Mansuri spoke quite a lot. He did not speak of anything other than the atrocities. Nothing.
There are witnesses to it. Some very senior journalists are witness to it.
And he said to me 'Aaj nahi, but dus saal baad duniya yaad karegi aap ko. Aap ko kaaton ke taaj pehena padega abhi. (Not today, but people will remember you ten years from now. Today, life will not be easy for you because you met Modi).'
To call me a traitor and to call me Mir Jafar and what not is easy. My simple question is this: Is my meeting with Modi right or wrong?
Let us argue on that. And for god's sake, please don't question my intentions.
My critics attack my personality, my integrity, my honesty. They use all sorts of abuses; they call me a cheater.
They don't want to argue, so they abuse.
After the meeting, Modi wrote his telephone number on a piece of paper. He said, 'This is my number. Modi's doors are open for you 24/7! Come to me for any problem. Let me know what is happening in Gujarat.'
In October, 2003, I thought if Modisaab has given me the number, then let me try. So I called him from London. The guy who picked up the phone took my number.
Modi returned the call. I spoke about a Muslim doctor. He got things done.
Modi said -- I am quoting his words -- 'Don't give us votes, but get things done through us.'
I returned to India in November 2003. I met Modi in April 2004 with a few issues about the Muslim community.
At the lower levels in the police and administration, the perception was that the more you harass Muslims, the more Modi will like it.
Modi is the head of the government, so the responsibility is his, but as it happens in our lives too, Modi, many times, is not aware about what is happening at the lower levels.
Modi wanted me to bring to his notice the issues Muslims had.
After the riots, the Gujarat police was targeting rich and well-established Muslims. We took the issue to Modi. Some Muslims called a Congress leader in New Delhi.
I told them that any leader from Delhi would have to call Modi.
The Indian system is such that even the prime minister can't get things done without the state government's help.
The leaders in New Delhi could not help, so Muslim leaders again came to me.
I spoke to Modi's office. I asked, 'How many Muslims will your police commissioner have to round up to get a medal?'
I gave Modi three names and within four hours the harassment stopped and the complaints were withdrawn.
We thought something is moving for Muslims in Gujarat after the riots.
Many Muslims were arrested under the section, 'Waging war against the State.' That is a draconian section.
With the help of Modisaab, we helped four Muslims get out of jail after eight years. We get the blessings of poor Muslims for helping them.
Modi has a style of functioning. He reads the issues in front of his guests and on the spot tells you if he will be in a position to get things done or not.
What I mean is, you have to have an engagement with the state government.
Please click NEXT to read further...
'Indian Muslims haven't seen what Muslims have achieved in Gujarat'
Last updated on: December 17, 2012 10:25 IST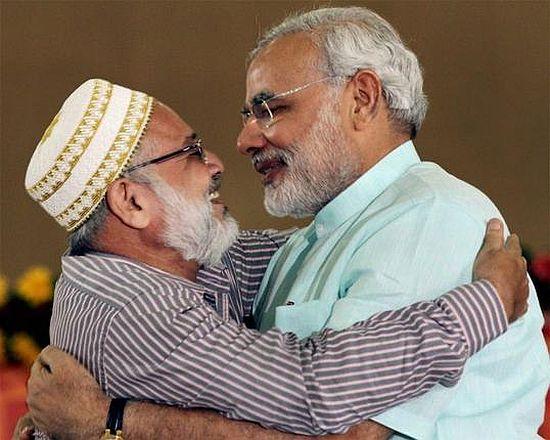 It will not be difficult for Narendra Modi to convince Muslims in Gujarat and India. He has to show what all he has done in Gujarat.
In 2003, when we went to the Gujarat education department, they came forward to help. The department said the schools of Muslims must not close down. They were ready to help us all the way.
Muslims in India don't need money. They don't want the government to put a spoke in the wheels of community progress. They only want logistical support from the government machinery.
We are capable and we have intelligence.
My stand is that Muslims living in Bihar or Andhra Pradesh, anywhere in India, should have a line open to the administration so that their voice reaches the State.
It is not about Modi, it is about a chief minister. We must talk and engage. We need a positive atmosphere.
When I was in school in the 1970s in Gujarat we had an unwritten maxim that the government will never give permission for schools for Muslims. Now, we have schools, hospitals and medical centres.
Indian Muslims haven't seen what Muslims have achieved in Gujarat. I invite people to come and see.
There are too many permutations and combinations before Modi can become prime minister, but it will not be difficult for Modi to run the country.
There is the draconian Disturbed Areas Act 1991 that prohibits transfer of immovable property in Ahmedabad and provides protection for tenants from eviction.
Muslims are facing the brunt of it. On the face of it, the law looks helpful. But for every property -- even if the seller and buyer are willing -- they need the collector's permission.
The law was introduced by the Congress-ruled government when more than dozen Muslim MLAs were in the Gujarat assembly.
What difference did they (the then Muslim MLAs from the Congress party) make to us when they behaved like rubber stamps?
We went to Modi with our problems. He expedited the process.
The law is still there, but due to Modi's intervention, the collector gives permission to sell or buy within 24 hours.
Juhapura and Vejalpur's Muslim-Hindu ghettos have been there for 30 years. It was not set up during Modi's rule. But now lots of development has taken place there.
Service roads have come up. Five town planning schemes have come up. One sees a phenomenonal change and rise in land prices too.
Please click NEXT to read further...
'I think NRI Muslims have an agenda'
Last updated on: December 17, 2012 10:25 IST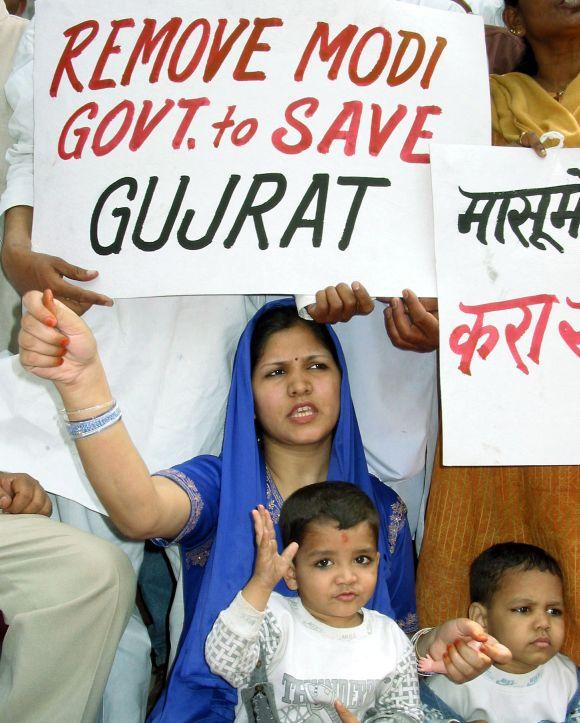 Yes, many Muslims oppose it.
When I started speaking to Modi in 2003, there was a huge backlash, but most of the protests were initially from people outside India.
They are in the US, UK. They want to send e-mails. They are arm-chair critics and don't want to come to Ahmedabad.
Sitting there, they want to advise Muslims in Gujarat how to live. I think NRI Muslims have an agenda.
Hyderabadi Muslims and groups like the Jamiat-Ulama-i-Hind, Jamaat-e-Islami, Imarat-e-Shariah have helped us. They have been involved in rebuilding houses and all that. The rest are arm-chair critics who want to go to the television channels.
Enough is enough. We don't want that you just abuse Modi and become secular.
Please, for god's sake, we don't want such people. If you want to do something, come here and help us.
Please click NEXT to read further...
'In Hindustan, Muslims should have no fear. We have the Constitution'
Last updated on: December 17, 2012 10:25 IST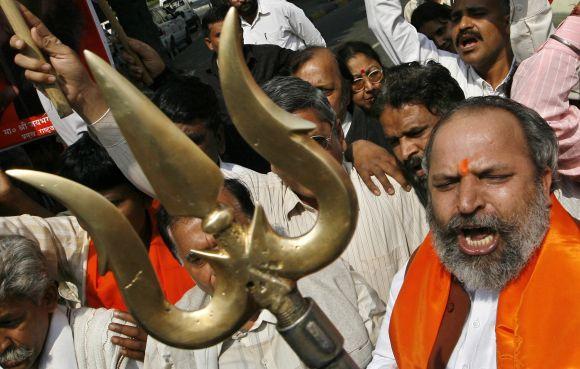 Earlier, we never had so much interaction with Hindus. In the last 5, 7 years, I have had a lot of interaction.
I also had misconceptions. If you put a question to Hindus like, for example: 'Was it good that 2,000 Muslims were killed in the 2002 riots?'
Not a single Hindu said, 'Acha hua (It was a good thing).' They regret it and say, "Yaar, bahut bura hua (A very bad thing happened, friend).
After 2002, there was a barrier and there was a lack of communication. When we started communicating with the Hindus, that situation was never there before.
In fact, in the 1990s, when there was no Modi, no BJP, believe me, no Muslim could dare open a non-veg restaurant on C G road or Ashram Road in Ahmedabad.
Today, you will find at least 30, 40 Muslim-owned non-veg restaurants. You have Kareem's, Barbeque Nation etc. All these are in the heart of a 100 percent Hindu area. There are Muslim-owned shops in a recently opened mall.
During the Congress government, Muslims could not even think of buying an inch of land on CG road or SG road. Much before Modi.
Even when Mahatma Gandhi was alive, in Gujarat, Muslims could not own land in Navrangpura. We were restricted to the 'walled city area.'
What are we talking about? It was impossible. Impossible!
With Modi, the door has been opened.
Now, at least 30, 40 different groups have met him.
They have also taken up the issue of madrassa education with Modi. A team of madrassa managers went to Modi and said, 'Our students study for eight, nine years, but their degrees are not recognised.'
Modi said, 'This is a great idea. Let us work on it.'
I was there. There were all these madrassa people talking to Modi. The mufti of a very large Islamic centre was present.
I don't want to name him because then the whole secular brigade will go against them. Even the mufti said, 'We need to talk to Modi.'
About the Rashtriya Swayamsevak Sangh agenda of making India a Hindu nation
Is the RSS agenda new? It has been there since 1920. So what? How does it matter to us?
In Hindustan, Muslims should have no fear. We have the Constitution.
Even if Guru Golwalkar (the second RSS sarsanghchalak) had become prime minister of India, he would have had to abide by the Constitution.
Try to change the Constitution and see.
We know for sure that whoever becomes prime minister he or she has to follow the Constitution.
What difference does it make to our lives, this RSS agenda? We are living our own lives, and our rights and duties emanate from the Constitution.
Under the so-called RSS agenda we have built more schools in Gujarat than before.
Until 2001, Ahmedabad had just two major Muslim schools. Now we have 13.
Please click NEXT to see other Gujarat election features...
Other Gujarat election features...
Last updated on: December 17, 2012 10:25 IST
Please click MORE to see another Gujarat election feature...