'Every woman is an asset for the country'
Last updated on: January 20, 2014 19:03 IST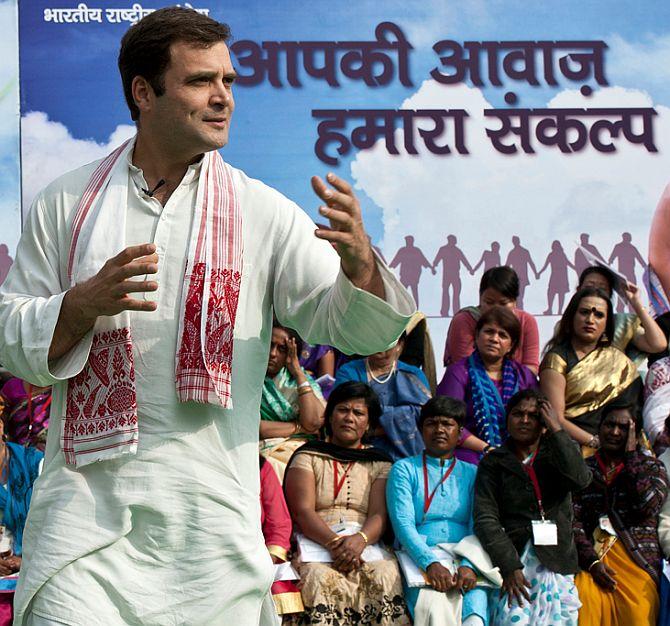 Batting for early passage of women's reservation bill, Rahul Gandhi on Monday vowed to work for larger representation to them in Parliament, government and Congress and noted that the party and the country cannot ignore the views of half of the population.
Interacting with women from across the country as part of Congress' exercise of seeking direct inputs from stakeholders for its 2014 Lok Sabha election manifesto, Gandhi said he wanted "maximum possible" women in leadership positions and on a personal note added that even in Gandhi household, "Grandmother (Indira Gandhi) was the boss...".
"Empowering women is a big battle that we have to fight and win," he said and expressed confidence that not only the Women Reservation Bill that seeks to provide 33 per cent quota to them in legislatures bodies will be passed but in next five to ten years, nearly half of Congress ministers will be women.
"Every woman is an asset for the country.... India can not become a superpower without the empowerment of 50 per cent population of women.... We have to bring your views in our manifesto," Gandhi said during the interaction as the women put forth their views frankly to the Congress Vice President, at times critical and demanding specific solutions.

Click on NEXT to read further...
'Grandma was the boss of the house'
Last updated on: January 20, 2014 19:03 IST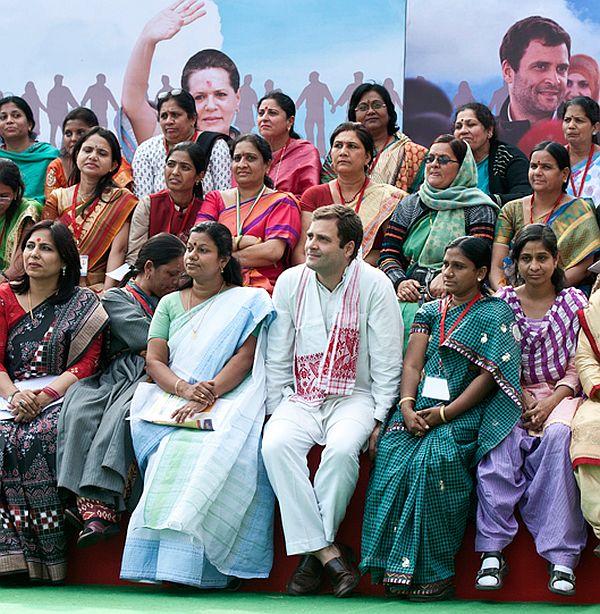 Among the women present were sex workers, Anganwadi workers, besides members of Gulabi Gang, a group of women vigilantes and activists originally from Bundelkhand.
"Women's Reservation Bill is in Parliament. I assure that we will not let it go... We have to do this 33 percent reservation women in Parliament and assemblies. Political parties also have a responsibility.
"My thinking is that there should maximum possible number of women in leadership positions. I want that among the ministers of Congress that you see now, there should be 50 percent women in next five to ten years," Gandhi said.

He said that there is a need to be aggressive and get going to ensure that women are empowered.

In his interaction laced with anecdotes, Gandhi also said, "I want to tell you my perspective...In my house, there was papa (Rajiv Gandhi), there was uncle (Sanjay Gandhi) but the boss of the house was my grandmother."

"There was no doubt about that that. Grandma was the boss," he said with a chuckle.
Noting that there is no difference in the capacity of a man and woman, he said, "Women do not need any protection. If you give them their rights, they can protect themselves."

"Unless the bill was passed it will not be possible to empower women in all spheres," Gandhi, who is leading the Lok Sabha polls campaign for Congress, said.

Click on NEXT to read further...
'Our country can't be a superpower unless its women are safe'
Last updated on: January 20, 2014 19:03 IST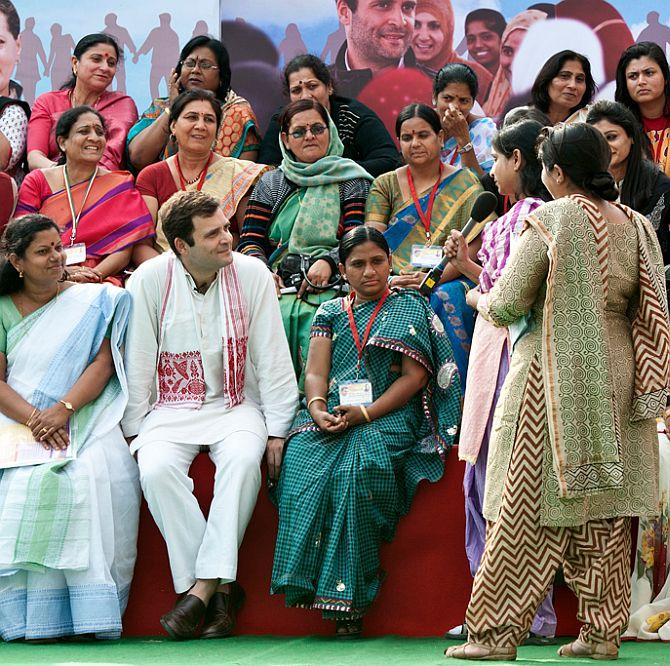 The Women's Reservation Bill was passed in the Rajya Sabha but not in the Lok Sabha and ensuring its passage before the elections is said to be on the priority list of Sonia Gandhi.
The bill is facing opposition from Samajwadi Party, the Rashtriya Janata Dal and from some section of the Congress.
Rahul said it was sad that even today women were subjected to all kinds of violence in the country.
Narrating an incident during a visit to his Parliamentary seat Amethi, he said that he saw a man was dragging a woman by her hair because she had not cooked food.
Maintaining that while this incident was of "extreme" nature, Gandhi told the gathering of women that they must also have been suppressed at some point.
"This feeling has to be removed from the country. Violence takes place against women and this happens from the deep inside. There can be various ways of violence against women. We have to fight against this violence. The biggest thing is that we have to change the attitude.

"There are 50 percent women in the country without whom the nation cannot develop. Our country cannot become superpower unless we could ensure safety of all our women. We do not even want such a superpower in which women, who are half of the population are not empowered," he said.

Click on NEXT to read further...
'We want to take your views in the manifesto'
Last updated on: January 20, 2014 19:03 IST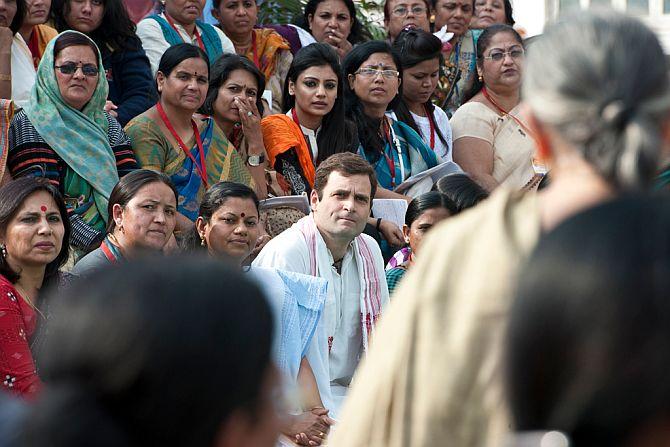 Gandhi noted every woman will be an asset irrespective of in whatever condition she is adding "we have to just create opportunities for them."

"We want to take your views in the manifesto. The idea behind the process is to include your voice in the manifesto of Congress party. Earlier five people used to make manifesto. In other parties also five-seven people used to finalize what will be in the manifesto. We want to put your views in that.

"Not only women, we also met youths, members from SC/ST, minority. We will also ask about it from farmers. We will seek the views of every section about what they want in the manifesto and all reasonable suggestions related to policy will be incorporated," Gandhi said.
During the meeting some among the group of 250 women also raised concerns over rising prices of LPG and petroleum and sought categorical assurances from Gandhi. Some raised the issue of Aanganwadi workers' strike in Maharashtra and demand for better stipend and pension while others talked about jobs.

The Congress Vice President said that the issues will be looked into and studied

Click on NEXT to read further...
'Whatever power I have to assist the women in their empowerment, I will exercise'
Last updated on: January 20, 2014 19:03 IST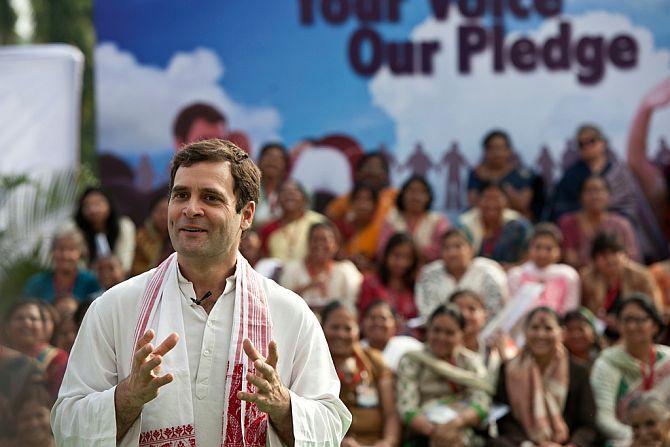 Gandhi talked at length about the experiment of women self help groups in the country and particularly in his constituency Amethi.
He also extended invitation to some participants to visit one such SHG run by him in Uttar Pradesh.
"Congress government over the last five years has put a big emphasis on SHGs. Financial inclusion transforms the life of a woman completely. We are very happy about the SHG movement across the country," he said.

During an interaction when a woman requested the Congress Vice President to nominate more women for Rajya Sabha, he asked why they are not talking about Lok Sabha and assemblies.

"Whatever power I have to assist the women in their empowerment, I will exercise," he said, adding that while it is very easy to get into specifics the only way forward is to open up the system, increase the democracy in all spheres and empower all individuals.
"If you think that it will happen soon, it will not happen. We will have to work systematically," he stressed while flagging that a number of steps like reserving 50 seats to women in Panchayati Raj and steps like MNREGA providing equal wages to both men and women and RTI have helped the women.

Click on NEXT to read further...
'There are deficiencies no doubt. We have to do much more'
Last updated on: January 20, 2014 19:03 IST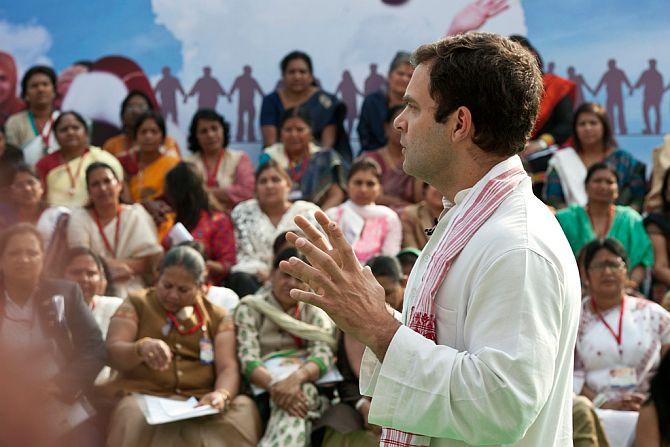 "The exploitation of women, which used to take place in closed rooms, has been brought exposed by the Congress party through..... There are deficiencies no doubt. We have to do much more," he said.

During the interactions there was also a demand from the transgender community that Gandhi hold a similar session in Maharashtra to which the Congress President said he would discuss within the party.
Responding to various demands from the disabled among the women, Gandhi talked about the "physical barrier" they face.

The issue of AFSPA vis a vis violations of rights of children and women also came up during the interaction with a woman from North East seeking Rahul's intervention in the issue.

Among those he heard were two women from Gujarat who said there were many problems in the western state led by Narendra Modi.
Before this interaction with women, Gandhi held consultations with youths in Kerala some time back. Congress had opened up its manifesto making exercise and launched a website for this.

The party held three consultations with different sections in the national capital as well to seek their direct feedback for manifesto.
© Copyright 2019 PTI. All rights reserved. Republication or redistribution of PTI content, including by framing or similar means, is expressly prohibited without the prior written consent.