How Mamata Banerjee helped Hamid Ansari
Last updated on: July 17, 2012 21:59 IST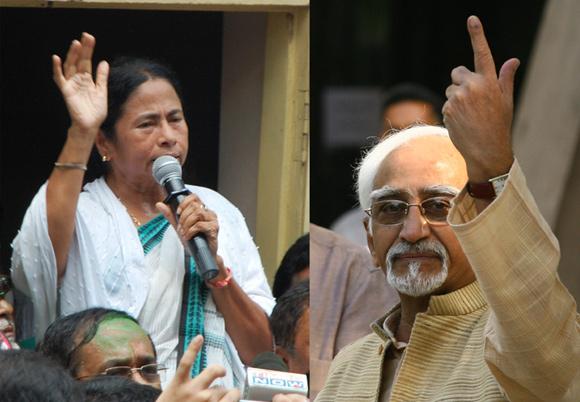 Mamata Banerjee's role in the vice-presidential race...
Kapil Sibal's battle with MPs...
Why Nitin Gadkari is a worried man...
All this, and more, in this week's Dilli Gupshup.
With Jaswant Singh in the fray, the battle for the vice-presidency is shaping into an interesting one.
If Hamid Ansari becomes the vice-president of India again, there's one person he will definitely have to thank.
Would you imagine Mamata Banerjee lending Ansari a helping hand?
This, apparently, is how the saga unfolded.
Prime Minister Manmohan Singh, who is otherwise not known to assert himself, reportedly lobbied hard for Ansari's candidature.
The Congress party, however, was less than keen. Until someone mentioned Sonia Gandhi's June 13 statement -- as quoted by West Bengal's chief minister -- where Madam (Sonia, not Mamata) named Ansari one of her choices for Presidential office.
The prime minister, apparently, drove the same point home.
Now that Jaswant Singh is in the fray, Mamata may actually weigh in with much-needed votes.
For those of you who came in late, the prime minister's ties with the vice-president date back to the time when Dr Singh was wetting his feet in Track II diplomacy and Ansari looked after West Asia at the external affairs ministry.
Please click NEXT to discover what Kapil Sibal's up to...
The ire of a scorned MP
Last updated on: July 17, 2012 21:59 IST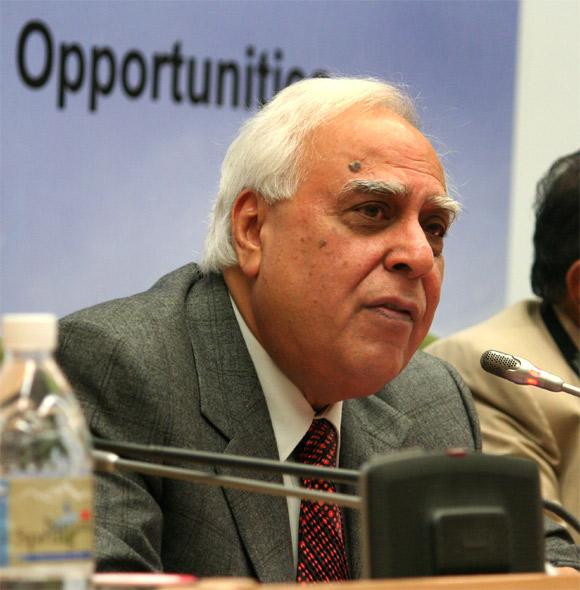 Human Resource Development Minister Kapil Sibal is proving a quick learner.
Sibal recently upset MPs when he tried to restrict the say these elected worthies had in transfers, postings and admissions related to the HRD-run Kendriya Vidyalayas.
The irate MPs apparently cut across party lines to oppose, block or delay bills pertaining to Sibal's ministry.
Sibal had no choice but to placate the irate People's Representatives.
As a result, the quota of seats reserved for MPs when it comes to admission into the Kendriya Vidyalayas has been increased from two to six per MP.
Please click NEXT to find out how Salman Khurshid has been flexing his muscles...
Why Khurshid is a Khan
Last updated on: July 17, 2012 21:59 IST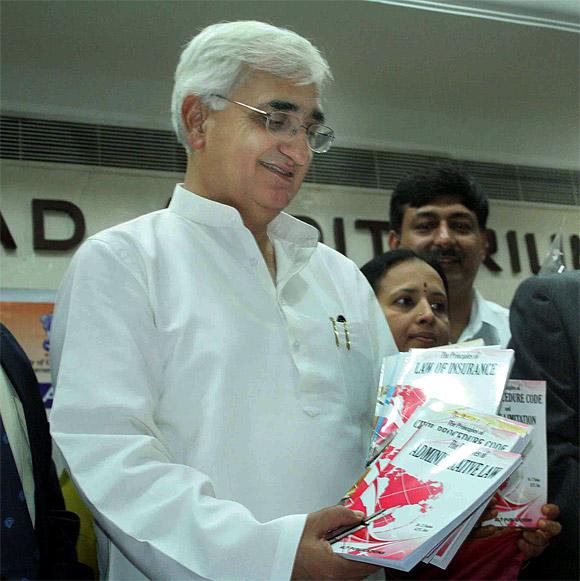 As the Congress party reels from the law minister's 'bold' comments on heir-apparent Rahul Gandhi's cameo appearances in the political firmament, Salman Khurshid has started flaunting his 'Khan' status.
Khurshid, who threw a lavish mango party in the capital recently, apparently points to his 'Afridi Pathan' lineage to emphasise why he did not backtrack on his remarks.
A quick wit, who rather enjoys the Congress party's discomfiture, says Khurshid is the Salman Khan of its politics, albeit with his shirt on...
Please click NEXT to find out why Nitin Gadkari is a worried man...
Even when Gadkari wins, he loses
Last updated on: July 17, 2012 21:59 IST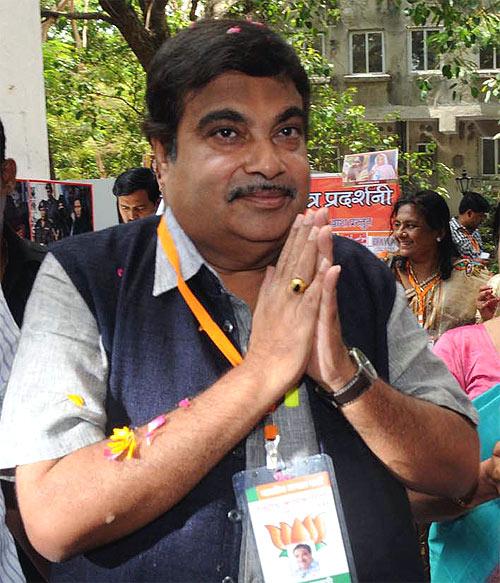 The BJP may have won the municipal elections in Maharashtra, Delhi, Uttar Pradesh and, now, Madhya Pradesh, but its woes never seem to end.
Despite the party's impressive success in the civic polls in these states, the BJP president's detractors refuse to fade away. Leaving Nitin Gadkari a worried man.
A whisper campaign has begun questioning the BJP's recent victories.
Why, wonder these critics, is the BJP winning only at the municipal level?
Has it got something to do with the leader's attitude?
What do you think? Post your comments and read what others have to say, right here on Zara Bol.
Please click NEXT to find out why the Planning Commission has suddenly become very active...
What's PC up to?
Last updated on: July 17, 2012 21:59 IST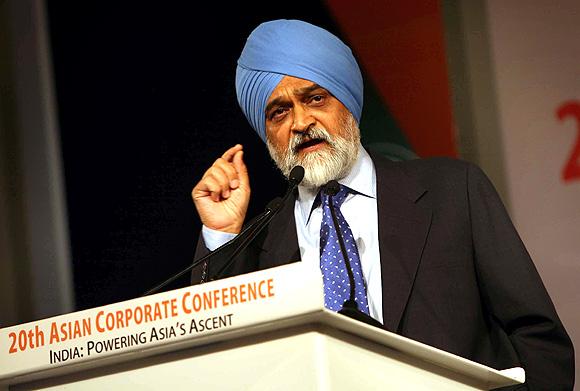 If you're wondering why the Planning Commission is working overtime these days, here's the reason.
Now that Dr Manmohan Singh is in charge of the finance ministry, Planning Commission Deputy Chairman Montek Singh Ahluwalia reportedly wants to push through as many proposals as possible.
Keen observers of this frenetic activity point out that even Cabinet Secretary Ajit Seth has noted the pace at which proposals are being presented and cleared.
How much faith, wonders a wag, does that show in former finance minister Pranab Mukherjee? Or in the future finance minister who, reportedly, could be P Chidambaram?