First quit and then talk, BJP tells Yeddyurappa
Last updated on: July 30, 2011 15:36 IST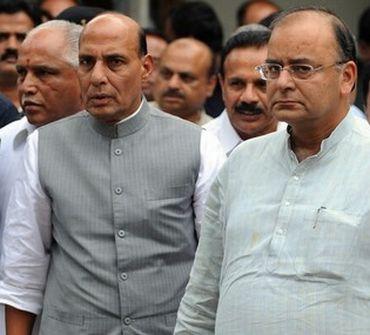 The talks between BS Yeddyurappa and the senior Bharatiya Janata Party leaders appear to have succeeded with sources now indicating that the chief minister has agreed to step down on Sunday afternoon at around 1 pm.

The meeting held with senior party leaders Arun Jaitley and Rajnath Singh lasted over an hour with Yeddyurappa placing his demands before them.

Although there is no official word on his set of demands, sources say that the senior leaders were tough on him and said that the Lingayat leader could face action if he played out this drama further.
The BJP high command told him in clear words, first quit and then let us talk.

Later in the day, Yeddyurappa issued a statement stating that he would tender his resignation on Sunday afternoon.

"As per the decision of the party's parliamentary board, I will be submitting my resignation on July 31. The media has been misleading everyone that I would not tender my resignation. However, I would like to clarify that I shall be resigning on July 31 Sunday in the afternoon." The letter was read out to the media by Basavaraj Bommai, a xlose aide of Yeddyurappa after holdings talks with the CM. 

Click on NEXT to read further...

 
First quit and then talk, BJP tells Yeddyurappa
Last updated on: July 30, 2011 15:36 IST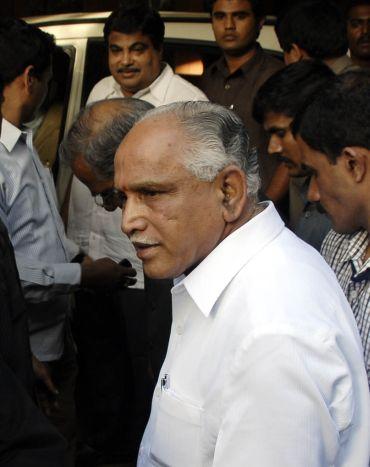 They (Rajnath and Jaitley) told him that they will not accept any of his demands unless he steps down.

In the meeting, Yeddyurappa first made a strong pitch to nominate his sucessor.
When the leaders diagreed, he said he needed an assurance that he would be made the party chief in Karnataka.
However, he was clearly told that all these issues will be considered only once he puts in his papers.


First quit and then talk, BJP tells Yeddyurappa
Last updated on: July 30, 2011 15:36 IST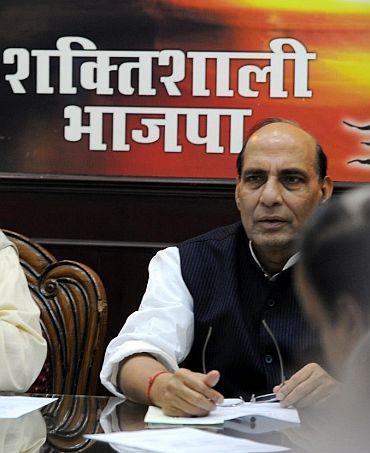 They told him that their leaders in New Delhi had made it clear that a new leader had to be elected at any cost.
Once the party has taken a decision, it cannot be changed. Hence make the transition peaceful and smooth, they told Yeddyurappa.
Yeddyurappa's supporters, however, said that they would make one more appeal to the high command to retain him.
But Yeddyurappa's close aide and excise minister Renukacharya said that while they would question the Lokayukta report they would stand by Yeddyurappa in whatever decision he takes.
First quit and then talk, BJP tells Yeddyurappa
Last updated on: July 30, 2011 15:36 IST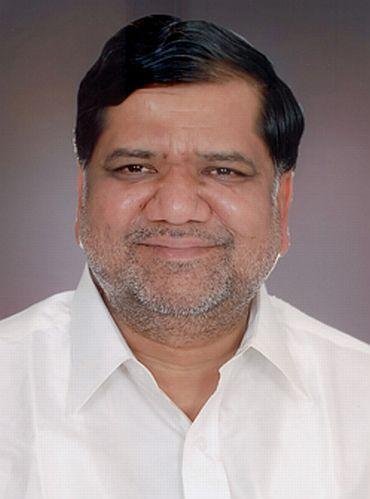 Although Yeddyurappa wants his man in the chair, the high command has been pitching the name of Jagdish Shettar.
Sources say that although things may change as the day progresses, many party leaders have been rooting for Shettar.
Shettar, who enjoys the support of a large number of MLAs, the Lingayat community and most importantly senior BJP leader Ananth Kumar, has the best chance at the moment.
Yeddyurappa had, however, opposed Shettar and said that no other Lingayat leader other than him could hold the CM's post.
In order to counter Yeddyurappa, the BJP is also toying with the idea of appointing Ananth Kumar to the post of chief minister.
Sources say that while Yeddyurappa will be kept out of the decision making to select a new CM, he would be given the post of party president once he steps down.
Dr V S Acharya, who refused to comment on the new leader, however, said that there would be an announcement by evening.