Exclusive! 'ISI kept Osama as asset, knows where Mullah Omar is'
April 21, 2014 12:24 IST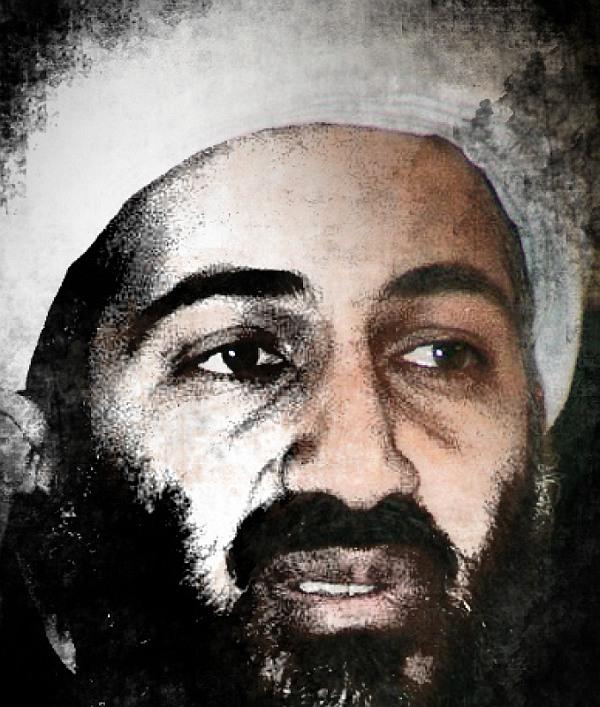 'Pakistan's Inter Services Intelligence ran a special desk that was concerned solely with handling Osama as an intelligence asset.'
'Some dream that the Taliban's flag will fly again over Kabul.'
'Musharraf was aware of the plans to assassinate Benazir and did nothing'
New York Times reporter Carlotta Gall, author of the stunning new book The Wrong Enemy: America in Afghanistan, speaks to Rediff.com's Vicky Nanjappa in an exclusive interview.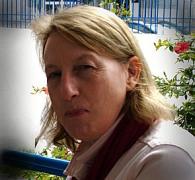 Carlotta Gall was punched in the face by Pakistani intelligence agents who broke into her hotel room and confiscated her phone and computer in 2006.

She was probably digging up too much dirt about Pakistan's Inter Services Intelligence hobnobbing with Osama bin Laden, who was shot dead May 2 three years ago during a raid by US Navy SEALs in Abbottabad in Pakistan's Khyber Pakhtunkhwa region.

Having covering Afghanistan and Pakistan for The New York Times for over a decade, the British journalist is convinced -- in her new book titled The Wrong Enemy: America in Afghanistan -- that the Pakistani establishment was protecting Osama as an intelligence asset.

She spoke exclusively to Rediff.com's Vicky Nanjappa.

How has your book, The Wrong Enemy: America in Afghanistan been received?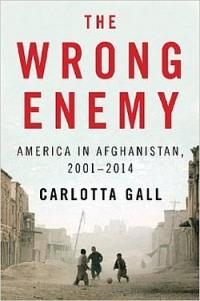 It has been well-received in the United States. There has been strong media interest in the revelations about the ISI hiding Osama and Pakistan's role in supporting the Taliban and undermining the US and NATO mission in Afghanistan.

Many Americans understood this when Osama was discovered to be living in Abbottabad in 2011, but this book has reinforced those suppositions.

A few people have cast doubt on the book's claims, but I have also had many messages from senior officials, diplomats and military officers commending my work and telling me it is accurate. So far, the reviews have treated my thesis seriously and been favourable about the book.
Kindly click NEXT to read further...
'Osama was used for his influence as a charismatic figurehead over other groups'
April 21, 2014 12:24 IST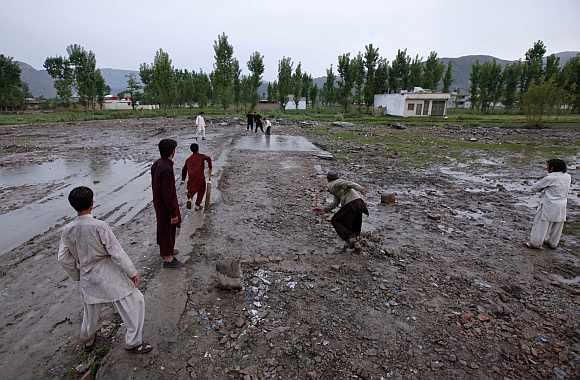 What exactly was Osama's relationship with the ISI?
I found that the ISI ran a special desk that was concerned solely with handling him as an intelligence asset.
My understanding is that he was protected, concealed, and used for his influence as a charismatic figurehead over other militant groups, including the Taliban and Pakistani militant groups.

What did the ISI gain by protecting him? Does it mean they were involved in the 9/11 attacks too?
I don't know if the ISI was involved in the 9/11 attacks. They certainly could have been aware of a pending international attack since there are indications the Taliban knew a big international attack was coming and the ISI was extremely close to the Taliban and closely involved in the Taliban's efforts to establish its rule over the whole of Afghanistan.
You mention that Osama was in touch with Lashkar-e-Tayiba founder Mohammad Saeed. Does a direct relationship exist even today between Al Qaeda and the Lashkar?
I am unaware of any direct relationship between Al Qaeda and the Lashkar except the correspondence between the two mentioned in the book. I think they both have longstanding relations with the ISI and have clearly cooperated on training militants and spreading radical Islam in the region.
Kindly click NEXT to read further...
'ISI knows where Mullah Omar is at all times'
April 21, 2014 12:24 IST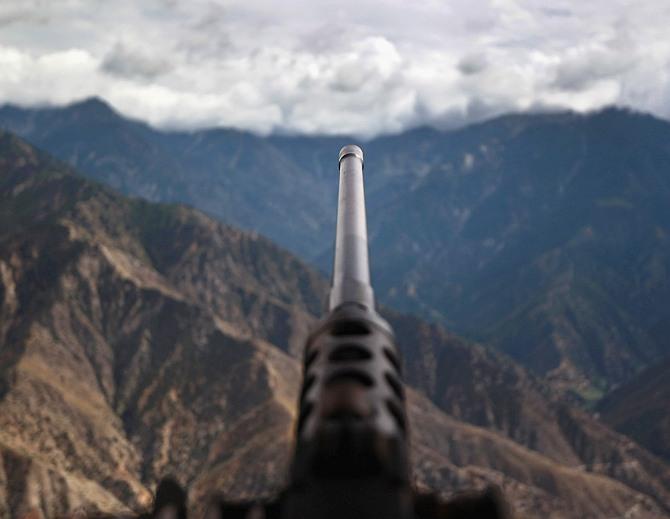 What has the response been from the US and Pakistan administration following this revelation?
The Inter-Services Public Relations (administrative military organisation within the Pakistan army that coordinates military information with the media and the civil society) denied the main revelations, describing them as 'baseless and ridiculous'

I am not sure if the US administration has made any comments on the findings of the book. Cameron Munter, who served as US ambassador to Pakistan at the time of the raid against Osama, has said he does not think Pakistan knew of the Al Qaeda chief's whereabouts.

I, of course, stand by my writing and my sources who are rock solid.

After 12 years reporting from the region, I have learned which sources to trust and have only included information that has been tried and tested with other sources and experts.

Since the publication of the extracts and the book I have received confirmation from knowledgeable sources that indeed the main allegations are correct.
Do you think there is a possibility that the ISI knows about the whereabouts of Mullah Omar?
I would say everything that I have learned about the ISI's relationship with the Afghan Taliban indicates that the ISI most certainly knows where Mullah Omar is at all times.
As I understand, the Afghan Taliban leaders lodge in places, not only with the knowledge of the ISI, but with their sanction.
Why do you think the US continues to fund the Pakistan military despite these revelations?
US policy is based on the reasoning that it is important to continue engaging Pakistan, in order to improve anti-terrorism cooperation and work towards a more stable region.
Kindly click NEXT to read further...
'Some dream that the Taliban's flag will fly again over Kabul'
April 21, 2014 12:24 IST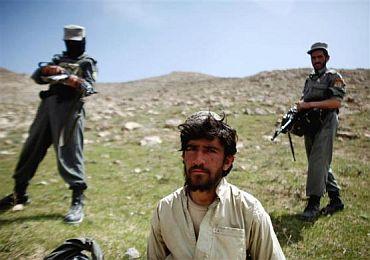 What role do you think Pakistan will continue to play in Afghanistan? Do you see a dangerous blend of the ISI and Taliban on the cards?

As far as I see, Pakistan and its militant groups, including the Pakistani and Afghan Taliban, and Kashmiri and Punjabi groups, are intent on restoring their influence in Afghanistan after the withdrawal of American and NATO troops from Afghanistan in 2014.

They certainly want to regain influence and leverage over the Afghan government.

Some dream that the Taliban's white flag will fly again over Kabul. Specifically, they want to be able to direct and influence future Afghan governments.
What role do you see India playing in Afghanistan? Should it play a role at all?
India certainly has an important role to play in regional stability.

India has helped Afghanistan with humanitarian aid and assistance programmes. It could do much more to improve its own relations with Pakistan, by seeking a genuine and fair resolution to the Kashmir questions, and seeking to calm Pakistan's genuine fears about India's hegemonic ambitions, by fostering trade and cultural ties and encourage better regional relations rather than competing for interest at Pakistan's expense.
Kindly click NEXT to read further...
'Musharraf was aware of plans to assassinate Benazir; he did nothing'
April 21, 2014 12:24 IST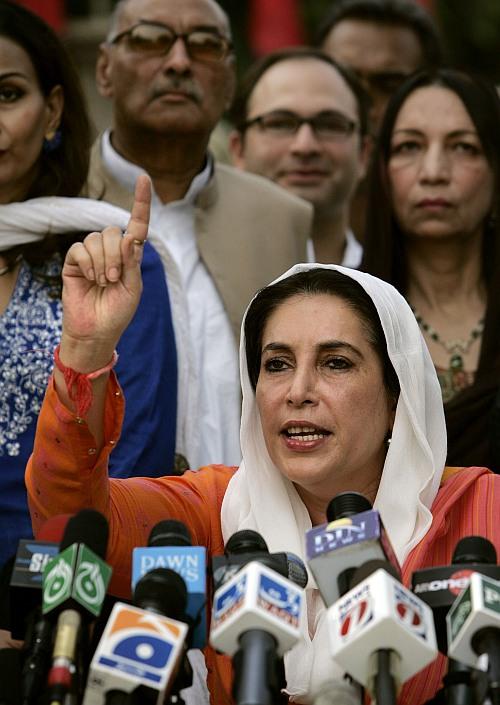 You say the Pakistan military and the ISI supported the assassination of former prime minister Benazir Bhutto. What did they gain from this?
As I understand, there are people in the Pakistani military and ISI who disliked Bhutto's stance on strategic issues for Pakistan, in particular her criticism of militancy in FATA, the presence of foreign fighters, and the military's handling of the problem.

She also suggested she would allow Western officials access to A Q Khan, the man behind Pakistan's programme of nuclear proliferation, which the Pakistan military has long refused.

What part did then military dictator Pervez Musharraf play in the assassination?
I show that Musharraf was aware of the plans to assassinate Bhutto and did nothing to ensure her security.
How different would things have been had Benazir been alive and in power?
Bhutto was very outspoken in her final days about the threat facing Pakistan from Islamist extremists and I think she intended to tackle the problem head on, cooperating with the US and Afghanistan.

She may have run into strong resistance from the Pakistani military and ISI, as the Pakistan Peoples Party government did after her death, and it is unclear how successful she could have been.

I think she would have spoken out strongly on these issues and may well have made progress in changing minds inside the country.