'The report is one-sided'
Last updated on: February 6, 2012 11:00 IST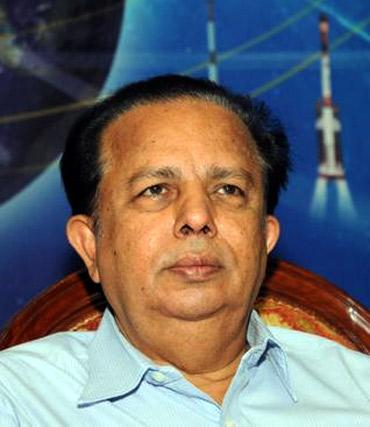 A panel of the Indian Space Research Organisation on Sunday indicted former ISRO chairman Madhavan Nair and three other scientists for acts of commission in the $ 300 million spectrum deal between the commercial arm of the ISRO, Antrix and Devas Multimedia Ltd.
The panel's indictment comes in the wake of the government barring Nair and the three other scientists from holding any official posts for their role in the deal.
In an interview with Rediff.com's Vicky Nanjappa, Nair slammed the panel report and claimed that his name will soon be cleared.
Are you hopeful that you will emerge clean from this controversy?
I am not only hopeful but sure that I will emerge clean.
You have made an appeal to the Prime Minister's Office. Is that going to help?
I am sure something good will come of it. I have worked with him for six years. He is a fair man and he will look into the matter and the facts of the case.
What do you make of the latest report by the ISRO panel indicting you in connection with this deal?
I have found the report to be one-sided. It does not state facts. They speak of some omissions; I personally feel that they should have asked for a clarification before sitting in judgement. I am sorry to say this but the committee which made the report has not understood the mechanisms. I will seek a full copy of the report before commenting further. But I would like to add that it is not fair that bits and pieces of the report are being put out. Basically, only portions that are convenient have been released.
Click on NEXT for more...
For Rediff Realtime News on ISRO, click here
'All this appears to be fishy'
Last updated on: February 6, 2012 11:00 IST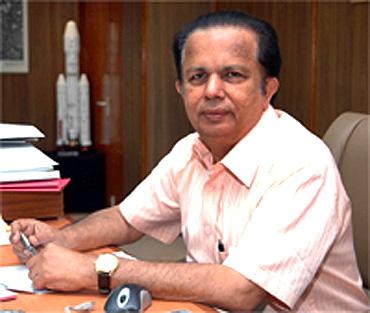 It has been alleged that the deal was entered into to profit Devas and there were some lapses.
I have explained everything to the committees. I would like to explain that the deal was not done with an intention to profit Devas. The idea was to get new technology into the country. At that point, it was the only group that was ready to move forward with the agreement and the government had a space programme expansion policy at that time.
Why have you sought an intervention by the PMO directly?
I was not sure as to who had taken the decision and worse, I did not know what wrong I had done to get such a harsh order. When you are not aware of a lot of things, it is best to seek the intervention of the highest office.
You have often said that there is a design behind all this?
Yes, that is what I believe. When the order blacklisting me was released, I got to know about it through the media. I was not informed about it even two weeks after the order had been passed. All this appears to be fishy to me.
You appear confident that you will be cleared of this controversy?
Yes, I am confident. I have made everything clear about this entire case. A one-man committee had been set up under the leadership of former cabinet secretary B K Chathurvedi and Space Commission member Roddam Narasimha. That committee found nothing wrong with the terms of the contract. The committee had given me a clean chit in the case.

Click on NEXT for more...
For Rediff Realtime News on ISRO, click here
'I have faith in the prime minister'
Last updated on: February 6, 2012 11:00 IST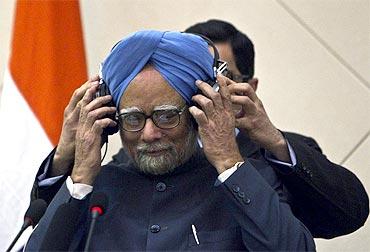 You had compared this incident to that of (Italian philosopher) Galileo's persecution.
Scientists need freedom and their jobs should be free from politics. This is very essential if technology has to grow in India. But if this is the fate of the Indian scientific community, then God bless us.
Will you seek a government post if your name is cleared?
The fight is not about a government post. It is about restoring the honour that has been lost thanks to this controversy. I will fight it out until my honour and that of my fellow scientists is restored. I ought to have been given an opportunity (to clear my name) and this has left not only me but my fellow scientists shocked.
You have hit out directly at ISRO Chairman Dr Radhakrishnan. You accused him of pursuing a personal agenda.
I am not hitting out against any individual, but the entire department. When I was in charge, I had done a good job. There may have been certain things which had not lived up to their expectations. I have to take the blame for that and also shoulder that responsibility. In this context, he is the head of ISRO now and cannot disown his actions, as I could not have done either.
You have got a lot of support from the scientific community. How does that make you feel?
The response has been very overwhelming. Their support gives us hope to fight. We were humiliated after contributing so much to the country. These are difficult times and they are hard to cope with. At such a time, it is good to witness the support of the scientific community. I am particularly happy that they came out in the open and voiced their support and this means a lot to us. More importantly, they have understood the issue and supported us.
You have placed a lot of faith in the PMO and feel that justice will be delivered. What if that does not happen? Will you seek judicial intervention?
I am not thinking of any judicial action now. It is too premature to comment on that. I have faith in the prime minister as I know that he is a fair man with whom I have worked for six years. Let us wait and see what happens.