Exclusive! Godhra case investigator speaks
Last updated on: February 28, 2011 11:07 IST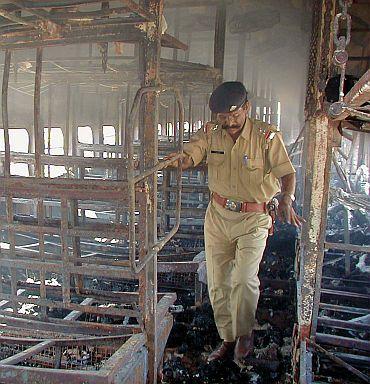 Noel Parmar, the investigating officer in the Godhra case, has no doubt that the Sabarmati fire was meticulously thought out

This case was assigned to me May 27, 2002. I was then the assistant police commissioner in Baroda. I took over the case from K C Bawa, who had conducted the primary investigation.

I went to see the S-6 compartment and the exact place where it was halted before it was burnt down.

The first thing I noticed was that the compartment's steps were intact. How is it possible if a crowd had burnt it from outside? The steps would be burnt first if people were torching it from outside.



My peer group advised me that such cases are almost impossible to solve. Some names of the accused that had cropped by then belonged to the Ghanchi community of this area.

Click on NEXT to read further...


'Ajay Bariya told us about the Godhra event'
Last updated on: February 28, 2011 11:07 IST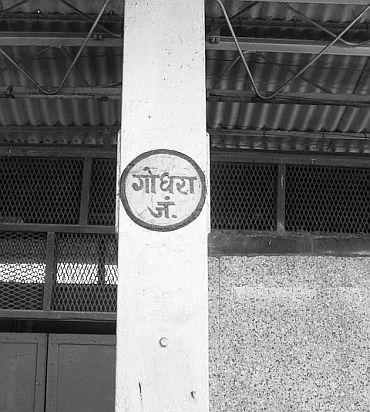 There was a perception that they were fundamentalist and socially backward. It was also said that there are too many petty criminals in the area and they are difficult to nab. I found this a challenge. I decided that till I make a breakthrough, I should not leave Godhra.

I started staying in Godhra. I started moving around in Signal Falia and other Muslim ghettos. Slowly, I collected information. I got the information from local people that this incident was a pre-planned conspiracy.



To begin collecting evidence, I embarked upon a search for Ajay Bariya, a tribal hawker boy living in Signal Falia. An informant from the area told me that Ajay was born and brought up amongst Muslims. He also told me that Ajay knew the entire sequence of events. We managed to find Ajay.

For two days, he didn't open up. Then, I took him into confidence -- it was difficult to achieve -- and he started talking and sharing. He told us about the Godhra event. I took him to all the places and he told me how, what and when things happened.


'A communal-minded group wanted to teach a lesson to the karsevaks'
Last updated on: February 28, 2011 11:07 IST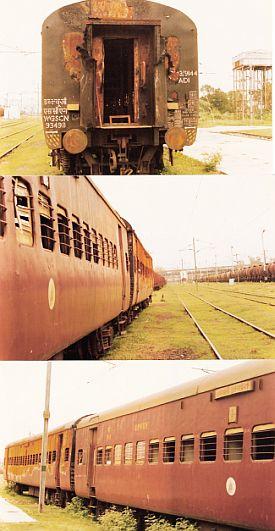 I was left with no doubt that the burning of S-6 was a pre-planned affair. Ajay was living in a Muslim area. Only four Hindu families lived in his area. When Godhra happened, all four Hindu families vacated their houses and shifted to Hindu-majority areas.

I have no doubt that a communal-minded group wanted to teach a lesson to the karsevaks (volunteers for the cause of building a temple at a disputed site in Ayodhya, Uttar Pradesh) and Hindu society, so they prepared a plan.

February 26, 2002, they called a meeting at the Aman guesthouse near the railway station. They were told that large numbers of karsevaks were coming back from Ayodhya.



At that meeting Razaak Kurkur, Salim Paanwala, Farooq Bhana, Haji Bilal, Shaukat and a few others were present. They collected some 140 liters of petrol from a nearby petrol pump.

Haji Bilal and Farooq Bhana said at the meeting that they had just returned after meeting Maulvi Hussain Omerjee, who had instructed to torch the Sabarmati Express's S-6 coach. Salim Paanwala went to check the train's arrival time.

He found that the Sabarmati Express was late by four hours. He verified with a ticket checker, whose testimony we have taken.
'Train passengers shut the train's doors and windows'
Last updated on: February 28, 2011 11:07 IST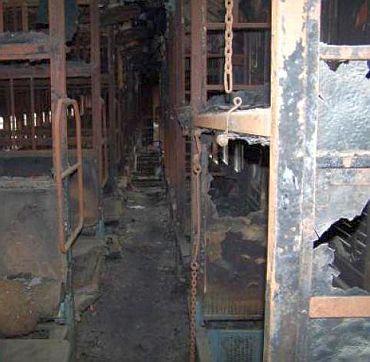 Paanwala went back to the guesthouse and told the people gathered there that they should take a short nap and come back around 6.30 am, when the Sabarmati Express was to arrive in Godhra. They had spread a message to this effect, but we could not find evidence of it except in one statement.

According to plan, all of them got together again the next morning. They had maintained secrecy. When the train arrived and a crowd started gathering, stone-pelting started. The passengers of the train shut the train's doors and windows.



The train moved ahead to escape the stones being hurled. At that point the accused, according to plan, came to the station with the petrol. The crowd was at that time running along with the train. This is significant.

The train was halted by one of the accused by pulling the (emergency stop) chain. Razaak Kurkur and Paanwala had given some boys the duty to board the train. As per their instructions, these boys boarded the train by cutting the vestibule and entered the compartment to pour the petrol and set it on fire.


'At 7 am, a crowd doesn't assemble just like that'
Last updated on: February 28, 2011 11:07 IST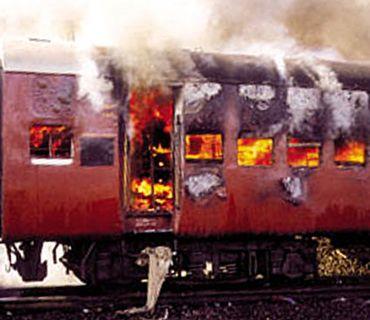 A lot of people are arguing that the burning of coach S-6 was just an accident; that the crowd had gathered just like that. At 7 am in the morning, a crowd doesn't assemble just like that. It was pre-planned. Around 7.43 am, when the train came, people were instructed through a microphone to reach the station. There were provocative slogans: 'Kill Hindus, long live Pakistan!'

The crowd was the cover they needed. Without the crowd screaming and crowding the place, they would not have been successful in torching the train.



The (Indian Railways-appointed Justice U C) Commission (that concluded in 2005 that the fire was an accident) has written the report without evidence. We have evidence.


'Just 1 litre of kerosene could not have burned S-6'
Last updated on: February 28, 2011 11:07 IST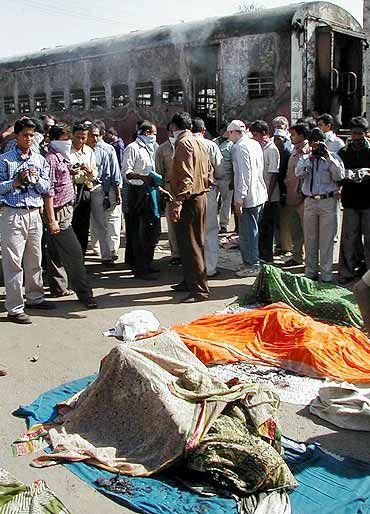 One of the passengers, who is quoted as a witness in Justice Banerjee's report, claimed he saw karsevaks cooking inside the compartment on a stove. He actually got off much before Godhra. I have taken the statements of about 200 witnesses of all types. Not one has said that there was enough space inside the compartment to cook. The train was over-crowded.

Almost three-times more-than-capacity passengers were inside the compartment, making it difficult to even walk. I have met enough people who are independent witnesses and not karsevaks. I have enough statements of educated people who were travelling in the train.



I want to ask a few questions to people who debunk our theory. If it was an accident, even then you need inflammable material to burn a train, right? If it was a stove with kerosene that triggered the fire, please tell me how much kerosene can one stove carry? It can store just about a litre of liquid.

Forensic science says that to burn a train compartment, a minimum of 60 litres of inflammable material is required. A lot of the materials used to build Indian train coaches are fire-resistant, so just 1 litre of kerosene could not have burned S-6. 
'How can an accused's confession in an open court be under duress?'
Last updated on: February 28, 2011 11:07 IST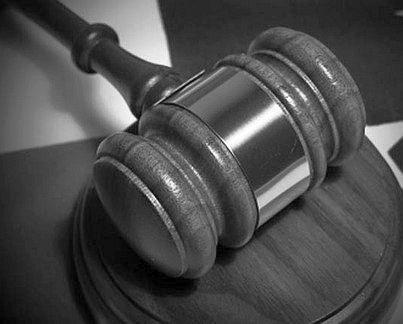 In such cases of violence and in cases of conspiracy, it's difficult to get direct evidence.
This case is based on many confessional statements of the accused, including Jabir Binyamin Behra.
Under the law, confessional statements are no less important. After the arrest, when we explain to the accused the importance of his confession, we also tell him how it can work against him. It's a long legal process before he gives a confession that is admissible under law.

He is given ample chances to not agree with us. The accused is given 24 hours to think about his confession. He is medically examined also to check that he is not beaten or tortured. We are not with him when he confesses.
In a much-planned manner, after few years, such confessions are routinely withdrawn by their (the accused's) lawyers. Also, confessions are normally five pages or more. How can an accused's confession in an open court be under duress? These confessions are recorded in an open court.
'My children should not be touched. I wish them well'
Last updated on: February 28, 2011 11:07 IST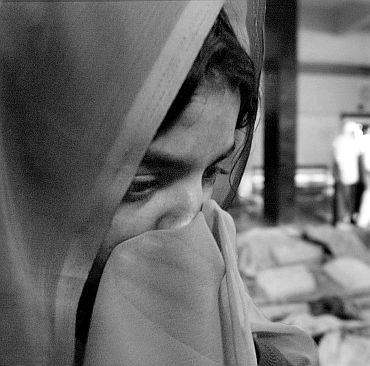 In the Godhra court when Behra's confession was recorded under section 164 of Criminal Procedure Code, at least 50 advocates were present. The magistrate had warned him that his confession can convict him and may also get him the death penalty. Behra has been convicted.

Behra, whose confession proved important, is almost uneducated. He was arrested for petty crimes before. He had looted Sabarmati passengers. We have confiscated a few passengers'

items from him. We showed him an album of the victims of Godhra. We told him to look at a child's dead body. I was totally shattered to see the body. Imagine what pain that child must have gone through when petrol was poured on his body and he was burnt alive?

I told Behra: 'You have children too.' He thought for some time. He stared at me for a long time. Then he said, 'Don't say such things to me. My children should not be touched. I wish them well.'

After that, he started opening up. He kept saying, 'I want to address Allah's darbar.'


'Salim Paanwala and Shaukat Charkha are hiding in Pakistan'
Last updated on: February 28, 2011 11:07 IST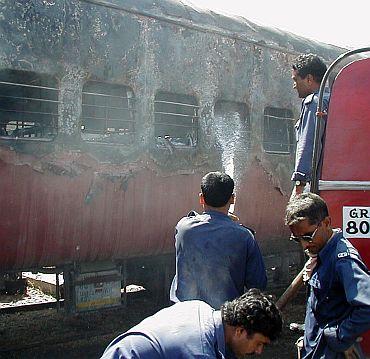 Salim Jarda, one of the main accused, was involved in highway robberies. He had his own gang. When he was caught in this case, he was taken to a magistrate. He was given enough time to confess.

After some time, he asked for parole to do some religious ceremony for his daughter. He jumped parole, and ran away. He then managed to do more than five robberies. He wanted to run away to Pakistan along with another accused, Bilal Haji. But before that we re-arrested him.



Salim Paanwala and Shaukat Charkha are hiding in Pakistan. Both are our most-wanted accused. We have managed to get their addresses in Pakistan and we have also managed to get red corner notices against them issued through Interpol.

In the Godhra case, witnesses were spread all over India. It took a long time to record over 500 statements of witnesses. We got some 300 witnesses in the court to testify before the judge. My own testimony and cross-examination took 19 days.


'My only regret is that I could not find out the external link'
Last updated on: February 28, 2011 11:07 IST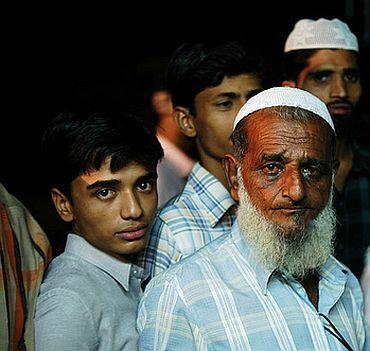 I had never any doubt that the case would lead to conviction of the accused. I, as an investigator, would like to see that they get major punishment. I believe these boys were brainwashed by their fundamentalist religious teachers.

Almost all of the accused belong to Signal Falia. I have studied the area's history. Many decades back, it was dominated equally by Hindus and Muslims.

Godhra has a communal history. People here are still talking about historical events. Once upon a time Champaner near Godhra was the capital of Gujarat. It was looted by (then king of Gujarat) Mohammad Begda. His army was kept in Godhra, who harassed local Hindus and looted them. In the jungles of this area, they converted tribals and spread Islam amongst them. Those converts dominate Signal Falia.



These people's forefathers' names are Gujarati. They speak Gujarati. In 1947, some of these families opted to go to Pakistan. They have very low education. At same time, Godhra received a large numbers of Sindhis from Pakistan during Partition. So, unconsciously, tension has continued.

When I was investigating this case under the supervision of Rakesh Asthana, I found no interference. In fact, the local press or people were not much bothered about the investigation's progress. We were left alone. My only regret is that I could not find out the external (foreign) link, if any, in this case, and how members of terrorist modules in India used the Aman guesthouse.

Noel Parmar was the investigating officer in the Godhra case. He retired in 2009 after 43 years of service in the Gujarat police. He was known to be a tough officer throughout his career. He has been constantly targeted by the civil society groups fighting for the accused in the Godhra case. Parmar, 64, was given an extension in service even after retirement because nobody knows the case as well as him. He spoke to rediff.com's Sheela Bhatt