An excellent job done, says Justice Hegde
Last updated on: July 28, 2011 03:19 IST
The past one week was probably the toughest for him. We are speaking about Justice N Santhosh Hegde, the Lokayukta of Karnataka, who will step down next month.
Justice Hegde submitted one of the most controversial reports on Wednesday pertaining to illegal mining in Karnataka which indicted Chief Minister B S Yeddyurappa among others.
Justice Hegde has received both praises and brickbats for this report. The past couple of years has been a rocky road for him,  who started off as an advocate and then went on to become Advocate General of Karnataka, the Solicitor General of India and finally judge of the Supreme Court. He is only the second Indian to have been elevated directly to the apex court without serving as a judge of any high court.
Justice Hegde takes us through his journey in this exclusive interview with rediff.com's Vicky Nanjappa, in which he speaks about various aspects ranging from the mining report, his future plans and also his successes and failures in all the roles that he has donned so far.
Please click NEXT to read his interview
'It has been a tough job without doubt'
Last updated on: July 28, 2011 03:19 IST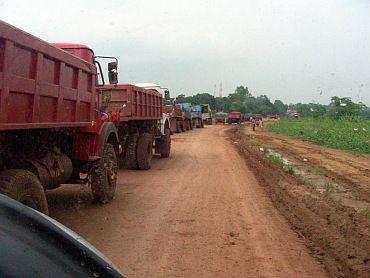 Justice Hegde, how are you feeling today after submitting such a massive report on the powerful mining lobby in Karnataka?
It has been a tough job without doubt. I must say that I am relieved. There was a lot of stress and a lot of pressure and at the end of it all, I would say a job well done, all thanks to my support staff.
Looking back do you rate yourself as a success or a failure as the Lokayukta of Karnataka?
I would say I have done whatever I could to the best of my ability. In a way I feel that I have done quite a lot. There have been moments of success. I have my regrets too, as I have failed in some departments and this is largely because of the non-cooperation from various departments who ought to have supported me.
You have handled many cases in the Supreme Court and also at the high court both as a judge and a lawyer. Would you rate this mining report as your toughest assignment till date?
I would not say the toughest, but yes, very challenging. This assignment had a longer duration when compared to the rest of my assignments, and yes it was one of the most challenging ones. However, what I want to note here is the selfless work that the officers have put in, in order to prepare this report.
My thoughts are with their families who must be so worried about these officers who have put their lives at risk while preparing this report. I think adequate security should be provided to them.
What about you sir? Don't you think you are also under threat?
I am really not too bothered about that.
'I have not appeased any political party'
Last updated on: July 28, 2011 03:19 IST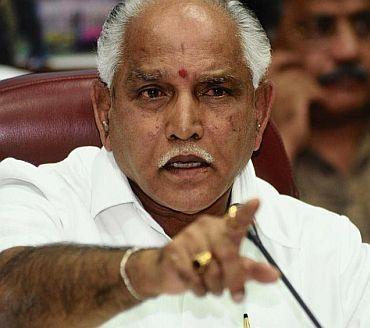 Can you tell us a bit more about your experiences while preparing the report on illegal mining?
We needed the cooperation of all the departments and getting that was the biggest challenge we faced since each one is involved in something or the other.
It is a huge mess and that is why I hope the government does act on the report in the interest of the people. There is a huge lobby which controls this industry. We watched so many lorries without a valid permit go by exporting ore right under the nose of the forest department which never did anything.
Not only do they dodge the forest department, but also the police and the mining department. The lobby is so huge that no one dares stopping them and rules are flouted openly. There were many challenges that we had to overcome. My officers were under threat, the government was not cooperating despite asking me to probe the case and the departments only made matters worse. If you look at it in all these contexts, then I would say we have done an excellent job.
There has been hue and cry that you have targeted the Bharatiya Janata Party in particular and let the rest of them go. What are your reactions to this?
I have not appeased any political party and have been very practical in my approach. I know I have given the best report and I am satisfied with it.
On one hand people say I have targeted the BJP. Read the report, you will get to know everything. I am the one who has named (former CM and JD-S leader) H D Kumaraswamy in this report who is not from the BJP.
Anil Lad, V Somanna, who are from the Congress, have all been named. Speaking of Dharam Singh, he has been named in the first report.
But the second report has not given him a clean chit just because his name does not find a mention in it. Someone on television was accusing me of supporting Kumaraswamy when I have clearly named him in the report.
I do not have any political affiliations whatsoever. I became the advocate general of Karnataka under the Janata Party and the additional solicitor general of India under the V P Singh government.
When the National Democratic Alliance was in power I was the solicitor general and later judge of the Supreme Court. I handled the TDSAT when the United Progressive Alliance was in power and then the Lokayukta under the Janata Dal-Secular-BJP government.
Are such reports of any use sir? Is action ever taken and are there any reports of yours pending?
I would want the public to read these reports and hence we are planning to give out important portions of it to the media because I am sure the government will never make it public.
I do not have any hope that the government will act on it and hence have sent it to the governor and also hope that the Supreme Court will take it up. No, there are no pending reports. All have been sent to the government, but I have no hope that any of them will be attended to.
'I share a personal relationship with Advani'
Last updated on: July 28, 2011 03:19 IST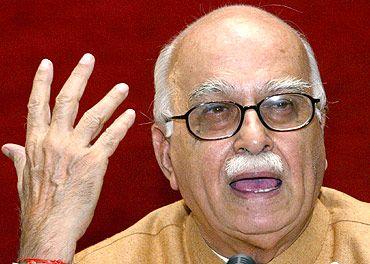 What do you make of the ambit and scope of a Lokayukta today?
No one knew about the existence of this office until my predecessor, Justice Venkatachala, took over in 2001.
When I was asked to take over I did not have much of an idea about this office. When I read through the Lokayukta act I realised that this office needs to ensure good governance apart from the routine trap cases.
However the biggest challenge was to go ahead with these cases since there was a provision which required that people need to come forward, give a complaint and only then I could act.
This is when I had asked for a suo motu power which could only make the institution stronger. There was a provision in the act which had given the Lokayukta to act against the chief minister and other senior ministers suo motu. However, it was taken away which in turn made me ask for that power.
A year back there was a hue and cry when you had resigned from the post of Lokayukta. Do you regret that decision considering you took it back? Was it impulsive?
It was not at all impulsive. At some point I started feeling helpless and thought that I was not doing my job up to the mark.
I had even discussed with my family members. I had decided to go out without a hue and cry. It was around this time that the government placed under suspension an officer of the forest department for detecting illegal mining activities. I could not bear this and hence made this as a key point while submitting my resignation.
'Advani is like father figure to me', that was a statement that raised quite a storm. What do you have to say about that?
I would say it again that he is like a father figure to me. I share a personal relationship with him and my father was also very close to him.
That is the extent of it and there is no need to read more into that. When I had submitted my resignation there were many who approached me to reconsider my decision.
However my mind was made up and I did not wish making an issue out of it. That is when I got a call from Advani who said that the concerns that I had been expressing would be addressed. I then consulted Justice J S Verma who told me that I should ask for the powers that I have been asking for which would benefit the institution. This was conveyed to Advani who agreed which made me change my mind.
'Not aspiring for the post of Lokpal'
Last updated on: July 28, 2011 03:19 IST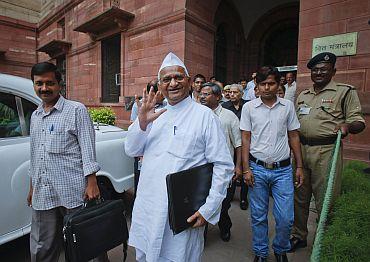 You did a stint with the Lokpal drafting committee. How was that experience?
It was an experience, and that is all I have to say. I have told you in the past that the bill is not something that we expected it would be. I had also said it would be watered down.
There is talk that you are aspiring for the post of Lokpal. Is that correct?
Not at all. I am not qualified to hold that post and I am not aspiring for anything else.
Coming back to the mining report, are you disappointed that your first report on the mining issue has not been acted upon?
Yes, there is a great deal of disappointment even though such a reaction was expected.
A great deal of effort has gone into the preparation of both the reports. My reports are supported by documents and 40 lakh entries have been collated while preparing this report.
A team of young officers have put their heart and soul into the making of these reports. I hope at least for their sake the people get to read the report. I would also add that it would have been in the interest of the state and the people of Bellary had the first report been acted upon.
It deals with a more human face unlike this one which has more of political ramifications. That report dealt with the problems that the people were facing and also the imbalance such as the extinction of sloth bears in the Bellary area.
Ideally the government should have taken that report very seriously if they really cared about the people and the animals in the forest areas which are being looted by the mining lobby. The first report was the foundation for this report.
'My report not just about finger pointing'
Last updated on: July 28, 2011 03:19 IST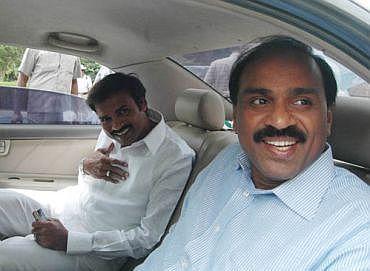 Is the recent report then more about finger pointing?
It is not just finger pointing. It is supported with ample proof.
We have given proof about how the family members of the chief minister had benefited from this lobby through their trust.
We have proven that the Reddy brothers have mining interest in Karnataka despite them swearing that they do not. We have also gone on to show how H D Kumaraswamy had sanctioned two mining leases illegally. Hence, it is not just a finger pointing exercise for anyone to gain political mileage out of.
Do you think that your report will have an impact only when the CM's head rolls?
I would not decide that my report has created an impact depending on whose head rolls. For me the more important thing is that the money looted be recovered and the problem rectified in the interest of the state. The rest of the political consequences I care a damn about.
Would you rate this government in Karnataka as the most corrupt?
Every successive government has been more corrupt than the previous one. There is no clean chit for any of the governments.
Today the society is encouraging corruption and politicians are getting into this only to make money. It looks like that there are few idiots who are non corrupt (laughs). What used to be a service earlier has become a money making racket.
Pardon me for asking you this stupid question, but will corruption be eradicated ever?
I have always said not to expect the politicians to change. It is the society which has to wake up and question these people. Today society seems to encourage corruption and once that stops things will start to change.
'Justice Patil will do justice to Lokayukta's post'
Last updated on: July 28, 2011 03:19 IST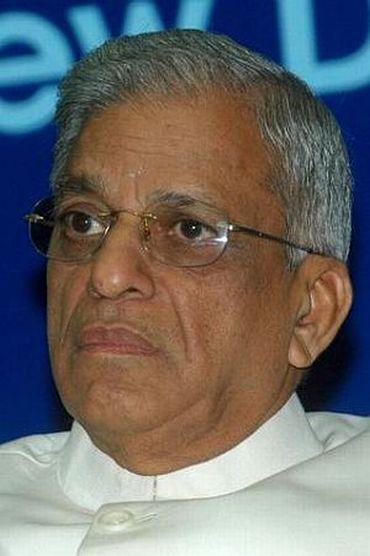 You have been termed as a media tiger. When you took over you were very shy and today you are in the press every day. What has changed?
There was a need to interact with the media to convey the message across. At the end of it what matters is that I have not kept quiet. It was my duty to do something and today I have the satisfaction that I have not kept quiet.
How do you rate your successor Justice Shivraj Patil?
I have already said he will do justice to the post of the Lokayukta.
If any of these judges were to ask you, would you recommend that they take up the post of the Lokayukta?
Yes why not. It is a great institution. I would never let it down or diminish it and I would advise them to take up the job and do the best that they can. I would never discourage them ever.
Describe very briefly your journey as the Lokayukta of Karnataka.
Khatta-Meetha (sweet and sour)
Has this assignment made you feel older sir?
I am 72 and I do not feel old. It has been challenging, in fact very challenging. The more important thing is that I am content today that I have done my job.
Any happy faces that you are retiring?
Yes, of course my wife. You know she will be coming to the Lokayukta office for the first time soon to take part in my farewell function.
So you are not open to any assignments in the future.
You never know what is in store. But yes, I do want to be in Bangalore itself and I need a break.