Even I should be jailed for cash-for-vote: Advani
Last updated on: September 8, 2011 13:15 IST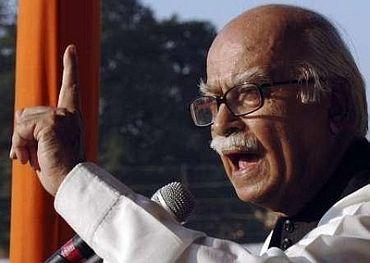 The Bharatiya Janata Party on Thursday went on the offensive on the cash-for-vote scam with senior leader L K Advani hailing as "whistle-blowers" the two former party MPs jailed in the scam and declaring that if they are guilty then he too should be sent behind bars.
Amid repeated disruptions from the Congress members in the Lok Sabha, the BJP parliamentary party chief made a strong defence of the actions of Faggan Singh Kulaste and Mahavir Bhagora during the July 22, 2008 Confidence Vote.
"Whatever was done was done as per Constitutional norms. If anything was wrong I would have stopped them," said Advani, who is also working chairman of the National Democratic Alliance.
Please click NEXT to read further....
'The whistle-blowers did a great service to democracy'
Last updated on: September 8, 2011 13:15 IST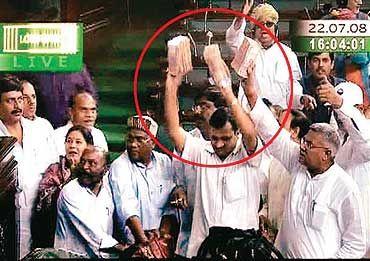 Raising the issue on the last day of the tumultuous monsoon session of Parliament, Advani insisted that it was evident during the confidence vote that the government was "trying to purchase votes".
"They were whistle-blowers who honestly reported the matter in the House. They presented the money. That time I was the Leader of the Opposition and I know the facts..."
"I believe that these two members have done a great service to democracy by bringing in Parliament the Rs 1 crore given to them," he said during Zero Hour.
He lamented that those who voted for the government "through dishonesty" by taking money are sitting here comfortably, "but my two friends who honestly served the country are in jail."
Ruckus in the Lok Sabha
Last updated on: September 8, 2011 13:15 IST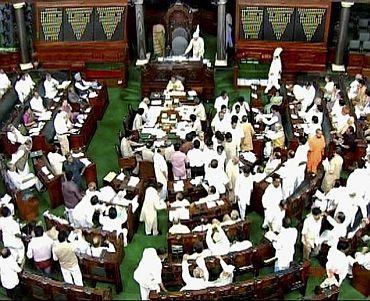 There were disruptions from the Congress members from the time Advani rose to speak who at one point threatened that he would be forced to raise the issue outside if he was not allowed to have his say in the House.
As the disruptions continued, Speaker Meira Kumar adjourned the House till 12.55, the second adjournment of the day on the cash-for-vote issue.
© Copyright 2020 PTI. All rights reserved. Republication or redistribution of PTI content, including by framing or similar means, is expressly prohibited without the prior written consent.