Sri Sri, RSS chief, Kalam urge Ramdev to end fast
Last updated on: June 11, 2011 19:49 IST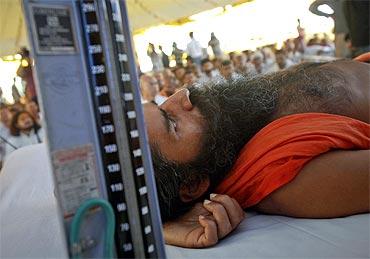 Spiritual leader Sri Sri Ravi Shankar on Saturday met Baba Ramdev and appealed to him to end his eight-day fast even as the health condition of the yoga guru showed signs of improvement.
The Art of Living founder made it clear that the Centre had not asked him to negotiate with 46-year-old Ramdev for ending his fast against black money and corruption.
Rashtriya Swayamsevak Sangh chief Mohan Bhagwat and former President A P J Abdula Kalam also appealed to Ramdev to end his fast.
'I am ready to do anything'
Last updated on: June 11, 2011 19:49 IST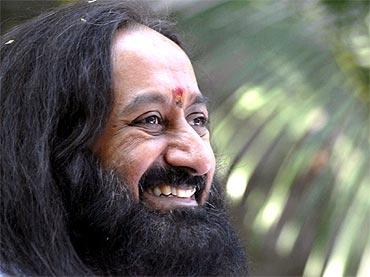 "Nobody in the central government has said anything to me and I have come here on my own. I will keep meeting him till he breaks it," Ravi Shankar said when asked if someone from the government got in touch with him on the issue.
"If the government wants, I am ready to do anything...whatever the nation needs," he told reporters after meeting Ramdev at the Himalayan Institute of Medical Sciences.
Ramdev, who was admitted to the Himalayan Institute of Medical Sciences on Friday evening after his condition deteriorated on the seventh day of his fast, was administered saline and glucose.
'Ramdev stable but weak'
Last updated on: June 11, 2011 19:49 IST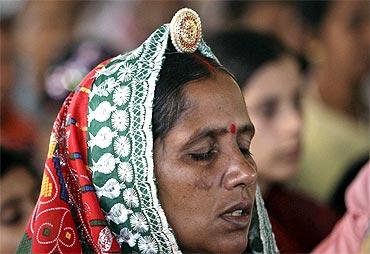 "Ramdev's blood pressure and pulse rate went down last night. But they have been brought under control. He is stable," Dr Deepak Goel, part of the medical team that is monitoring Ramdev's health, told reporters.
He said that Ramdev "was weak and has some problems in sitting and speaking."
A medical bulletin issued by the hospital said his pulse rate and blood pressure were stabilising slowly and there was an improvement in the health condition of Ramdev.
Dr S L Jethani, medical superintendent of the hospital, said Ramdev's liver and kidneys were functioning normally.
'He is not in the ICU'
Last updated on: June 11, 2011 19:49 IST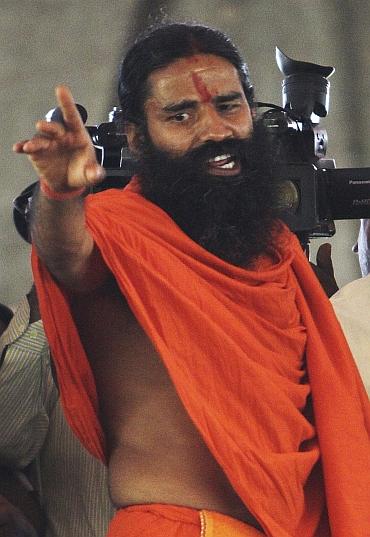 Asked whether there was a need to shift Ramdev to AIIMS in New Delhi, Goel said there was no need for that.
"He is not in the ICU. He is in a VIP ward next to it. He was given normal saline and vitamins. He was suffering from dehydration," the doctor said.
Ramdev was being administered intervenous fluid -- glucose and normal saline - following which his condition improved, doctors said.
The yoga exponent was admitted to the ICU immediately after he was brought to the hospital.
Ramdev was admitted to the hospital as his health began deteriorating after he began his fast in his ashram in neighbouring Haridwar.
'India needs Ramdev's active leadership'
Last updated on: June 11, 2011 19:49 IST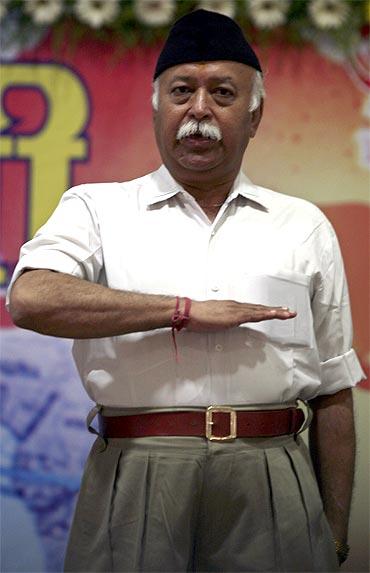 A Patanjali Yogpeeth spokesperson said that former President A P J Abdul Kalam called up Ramdev and asked him to break his fast.
In a statement, RSS chief Mohan Bhagwat said, "I appeal to Baba Ramdev to call off his fast soon and rejoin his movement for national regeneration. I can see this appeal reflecting the strong sentiments of millions of countrymen and I hope that Baba would certainly respond positively to their sentiments and feelings."
He said the news of Ramdev's deteriorating health and hospitalisation has caused great concern among people.
"People of the country are greatly beholden to Baba for his relentless campaign against corruption and black money that has awakened and inspired millions of citizens and stirred up their innate patriotism," Bhagwat said.
However, the country needs Ramdev's active leadership at this hour in the fight against corruption and hence he should give up his fast, he said.
© Copyright 2021 PTI. All rights reserved. Republication or redistribution of PTI content, including by framing or similar means, is expressly prohibited without the prior written consent.