'Elections are not very expensive in India'
Last updated on: January 27, 2012 14:53 IST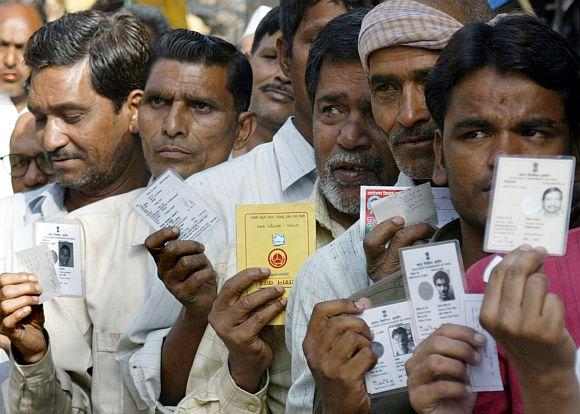 Uttar Pradesh Chief Electoral Officer Umesh Sinha tells Sheela Bhatt that although the Election Commission has ensured a peaceful environment ahead of the assembly election, misuse of money power continues to be a concern.
On the challenges of holding the election in UP
Elections in Uttar Pradesh have a lot of challenges. One is the geographical challenge, as there are many areas which have a difficult terrain.
We have river belts, some hilly areas as well. Some areas are not accessible round the year. In some areas we don't have roads. Some hilly terrain in the Bundelkhand area is difficult to travel to.
Road connectivity is the real challenge in UP.
But the bigger challenge is how to secure a peaceful and fair election and also stop candidates from using illegal means like bribing voters, influencing them, giving them some kind of inducement or use some other dominant groups in the villages.
In 2007 and 2009 we had landmark elections in UP where we were able to hold totally peaceful polls. But after that the EC (Election Commission) realised that we should not just have peaceful elections, but they should be fair too.
We must stop the misuse of money; especially muscle power, which has already been checked to a large extent.
The central police force had been well deployed in 2007 for the first time. This time again there will be massive deployment of the Central Reserve Police Force at polling stations.
But how to stop the use of money power continues to worry the Election Commission. This time we have made massive arrangements. We have formed flying squads led by magistrates at every police station level, there are surveillance teams, a complete plan for area domination which has been going on much in advance, and we have recovered more than Rs 42 crores (Rs 420 million) in the last month alone.
We have several methods to detect misuse of money -- surveillance, flying squads, which not only seizes the money, but also video records the whole thing when money is found.
Any person who wants a copy of that recording can get it. This is done with close coordination with the Income Tax department. We have done a good job and I think a very peaceful environment has already been built.
We have taken preventive action against anti-social elements. Preventive actions have been taken against more than a lakh (100,000) people. A large number of illegal arms have been seized; many arms factories have also been raided.
Please click NEXT to read further...
'We have 98% of the 12.5 crore voters' photographs!'
Last updated on: January 27, 2012 14:53 IST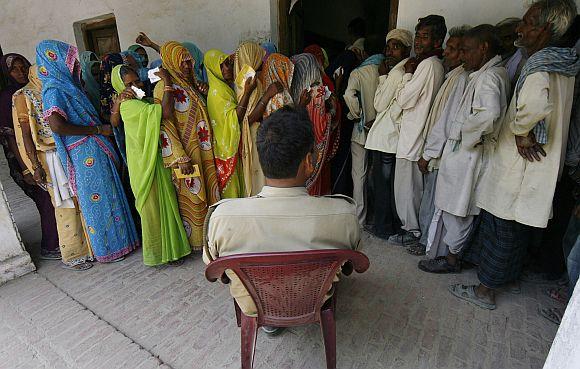 On the security arrangements
We use a very good mix of the central police forces, state armed police, civil police and the auxiliary police. Apart from that, the EC has employed a new method. They have deputed expenditure observers.
So we will have 403 general observers. In each assembly constituency, we will have a senior IAS officer from different states; they will work as general observers all through the electoral process.
We will have some 100 plus expenditure observers who will monitor the expenses of candidates in 403 constituencies. We will also have more than 50 police observers, who will look after the police arrangements -- the kind of mapping and other dimensions of security.
So it is a foolproof arrangement. I think it is going to be a good election.
Surely, it is going to be a keenly contested election. UP's voters are politically very aware, very conscious. I think people are keen and enthusiastic about voting.
On setting up the logistics in the nooks and corners of UP
We have around 130,000 booths in UP with about 88,000 polling centres. We will have more than 90,000 Electronic Voting Machines at these polling centres.
Earlier, our electoral rolls were in offline mode, but now the entire electoral roll is on the Web site. You can search your name on the Web site, and can print your voter slip.
We have been voter friendly. We have initiated a programme to distribute photo voter slips to every voter. We will be distributing it to each and every voter, it will be done 15 days before the election.
It will have the voter's photo, details of the polling station, date of polling, etc. We have a data bank of all our voters already. I would say we have 98 per cent of the 12.5 crore (125 million)voters' photographs!
We will be distributing the photo voter slip to every voter at their doorstep. And that's a kind of invitation to everybody to come and vote.
I hope it sets a new kind of milestone for the country.
Please click Next to read the rest of the interview...
'EC doesn't go by emotions'
Last updated on: January 27, 2012 14:53 IST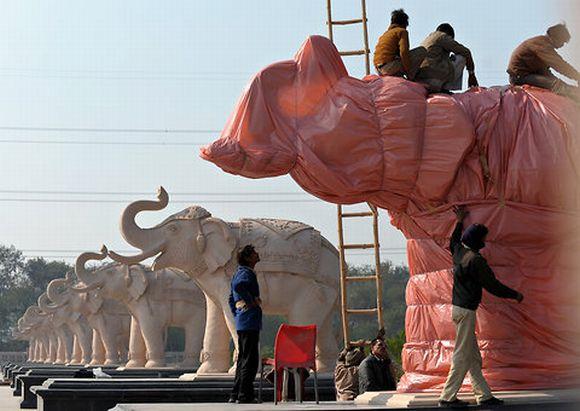 On the budget for holding elections
There are different kinds of arrangements for which there are separate budgets. For the police management and the security management, we will have separate funds which are managed by the Home ministry.
The general expenses should cross Rs 300 crores (Rs 3 billion).
I think by and large it is a very cost effective election as compared to other countries. Elections are not very expensive in India.
On the Election Commission's alleged excesses
No, we don't do excesses. I think the EC is always taken as a very friendly institution in the country.
People have so much faith in this institution; so by and large, the steps taken by it are always appreciated.
We have to definitely and adequately ensure that the environment is very peaceful and conducive. This time, the booth-level officers did a house-to-house survey, they also took the application from them, distributed the voter ID card to their doorstep, and then again distributed the photo voter slip to every voter.
Even during the vote we will try to make it gender friendly, disabled friendly. At the polling station we will ensure that proper convenience is there for the disabled.
We insist that every polling station should have a ramp, it should have proper facilities.
On the EC's order to cover the statues Uttar Pradesh Chief Minister Mayawati built
I think it is a matter of principle. It is the Election Commission of India. It doesn't go by emotions; it goes by the principles, the principles which are laid down for everybody.
So wherever they see things which may disturb the level playing field and which may give some edge to somebody more than the others, they have to act. So in that respect they took this decision (to cover the statues).
The Election Commission of India doesn't allow advertisements at the government's cost. So all the advertisements, all the hoardings of a state government, are withdrawn during this period.
We took the decision to basically give every party an equal opportunity.
We take some action so that the minds of everybody remains free and not biased towards one party or other. There is a judgment of the Supreme Court, also.
Please click Next to read the rest of the interview...
'We don't have a say in stopping criminal candidates'
Last updated on: January 27, 2012 14:53 IST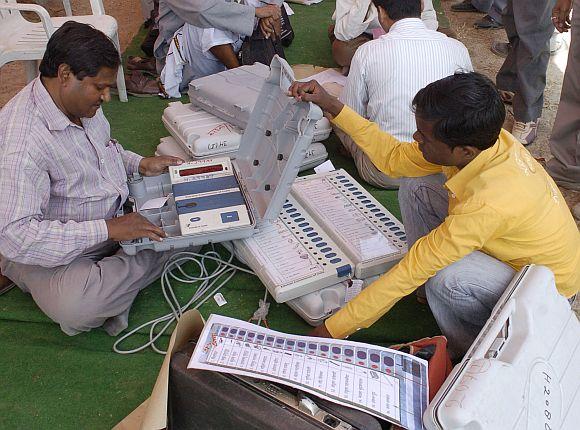 On too many restrictions for political parties
The EC does give permission to any person who wishes to put a flag of their party on their house. Anyone can do so with written permission.
At earmarked places hoardings can be put up; even those materials, which can be easily removed, can be put up, like banners, party flags and paintings.
But political parties can't put up posters because they deface the wall. In India many times people forcibly paste the posters of their party leaders on walls and houses. We won't allow it.
On criminal candidates in the election fray
It is a matter of judgment for the political parties to decide about their candidates. We don't have much to say on that because the decision to stop criminals -- especially charge-sheeted ones -- in the electoral fray will change only when Parliament comes out with its own decision on this.
But at the moment the situation is that even a person who is charge-sheeted can contest. Only convicted persons may not contest elections. But as far as our job is concerned, we make sure that criminals, the mafia and anti-social elements are not able to influence or affect the entire electoral environment.
We take all these steps to ensure that everybody gets to vote as per their will.
Please click Next to read the rest of the interview...
'Response in rural areas has increased'
Last updated on: January 27, 2012 14:53 IST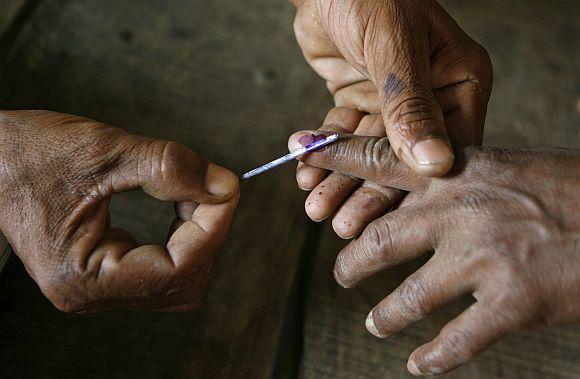 On his agenda
My main agenda is to have totally peaceful elections without a single -- even the smallest -- incident of violence. Our entire energy is geared towards that.
Second, the challenge is to see that the voters are not bribed. They are not threatened.
Even the person from the remotest place should be able to come to the polling booth and cast his/her vote without fear.
We are aware of the vulnerabilities of certain sections and castes. That is why I said all the arrangements we have made are to ensure that all the members of society are able to come out and vote.
That is why when we talk about vulnerability mapping, we are basically referring to the people who come from the weaker sections, who come from remote areas.
That is why we are doing the mapping of every village so that we can identify the people who may be scared of voting.
Who are the people who can stop them from voting? We are identifying each one of them, anybody who can influence or threaten any voter.
These are the people who are under preventive action. The entire exercise of vulnerability mapping was to ensure that the district machinery is able to neutralise these factors.
The response to us in the rural areas has increased. So if you see the Panchayati Raj elections, there was more than 80 per cent voting. We are getting good support from political parties.
We have meetings with the political parties at every level in the district. They share their concerns and grievances.
As far as possible, we have been trying to address all their grievances and are trying to give facilities for training of political party representatives at the apex level.
We instruct candidates about the rules applicable to political parties and voters. We are also using social media.
I think Rediff.com is very popular. We would like it if Rediff.com and India Abroad (the Indian-American newspaper Rediff.com owns in the United States) take up our causes.
Please, educate the voters and motivate them to come out and vote.
Please click Next to see other slide shows...
Check out our other top slideshows
Last updated on: January 27, 2012 14:53 IST
Click on MORE to see another set of PHOTO features...