Egypt protests worsen, stranded Indians return
Last updated on: January 31, 2011 15:42 IST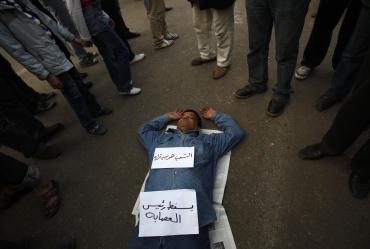 An Air India plane, carrying about 300 stranded passengers from strife-torn Egypt, landed at the Chhatrapati Shivaji International Airport Airport in Mumbai on Monday afternoon.

The Boeing 747-800 was flown to Cairo on Sunday as a special measure to airlift the Indians stranded there amidst nationwide unrest against the Egyptian government.

Air India has also decided to send its Mumbai-Jeddah flight further to Cairo on Monday evening to pick up more Indians stuck in the Egyptian capital that has been rocked by violent protests for a week now, airport sources said.

Indian external affairs ministry officials said that the arrangement for the special flight was made at the request of the Indian community in Egypt in view of the worsening situation there. The arrangements to bring back the Indians are being coordinated by the Indian Ambassador to Egypt R Swaminathan.

According to current estimates, there are about 600 Indians, including tourists, who are to be transported back to Mumbai.

Click on NEXT to read further...
'A new Egypt in which each Egyptian lives in virtue'
Last updated on: January 31, 2011 15:42 IST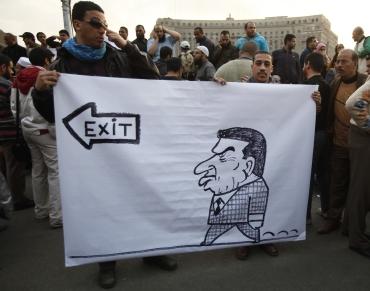 Facing an unprecedented people's revolt, President Hosni Mubarak's grip on power loosened on Sunday as demonstrators, many indulging in looting and arson, clashed with security forces.
In a desperate move to cling to power, Mubarak, 82, visited the military headquarters and met newly appointed Vice President Omar Suleiman and top commanders, after which more troops and armoured vehicles moved on to the streets.
The army increased its presence on the streets of the capital, and blocked roads with tanks and flew in fighter jets over the city. However, the protests continued unabated and the military did not make any move to target or disperse thousands of protesters at the Tahrir Square, which has now become a symbol of the mass uprising, and a centre where demonstrators have been converging, defying night curfews.
Many army-men had earlier doffed uniforms to join the uprising against Mubarak's 30-year rule. All eyes are now on the powerful military which is widely believed to have a pivotal role to play in seeing a smooth transition in power.
Pro-democracy activist and Nobel Laureate Mohammad ElBaradei too joined the protesters at the square on Sunday evening and demanded the beginning of "a new Egypt in which each Egyptian lives in virtue, freedom and dignity".
ElBaradei slams US support to Mubarak
Last updated on: January 31, 2011 15:42 IST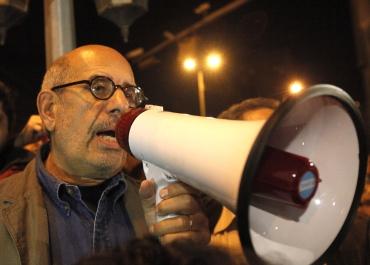 ElBaradei said earlier that he has been mandated, by the organisers of the demonstrations and by many other sections of Egyptians, to negotiate on a national unity government.
He criticised the US policy on Egypt and asked the US to "stop the life support" to the dictator while asking Mubarak to step down. He also said that the Muslim Brotherhood will have to be part of any future government and also indicated that he will reach out to the army. He said the Brotherhood was part of Egyptian society and the myth of it being an extremist body has been "perpetuated and sold by the regime" but has "no iota of reality".
US Secretary of State Hillary Clinton called for an 'orderly transition' to a democratic set-up in Egypt, as foreign governments began evacuating citizens from Egypt.
As protests raged for the sixth day, Cairo and other cities faced growing lawlessness with gangs of armed men helping free thousands of prisoners and looters rampaging malls, banks and jewellery stores.
Qatar-based Al-Jazeera channel put the death toll due to protests at 150 and said 4,000 people had been injured since protests began. For the first time, a large number of judges also joined the protests, threatening to destabilise the world's most populous Arab state.
Al Jazeera shut down
Last updated on: January 31, 2011 15:42 IST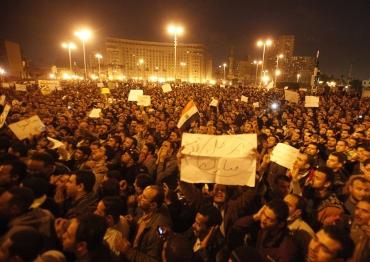 Many countries, including the US, Australia, Britain and China, issued travel alerts advising their citizens to leave Egypt or to avoid travelling to the country.
Taking advantage of the fluid situation, armed gangs fired at guards in four prisons, including in Alexandria and Aswan, and helped thousands of inmates to flee. An estimated 5,000 inmates, including arrested Muslim Brotherhood members, broke free from a jail in El Fayoum, south of Cairo, after a senior police officer was killed, media reports said. Looting and arson continued through the night as security personnel disappeared from the trouble spots.
Authorities also halted Al Jazeera's broadcasts via an Egyptian satellite. The channel was still reporting on the events from Egypt when the announcement was made. Egypt's outgoing information minister Anas al-Fikki has "ordered the closure of all activities by Al Jazeera in the Arab republic of Egypt, and the annulment of its licences, as well as withdrawing the press cards to all its employees as of (today)," official MENA news agency said.
'Down, down Mubarak'
Last updated on: January 31, 2011 15:42 IST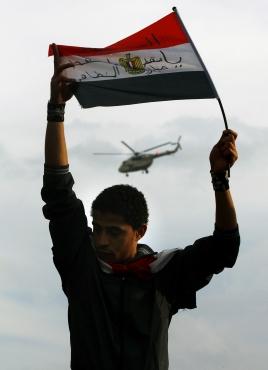 There was however no let-down in protests as thousands defied curfew for the second night, with chants of 'Down, down Mubarak' and 'Mubarak, Mubarak, the plane awaits' renting the air. Some of the protestors accused Mubarak and newly appointed VP Suleiman of being 'agents of the Americans'.
They also tried to storm the interior ministry office in central Cairo and torched a police station in the Giza neighbourhood of the city. A shopping mall along the Nile was set ablaze after being looted. Some looters managed to get into Cairo's museum of antiquities and damaged some of the exhibits.
Thieves also broke into the Arab International Bank. To protect their property from looters, residents of the city set up committees armed with guns, clubs and knives. Later in the day, fighter jets and army helicopters swooped low over the capital passing over the thousands of protestors waving flags and banners.
Mubarak refuses to quit
Last updated on: January 31, 2011 15:42 IST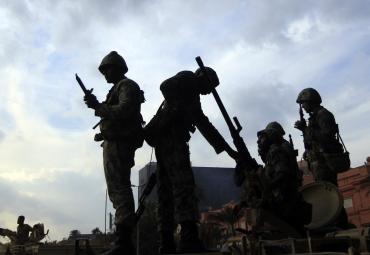 In central Cairo, an army officer was carried on the shoulders of cheering protestors. Meanwhile, influential Arab cleric Yusuf al-Qaradawi accused Mubarak of having turned 'blind, deaf and dumb' in the face of massive protests and asked him to step down.
"President Mubarak, I advise you to depart from Egypt. There is no other solution to this problem but for Mubarak to go," Qaradawi said.
The widely respected Sunni cleric asked Mubarak to quit for the good of his country. Stock markets across the Middle East kept on tumbling and the Egyptian crisis also hit financial markets around the globe.
In Washington, US President Barack Obama held key talks with his national security team to assess the situation in Egypt. He also reached out to leaders of Turkey, Saudi Arabia, Israel and Britain on the fast unfolding situation in Egypt.
Obama called for restraint in Egypt and favoured 'concrete steps' aimed at advancing political reforms in the Arab State.
Earlier, United Nations chief Ban Ki-moon, who was in Davos for the World Economic Forum, warned Egypt's government that "freedom of expression should be fully respected" while dealing with the protests.
Prime Minister Benjamin Netanyahu of the neighbouring Israel said in Jerusalem that his government is carefully watching developments in Egypt and its efforts are focused on maintaining the 'stability and security' of the region.