Authorities cut Internet and cell-phone services to scuttle the protests
Last updated on: January 29, 2011 00:53 IST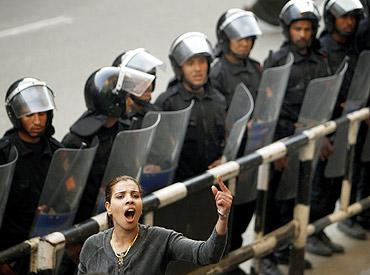 Tens of thousands of anti-government protesters clashed with police in several cities in Egypt after noon prayers on Friday in a major escalation of nationwide demonstrations which gained momentum after pro-democracy leader Mohamed ElBaradei joined the wave of protests.
As cries of change grew louder in the largest Arab state, police fired warning shots and used water cannons in a bid to quash the rising tide of popular anger against 82-year-old Hosni Mubarak on the fourth-day of protests that has left seven people dead.
In an unpredented crackdown, authorities cut Internet and cell-phone data services across the country in a bid to hamper protesters from organizing mass rallies after Friday noon prayers as part of the biggest challenge to Mubarak who has ruled for nearly three decades.
Police armed with batons beat some of ElBaradei's supporters, who surrounded the former IAEA chief to protect him, and fired rubber bullets into the crowd and used tear gas and water cannons to disperse the protesters outside a mosque in Giza square in the Egyptian capital.
'ElBaradei was trapped in a mosque'
Last updated on: January 29, 2011 00:53 IST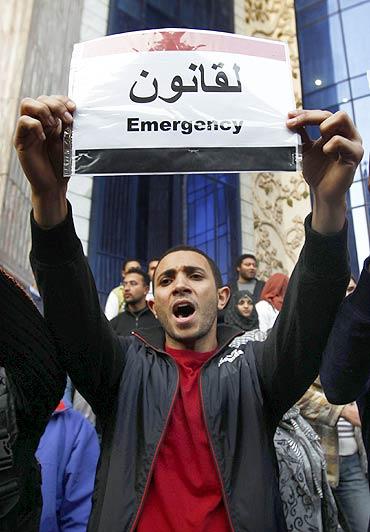 Several journalists were also reported to have been roughed up.
Arabic TV channel Al Arabia reported that police pinned 68-year-old ElBaradei, a Nobel Peace laureate and an ex-IAEA chief who returned to his homeland last night, in the protest area.
A soaking wet ElBaradei was reported to have been trapped inside a mosque for nearly one hour.
Arabic channel Al Jazeera initially reported that ElBaradei was detained but later clarified that he was only not allowed to leave an area by the police.
Hundreds of riot police laid siege to the mosque, firing tear gas in the streets surrounding it so no one could leave.
The tear gas canisters set several cars ablaze outside the mosque amid reports that several people fainted and suffered burns.
As the Egyptian capital descended into violent chaos, large groups of protesters gathered at at least six venues in the Egyptian capital which is home to about 18 million people.
Protests spread to all Egyptian cities
Last updated on: January 29, 2011 00:53 IST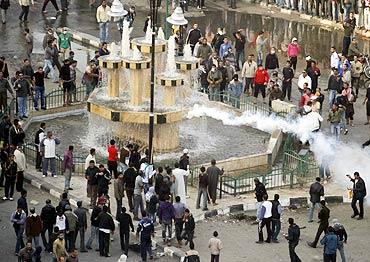 Joining the protesters, ElBaradei, one of Mubaraks fiercest critics, claimed that Mubarak's regime was on its "last legs".
Television stations also reported clashes between thousands of protesters and police in several other major Egyptian cities, including the Mediterranean port city of Alexandria, Minya and Assiut, al-Arish in the Sinai peninsula and in the Delta city of Mansura.
Protesters in Alexandria threw stones at police who retaliated with tear gas, water cannon and rubber bullets after prayers ended with cries of "God is gretest" followed by "We don't want him," referring to Mubarak.
At Ramsis square in the heart of the city, thousands of protesters clashed with police as they left the al-Nur mosque after the prayers. At the upscale Mohandiseen district, at least 10,000 of people were marching toward the city center chanting "down, down with Mubarak."
'It is a critical time for Egypt'
Last updated on: January 29, 2011 00:53 IST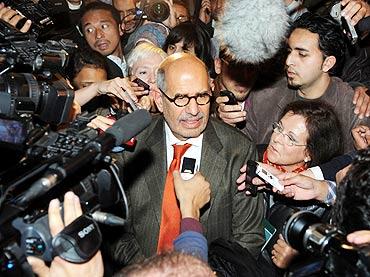 The demonstrations are backed by both the country's biggest opposition group--the Muslim Brotherhood-- and ElBaradei, galvanising the protests.
"It is a critical time in the life of Egypt. I have come to participate with the Egyptian people," ElBaradei said before leaving Cairo airport after his arrival from Vienna. "We're still reaching out to the regime to work with them for the process of change. Every Egyptian doesn't want to see the country going into violence," he said, adding "Our hand is outstretched."
"I wish that we didn't have to go to the streets to impress on the regime that they need to change," ElBaradei said.
The Muslim Brotherhood said at least five of its leaders and five former members of parliament had been arrested.
The government deployed an elite special operations force in Cairo on Thursday night as violence escalated outside the capital, and the Islamist Muslim Brotherhood called on its members to take to the streets after Friday afternoon prayers.
Mubarak has not been seen in public
Last updated on: January 29, 2011 00:53 IST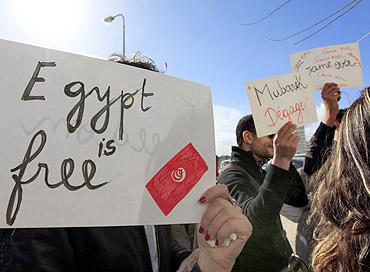 Thousands of black-clad riot police armed with batons and shields were deployed across the city, with the largest concentrations at Tahrir, or Liberation, Square at the heart of the city, where 10,000 protestors gathered for their first demonstration on Tuesday.
Mubarak has not been seen in public or heard from directly since Tuesday.
The police, backed by armoured vehicles and fire engines fitted with water cannon, were also deployed in large numbers at Ramsis Square, another flashpoint in central Cairo.
The interior ministry has already warned of "decisive measures" against the protestors demanding Mubarak's ouster.
© Copyright 2022 PTI. All rights reserved. Republication or redistribution of PTI content, including by framing or similar means, is expressly prohibited without the prior written consent.