Tanks, troops step in to stop Cairo's street war
Last updated on: February 3, 2011 20:12 IST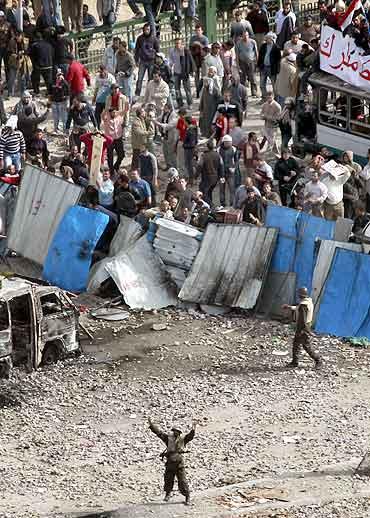 With just hours left for Friday's showdown between protesters and the government in Egypt, the army on Thursday rolled out tanks and positioned soldiers to separate warring pro-and anti-Hosni Mubarak demonstrators, who clashed leaving seven people dead and 700 injured in fresh violence.
Shortly after automatic gunfire hit the anti-government protesters at the historic Tahrir Square killing seven people, including three on the spot, tanks and armoured cars ferried rifle-wielding soldiers to line up between the clashing groups.
The pre-dawn firing apparently by Mubarak's supporters appeared to be orchestrated to evict thousands of opposition supporters from the Square ahead of a massive rally on Friday, also the day when the opposition deadline to the embattled President, who has been in power since 1981, to quit expires.
Click on NEXT to read further...
Tanks, troops step in to stop Cairo's street war
Last updated on: February 3, 2011 20:12 IST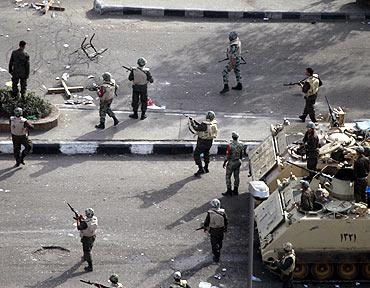 As opposing groups battled exchanging gunfire and pelted rocks and stones, which also left scores of international media persons injured triggering strong condemnation from the United States and Western nations, new Egypt Prime Minister Ahmed Shafiq apologised for the events saying there will be an investigation into the violence.
"This is a fatal error," Shafiq told the privately-owned al-Hayat television. "When investigations reveal who is behind this crime and who allowed it to happen, I promise they will be held accountable and will be punished for what they did."
"There is no excuse whatsoever to attack peaceful protesters, and that is why I am apologising," he said, urging the protesters "to go home to help end this crisis".
His remarks came as the nation's Cabinet denied that it played any role in the attacks against the pro-democracy demonstrators.
Tanks, troops step in to stop Cairo's street war
Last updated on: February 3, 2011 20:12 IST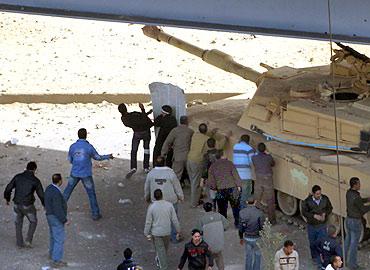 Shafiq as well as new Vice President Omar Suleiman also made an offer to hold talks with the opposition parties. Though some groups accepted the offer, Nobel peace laureate and former International Atomic Energy Agency chief Mohamed ElBaradei, the leading opposition figure, rejected it until the demand for Mubarak to step down was met.
State television said negotiations were being held between Suleiman and some national political forces.
The fast-paced developments came as the US and five European Union nations -- Britain, France, Germany, Italy and Spain -- released a joint statement calling for an immediate political transition to end the violent unrest.
Tanks, troops step in to stop Cairo's street war
Last updated on: February 3, 2011 20:12 IST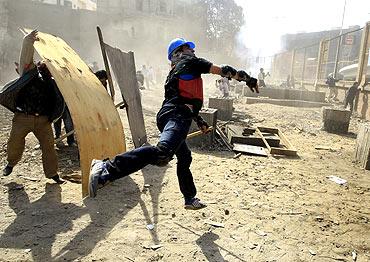 The protesters have vowed to intensify their struggle to force Mubarak out by Friday, and repeated onslaughts on them by supporters of the besieged President appeared to have made their resolve stronger.
The protesters deviated from their regular chants calling for Mubarak to step down and instead began to call for him to face capital punishment.
An opposition spokesman claimed that violence was being unleashed by a force of paid thugs and plain-clothe policemen to crush the unprecedented movement that began on Tuesday last week.
The protesters called for the need for military intervention to protect them and demanded withdrawal of "thugs and gunmen" from the streets.
The automatic fire on the protesters early on Thursday morning came as they were still reeling from Wednesday's attack in which Mubarak's supporters charged into the square on horses and camels. The protesters are refusing to quit from the Square, which has become a hub of 'Down Mubarak' campaign.
Tanks, troops step in to stop Cairo's street war
Last updated on: February 3, 2011 20:12 IST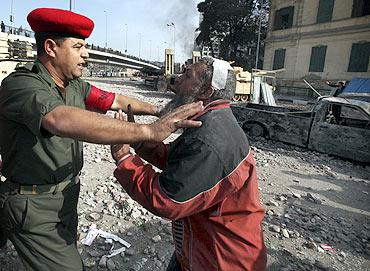 Witnesses reported that gunfire rained into the square from at least three directions overnight and that the military personnel deployed heavily did not intervene.
Pitched battles were also reported between pro-and anti-Mubarak groups for the control of a high vantage overpass leading to the square. The clashing groups also hurled firebombs at each other.
Soldiers ringing the square from all sides with tanks and armoured carriers fired occasionally in the air overnight but did not otherwise intervene.
The violence came after Mubarak went on air on Tuesday to say that he would not stand for re-election in September, but refused to quit immediately, triggering an ultimatum by the protesters, who set Friday as a deadline for him to step down.
Tanks, troops step in to stop Cairo's street war
Last updated on: February 3, 2011 20:12 IST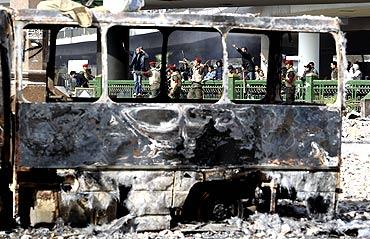 The unceasing violence has witnessed a sharp escalation of attacks on Western media persons, which has come in for strong condemnation by US Secretary of State Hillary Clinton and Western governments.
The military has begun rounding up journalists, apparently for their own safety, media reports said. The violent acts by Mubarak's protesters appeared to be a move by the president to stamp out massive protests calling for him to quit.
The US has expressed outrage over violence against protesters and asked Egypt to set a brisk course for new elections. "We want to see free, fair and credible elections," US State Department spokesman PJ Crowley said.
US Secretary of State Hillary Clinton asked Vice President Omar Suleiman to investigate those behind the violence. White House Press Secretary Robert Gibbs also said that "a transition of power must start now" in Egypt.
Australian Prime Minister Julia Gillard condemned the violence in Egypt and sought an immediate change in the country's leadership.
European leaders, including British Prime Minister David Cameron and German Foreign Minister Guido Westerwelle also expressed concern over the violence, while United Nations Secretary General Ban-Ki-moon termed it as "unacceptable".