'Our goal-post right now is Dr Singh's State visit to Washington'
Last updated on: December 28, 1999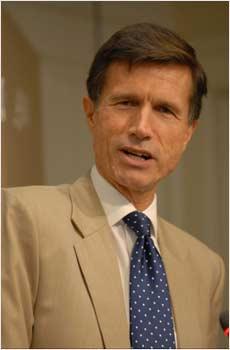 President Barack Obama's administration has categorically denied that it had pushed India to engage with Pakistan at Sharm-el-Sheikh in Egypt, or that Washington had anything to do with the controversial insertions on terrorism and Balochistan in the India-Pakistan joint statement that emerged after the meeting between Prime Minister Manmohan Singh and Pakistani Prime Minister Yousuf Raza Gilani.
In his first extensive interview with a South Asian publication -- India Abroad, the oldest Indian-American newsweekly owned by rediff.com -- since assuming his new position as Assistant Secretary of South Asian Affairs, Robert Blake was insistent that this be properly understood. The administration welcomed the developments at the Sharm-el-Shaikh meeting, he said, but had not made any effort to bring it about.
The former United States ambassador to Sri Lanka, who had earlier served as deputy chief of mission at the Indian embassy in New Delhi, went on to speak to a wide range of issues including Indo-Pak relations, the end use monitoring agreement, nuclear trade and other issues of bilateral significance. He spoke to Rediff India Abroad Editor, News, Aziz Haniffa in Washington DC.
The US has been uniformly euphoric about Secretary of State Hillary Clinton's recent visit to India, while back in New Delhi the reception has been mixed. The secretary was clear that her intention is to take bilateral relations to the next level -- what she described as 3.0. As the point person in charge of carrying out her agenda, what are your thoughts?
The secretary had a very successful trip to India. On the public and diplomacy front, she enunciated clearly that India is going to be one of our most important strategic partners.
She also told our Indian friends that we believe there are enormous opportunities for our relationship now, not only on the bilateral side in terms of all of the various dialogues that we've set up, but also increasingly on the multilateral front on important global issues like climate change, non-proliferation, trade and so forth.
With respect to your specific question, we have as you know set up five pillars of cooperation, and the secretary of state will oversee these pillars along with Foreign Minister (S M) Krishna -- this is really an attempt on our part to elevate our strategic dialogue.
What we plan to do is have all of these dialogues that were mentioned in the joint statement and in our fact sheet as soon as possible. Many of these are chaired at the Cabinet level, but there are also many at the sub-cabinet level. We want to have those meetings as soon as possible and set forth action plans on how to move the ball forward.
I have to say that a lot of what we are trying to do is try to figure out ways to remove obstacles for private sector cooperation, cooperation between academic institutions, scientists and so forth.
It is really about unleashing the potential of people outside of government to cooperate, because we feel that such a vast range of contacts are already taking place between India and the United States and one of the most effective things that we can do is to try to empower those contacts further.
'American educational institutions have wanted to do much more in India'
Last updated on: December 28, 1999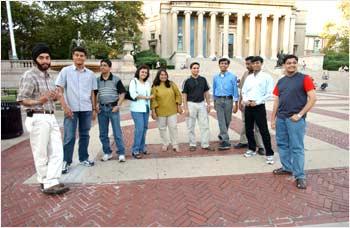 C
ould you give specific examples?
One specific example relates to education where, for many years, American educational institutions have wanted to do much more in India but haven't been able to because of various restrictions. Now we understand from our Indian friends that there are going to be numerous opportunities.
Minister of Education Kapil Sibal is going to be shepherding a very important piece of legislation through the Lok Sabha this fall, which we understand will enable new areas of participation for US educational institutions.
So I can say our colleges and universities are chomping at the bit to do more in India, and this is a very good example of the kind of things that our two governments can do to allow our private institutions to work together.
Do you have a schedule for these meetings that you speak of?
We are in the process of organising that schedule right now but I'm sure you'll be hearing of them soon, because they will be very high-profile events.
Our goal-post right now is Prime Minister (Manmohan) Singh's State visit November 24 to Washington.
By then, we hope to have all these meetings done and action plans developed in each sector, so Secretary Clinton and Foreign Minister Krishna can report to the two leaders.
Is it fair to say therefore that some major announcements are likely during the prime minister's visit?
Certainly -- but I don't want to try to preview that right away, it's a little early, but we are certainly going to work on some important announcements.
This is going to be an extremely important visit; the first state visit in the Obama administration -- and that again is a signal of the importance that we attach to our relations with India.
Reverting to the point of cooperation in the field of education, old India hands like Stephen Cohen have complained that Indians are paranoid about American students doing research in that country, though students from India come to the US to do cutting edge research. Was this concern addressed during Secretary Clinton's visit?
First of all, I would say that already there is an enormous amount of that kind of work already going on. This is a cross-cutting theme in many of our dialogues.
We are trying to do more in science and technology, in education, in agriculture -- and a very important component in many of those will be research exchanges of the kind you are talking about.
I don't want to imply that there are great restrictions. There is already an enormous amount of good work that's being done at both ends, and we want to try our best to open up as many new opportunities for those kinds of things in areas such as health, science and technology.
'Recently, the US has exported $2.2 billion worth of defence equipment to India'
Last updated on: December 28, 1999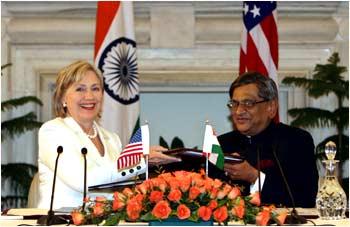 Y
ou mentioned that one of your pillars was the fostering of people to people interaction. What role do you see for the Indian-American community in this regard?
The Diaspora has played an enormously important role in the transformation that has taken place in our bilateral relations, and in many ways they've been out in front of the governments ever since we started.
We would in this administration like to do more to capitalise on that and to do more outreach with the Indian Diaspora and, frankly, with the other Diasporas as well -- the Bangladeshi and Pakistani Diasporas have important roles to play as well.
But the Indian Diaspora really came together around the civil nuclear agenda and now they are well organised, are a significant constituency, and we'd like to brief them in all that we are doing and see how we can get them to help.
With regard to the End User Monitoring agreement, which is not a formally signed agreement but merely an understanding reached during Secretary Clinton's visit, there are plenty of questions being raised especially in India. What is the administration position on this? Will an iron-clad agreement that will be signed soon?
There has been a lot of misunderstanding about End Use Monitoring. First, this is not an agreement that has to be signed; it is language that we have with 80 of our best trading partners around the world, to enable us to do more in high technology trade, particularly on the defence side.
The language that has been agreed to is the language that will go into what are called letters of offer or letters of acceptance for specific contracts. So it's not a matter of having some sort of written agreement, it is just a question of agreeing on the language -- and this is a very standardised language that we have with all our most important partners.
There is nothing very secretive about this, and this is just one of the many steps that we've taken to try to expand our defence trade.
The most recent figures are that the United States has exported something like $2.2 billion worth of defence equipment to India.
As you know, there are very important new contracts coming up, the most important of which will be the multi-role combat aircraft, but there are also others including the high technology components of some of those sales.
This agreement helps expand access for Indian companies and the Indian government to a lot of that high technology.
'There is much more that unites us than divides us on climate change'
Last updated on: December 28, 1999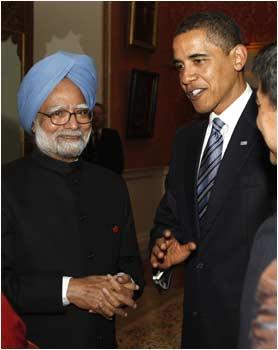 T
he US-India civilian nuclear agreement is generally seen as a done deal, but with many non-proliferation advocates like Bob Einhorn, Ellen Tauscher and Gary Samore joining the administration, is there a fear that the terms of that agreement will be diluted?
Also, with the Obama administration intent on pushing the Nuclear Non-Proliferation Treaty, the Comprehensive Test Ban Treaty and the Fissile Material Cut-off Treaty as part of its non-proliferation push, do you see pressure increasing on India to sign these treaties?
There are actually several different questions there. First of all, the administration is fully committed to implementing the civil nuclear initiative and we are making good progress in that regard. I want to say here that there was nothing in the recent G-8 language that is going to effect that cooperation.
There has been a little bit of misunderstanding about some of the enrichment and reprocessing statements Secretary Clinton made while in India. There have been no changes in our policy on those, and we have remained fully committed to our civil nuclear cooperation.
Again, there are some big opportunities. As you know, the secretary and Foreign Minister Krishna announced during the visit that the Indians will establish two reactor parks in Andhra Pradesh and Gujarat where American companies can invest, and our companies are very excited about that.
There is still one more important step that needs to be taken, which is the passage by the Lok Sabha of the liability legislation that would protect our companies, because unlike let's say the French companies many of which are government-owned, ours are all private, and hence they need that very important liability legislation.
But again, I don't foresee a problem there -- from our Indian friends we understand that it has passed the governmental part of the process, and now needs to be cleared through Parliament.
With respect to the multilateral side, I wouldn't characterise people like Under Secretary Tauscher and Bob Einhorn and Gary Samore as nuclear ayatollahs. These are people that have a great deal of experience. Bob Einhorn and Gary Samore have worked a lot on India and are favourably known inside India.
The civil nuclear agreement unlocks the possibility for us to cooperate much more on some of these big global non-proliferation issues, and India wants to work on these issues with us and they've said so publicly.
We welcome that, and Under Secretary Tauscher and Bob Einhorn and Gary and others will all be working in these dialogues with their Indian counterparts.
The president laid out a very ambitious agenda in Prague, outlining his vision for a world that is free of nuclear weapons. Manmohan Singh at various times has echoed that vision, but of course one has to make sure that other countries in the region will also be part of that, and that's certainly perfectly understandable.
India has unambiguously said it will not accept any caps on carbon emissions. Will this be a potential hurdle for bilateral relations, since climate change is clearly a major issue for President Obama?
I am not anticipating that much of a hiccup. There is much more that unites us than divides us on the issue of climate change.
In the meeting in New Delhi between Secretary Clinton and Environment Minister Jairam Ramesh, the minister outlined the important steps India is already taking on the mitigation front and on the adaptation front, and we came away from that meeting and from Special Envoy Todd Stern's subsequent meetings with a wide range of Indian counterparts, the business community and the NGOs with the knowledge that India wants to work with us towards a successful outcome at Copenhagen.
So I would put the focus on that, and not on a particular remark that the minister might have made.
'I deny the US had anything to do with the Sharm-el-Sheikh meeting'
Last updated on: December 28, 1999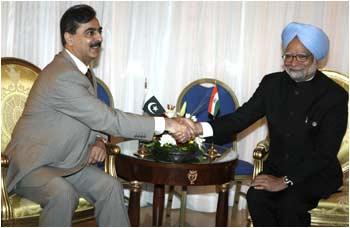 A
nother concern area is Doha -- can the trade talks be completed given India's uncompromising stance on issues like agriculture?
It's significant that one of the very first visits that Commerce Minister Anand Sharma made after his swearing in as minister was to Washington, to meet with US Trade Representative Ron Kirk who also is new to the job.
The statements that you saw coming from both of them reflected a new, more businesslike attitude to work together to achieve a successful outcome.
With your elections behind you and our elections behind us, that in many ways removes a fairly significant barrier, because everybody was worried about what the voters might perceive or misperceive about various decisions that might be taken in these respects.
So we now have a five-year window at least from the Indian side, and a four year window on our side, to make some progress.
We hope to have a successful Doha Round, and we think the prospect of that is better now. I don't want to go any further into that because we are just starting the process.
Coming to India-Pakistan relations, there is a contention in some circles that the US prevailed upon India to meet with Pakistan at Sharm-el-Sheikh, and that the US has been pushing for resurrection of the composite dialogue that came to a halt after the terror attacks of 26/11. Would you care to comment?
I would like to categorically deny that the United States had anything to do with the Sharm-el-Sheikh meeting -- that was a purely India-Pakistan initiative, and a very welcome one, I might add.
It was the latest in a series of meetings that have taken place -- as you know, the prime minister had a previous meeting (with Pakistani President Asif Ali Zardari) in Yekaterinburg in Russia; the foreign secretaries have met; the foreign ministers have met.
We believe all these meetings are very welcome, but there was no US role in any of these.
In terms of next steps, Prime Minister Singh has said that for restarting the composite dialogue, India hopes that Pakistan first will prosecute the five Mumbai terror suspects and more broadly, that Pakistan will take steps to ensure that its soil is not used as a platform to attack India or for that matter other countries -- Afghanistan, the United States and others.
Those will be important steps for Pakistan to take, and they will then provide the basis for a resumption of the composite dialogue and of many confidence building measures that were agreed to and implemented from 2004 to 2007.
I think many people have forgotten the tremendous progress that was made in that time between the two countries, again entirely on their own initiative and without any involvement from the United States or any other country.
We very much hope that both countries can get back to that level of cooperation and as we look ahead, we think there are great opportunities.
Let me just take one example, which will be trade: the level of bilateral trade between India and Pakistan is about $2.1 billion, if I am not mistaken. A lot of the trade that takes place is in fact hidden -- India's exports go through Dubai, and things like that.
If you were to take two similar countries, China and Indonesia, though they are not neighbouring countries, the level of their bilateral trade is $30 billion.
So it just shows that there is tremendous scope, particularly because India and Pakistan are right on each other's borders, for significantly expanded trade which would put many people to work on both sides of the border and would benefit their societies and their economies.
So I do hope that both countries can get beyond the narrow issue of terrorism, that progress can be made on that issue so some of these important opportunities can be seized.
On the issue of terrorism, India has been insisting that the perpetrators of 26/11 be brought to justice. How much is the US pushing Pakistan to bring the perpetrators to book and to close down terrorist groups and their training camps?
The United States is working very hard with our friends in Pakistan to improve their capabilities to take action on this threat and let me stress that the militant groups inside Pakistan are a threat to Pakistan.
It has in recent times suffered greatly from terrorism, and I think Pakistan already has taken important measures to address that threat, most particularly in the Swat valley.
We welcome the steps that they have taken, and we welcome the statements that have been made by senior Pakistani officials that they do not want to have Pakistani soil used by terrorists. That's the shared objective by all these countries the United States, India and Pakistan.
We have a good opportunity to work productively on those issues, and we encourage continued progress by the Pakistanis on this issue.