Dr Singh, Sarkozy N-power Maharashtra!
Last updated on: December 6, 2010 18:36 IST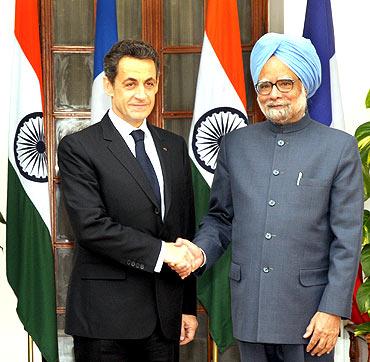 France on Monday became the first country to sign agreements to set up nuclear reactors in India, two years after India's nuclear isolation prompted by Pokhran tests in 1998, ended.
Five path-breaking agreements to establish the first two of the six reactors in Jaitapur in Maharashtra at a cost of approx $25 billion (Rs 1.12 lakh crore) were inked in the presence of visiting
French President Nicolas Sarkozy and Prime Minister Manmohan Singh, who paved the way for that during their talks over dinner on Sunday. also decided to work for doubling bilateral trade to 12 billion euros (Rs 71,7500 crore) by 2012, much of which is expected to be propelled by enhanced cooperation in the fields of civil nuclear energy and civil aviation.

Click on NEXT to read further...
India, France ink seven pacts
Last updated on: December 6, 2010 18:36 IST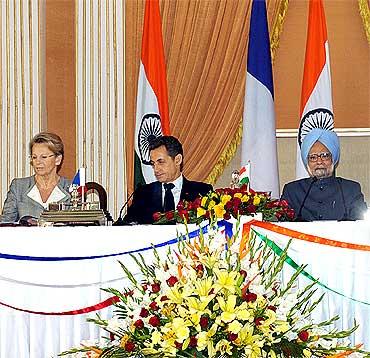 Singh and Sarkozy held extensive talks on a host of issues like enhancement of bilateral ties in a wide range of areas such as defence, counter-terrorism, space, science and technology besides discussing the situation in Afghanistan and Pakistan.
After the talks the two sides signed seven pacts, five of them in the civil nuclear field and one each for co-production of films and cooperation in the earth system science and climate.
Maharashtra plant, the first of its kind in India
Last updated on: December 6, 2010 18:36 IST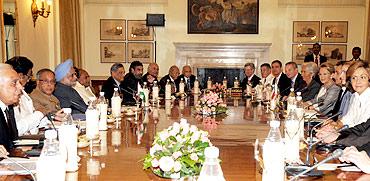 The key agreement was on construction of two 1,650-megawatt nuclear power reactors in Jaitapur in Maharashtra, which marks the first such plant to be set up in India after the Nuclear Suppliers Group ended New Delhi's isolation in the field in 2008.
The general framework agreement for building the European pressure reactors was signed between the Nuclear Power Corporation of India Limited and French company Areva.
The plant, which is intended to have six reactors in all at a cost of 25 billion dollars (Rs 1.12 lakh crore), will ultimately produce 10,000 MW of power.
First N-plant to come up after seven years in Maharashtra
Last updated on: December 6, 2010 18:36 IST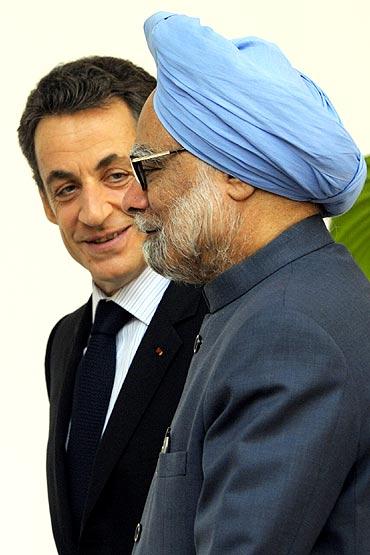 The operationalisation of the agreement will take some time as negotiations on technical issues like pricing are still underway. "The framework agreement has been signed between Areva and NPCIL. There are issues with regard to other technical matters including pricing. These are subject matter of negotiations," Singh told mediapersons at a joint press conference with Sarkozy.
Agreements have been signed and clearances granted for the first two nuclear power plants. Areva has said it would take up to seven years for the first nuclear power plant to be made operational after the first pour of concrete.
While noting that India's current nuclear power generation capacity is 4,000 MW, Singh said setting up of the plant with the help of Areva will go a long way in enhancing the country's electricity production.
The other pacts signed in the civil nuclear field include Early Works Agreement between NPCIL and AREVA for implementation of European pressurised reactor units at Jaitapur.
France to build reactors speedily: Sarzkozy
Last updated on: December 6, 2010 18:36 IST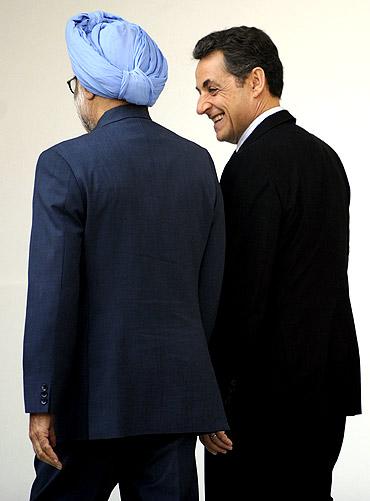 While noting that pricing of electricity generated by Jaitapur plant will be part of the agreement, Sarkozy said France will do its utmost to ensure that the reactors are built as speedily as possible.
The two reactors of Jaitapur would be built at a cost of 7 billion euros and will have guaranteed fuel supply from France for 25 years.
An agreement for cooperation between the Department of Atomic Energy and Commissariat A L'energie Atomique Et Aux Energies Alternatives in the field of nuclear science and technology for peaceful uses of nuclear energy was also signed.
France, our most reliable defence partner: Dr Singh
Last updated on: December 6, 2010 18:36 IST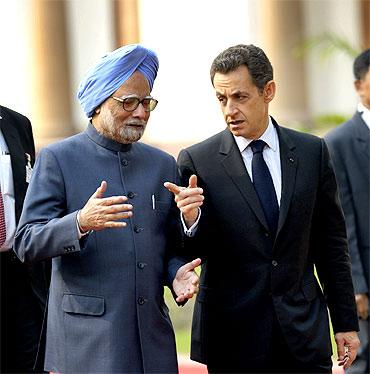 The two sides also inked two agreements -- one pertaining to protection of confidentiality of technical data and information relating to cooperation in peaceful uses of nuclear energy and the other concerning intellectual property rights on the development of peaceful uses of nuclear energy.
"In the field of nuclear energy, negotiations have reached an advanced stage to pave the way for the launching of nuclear power reactors in Jaitapur in partnership with Indian industry," Singh said.
"Several other agreements to expand interaction in the nuclear sector to areas such as research and training of scientists and students, nuclear safety, nuclear waste management and regulatory practices have been concluded," he added.
Describing France as India's "most important and reliable defence partner", the prime minister appreciated Paris's willingness to supply advanced defence technologies to contribute to the modernisation of this industry.
Pakistan should fight terror menace determinedly: Sarkozy
Last updated on: December 6, 2010 18:36 IST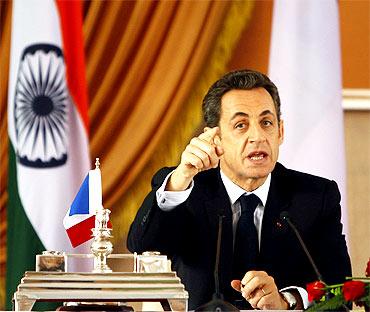 With regard to terrorism, Sarkozy asked Pakistan to fight the menace determinedly while applauding India's efforts to normalise relations with Pakistan.
"With the tragic losses suffered in November 2008 terrorist attacks in Mumbai particularly in mind, we call for the active prosecution of the authors of such crimes and their accomplices and urge that they be brought to justice expeditiously," said a joint statement issued after the talks.

Both leaders expressed concern at the "continuing existence of safe havens and sanctuaries for terrorist groups beyond Afghanistan's borders and resurgence of terrorist groups", it said in an apparent reference to Pakistan.
They agreed that terrorism must be combated firmly by the international community and asked the "neighbours" of Afghanistan to play a "constructive role conducive to the country's stabilisation and development in its regional environment," the statement said.
The two sides also decided to work together in the international bodies to counter financing of terrorism and money laundering.
© Copyright 2019 PTI. All rights reserved. Republication or redistribution of PTI content, including by framing or similar means, is expressly prohibited without the prior written consent.