Dilli Gupshup: When Rahul Gandhi gets ANGRY...
Last updated on: July 17, 2013 09:07 IST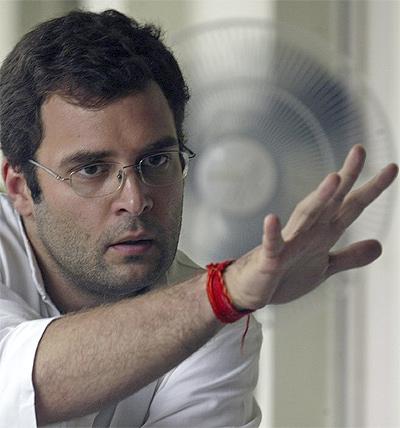 Why is Amit Shah becoming Modi's star player?
Who is the most powerful man at Shastri Bhavan?
Why is Kapil Sibal waiting for Independence Day?
All this, and more, in this week's Dilli Gupshup.
It's not really what you would expect from Rahul Gandhi.
Apparently, at a recent meet between Congress chief ministers held at 10, Janpath, the AICC vice president was uncharacteristically belligerent.
During the meet, which was focused on the Food Security Bill, Rahul had some aggressive questions for the Congress leaders.
He once interrupted a nay-saying Congress chief minister to ask, "Why? Why can't it be done?"
A little while later, another chief minister was at the receiving end of Rahul Gandhi's ire. "Please talk about solutions," the chief minister was told acerbically. "Not problems."
Delhi Chief Minister Sheila Dikshit and Bhupinder Singh Hooda, the chief minister of Haryana, received quick words of praise.
But Andhra Pradesh Chief Minister Nallari Kiran Kumar Reddy -- who is grappling with the knotty Telangana issue -- and Kerala Chief Minister Oommen Chandy -- who, like the Centre, seems to be battling one scam after another -- found that they had a lot of explaining to do.
Rahul was so pleased with Maharashtra chief minister Prithviraj Chavan's 'homework' on the 'subject' that he asked the other chief ministers to emulate him.
Veteran Congressmen who were part of the meet recall feeling a sense of déjà vu.
Rahul's aggression was, to them, a reminder of his father, the late Rajiv Gandhi's sense of urgency when it came to implementing fresh ideas and programmes.
Considering the nation's current mood, however, and the sense of despondency within the Congress, not many will view Rahul as the party's great saviour.
Please click on NEXT to find out what Modi's Chicago-born deputy is upto…
Amit Shah scores for Team Modi!
Last updated on: July 17, 2013 09:07 IST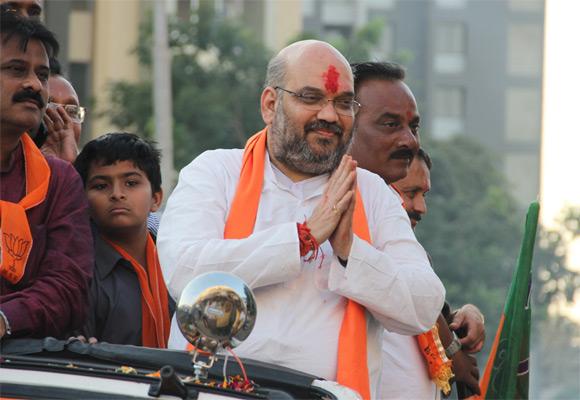 Gujarat Chief Minister Narendra Modi's controversial US-born deputy, Amit Shah, seems to be relishing his new role as the BJP general secretary in charge of Uttar Pradesh.
He has already managed to trigger a minor revolt in Mayawati's Bahujan Samaj Party by convincing its MP, Vijay Bahadur Singh, to shower praise on Modi's much reviled 'puppy' remark.
Though Mayawati was quick to 'censure' Bahadur, it does not seem to have had the desired effect.
Bahadur seems to be quietly looking at life beyond the BSP.
But the MP, who has close family ties with the late Chaudhary Charan Singh and former Congress MP Bhanu Pratap Singh, does not seem to be heading towards the Congress.
It is the BJP that seems to have his attention.
The big question, being asked by those who are interested in UP politics, is: Will Bahadur abandon the BSP for the BJP? If he does, will he bring Rajput politicians from other political parties closer to Modi?
Please click on NEXT to find out why Jitendra Singh is considered a powerful man…
Jitendra Singh is a powerful man... here's why!
Last updated on: July 17, 2013 09:07 IST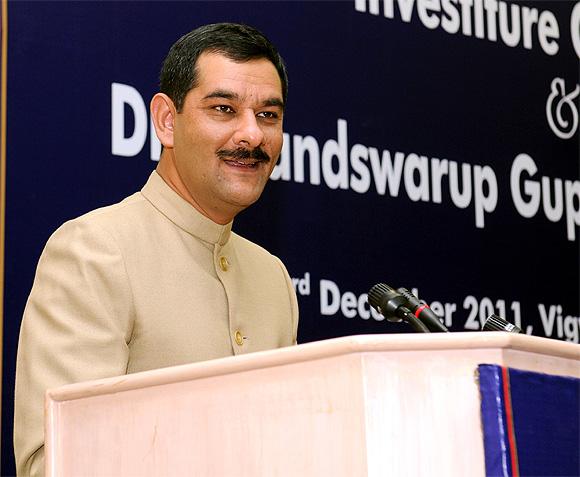 Though Shastri Bhavan houses over a dozen Union ministers, Jitendra Singh (minister of state for defence and minister of state with independent charge for youth affairs and sports) has managed to stand out.
The route from his chamber to the lift has been carpeted, a distinction that eludes lesser mortals like Minister of Mines Dinsha Patel and Minister of State for Human Resource Development Jitin Prasada.
The minions at Shastri Bhavan are clearly aware, and in awe of, Singh's close proximity to Rahul Gandhi.
Please click on NEXT to find out why Kapil Sibal is waiting for Independence Day…
'Come on, India, let's celebrate...'
Last updated on: July 17, 2013 09:07 IST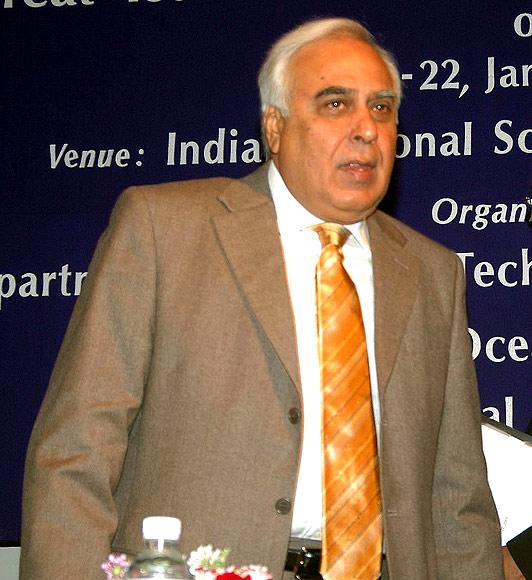 Here's why this year's Independence Day will be special for Kapil Sibal.
A song he has written -- the minister, incidentally, is quite the poet! -- showcasing the United Progressive Alliance government's achievements will go on air from August 15.
The song, titled Come On India, Let's Celebrate, has been set to tune by composer Anand Raaj Anand.
The lyrics go something like this…
'Wade kiye watan ke liye (We have promised the nation)
Sar utha ke jiye watan ke liye (We are standing tall for the nation)
Come on India, let's celebrate'
In order to ensure maximum impact, the song will not be limited to Hindi and English. Sources say the music video will be prepared in all regional languages to maximise its impact.
Sibal, when he is not writing poetry, is Union minister for law and telecom.
Please click on next to find out what the CBI and the IB are upto these days…
The CBI-IB's bitter rivalry
Last updated on: July 17, 2013 09:07 IST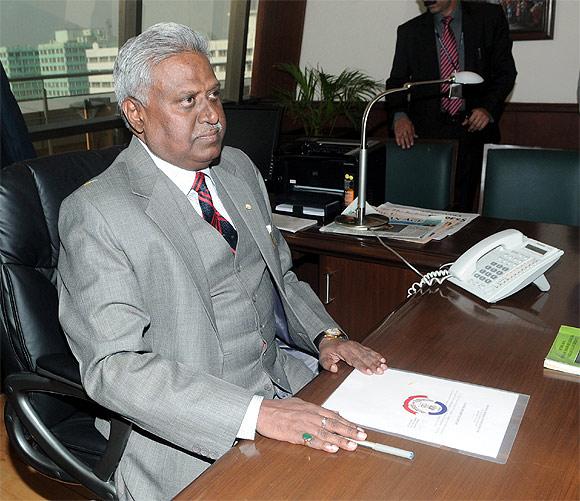 Departmental rivalries can sometimes reach bizarre levels.
Take, for example, the ongoing row between the Central Bureau of Investigation and the Intelligence Bureau.
CBI Chief Ranjit Sinha will be hosting his daughter's wedding reception in New Delhi on July 19. And everyone is wondering if he will invite IB Director Asif Ibrahim to bless the couple.
Sinha's guestlist is reportedly quite long, and includes certain very powerful names.
Which has the IB officials very interested. They are apparently keeping a close watch on some of the guests who reportedly figure as 'accused' in the CBI's list.