Digvijaya's latest jibe: Team members exploiting Hazare
Last updated on: November 6, 2011 14:53 IST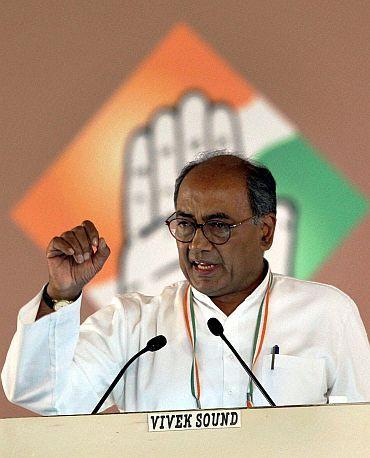 "Simpleton" Anna Hazare is being made a scapegoat to fulfil the political ambitions of some "very smart people" in his own team, senior Congress leader Digvijaya Singh has alleged.
The All India Congress Committee general secretary, who is known for his swipes at Team Anna, said he stands by his every word on the issue and his perception of Hazare is shared by Congress leaders.
He, however, made it clear that it was not discussed with Congress president Sonia Gandhi and Rahul Gandhi.
Please click NEXT to read further....
'Poor Anna is being made a scapegoat'
Last updated on: November 6, 2011 14:53 IST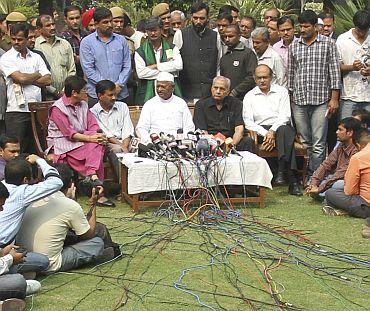 Wondering at the "U-turns" of Hazare on the issue of campaigning against Congress over Lokpal issue, Singh said he was being misused by some of his team members and that he changed his recent stand on not campaigning against any political party under pressure from some of his team members who have high political ambitions.
"He is a simpleton...Anna is a very simple man. He is susceptible to pressures and all the people around him have their political agenda.... He is highly susceptible to being exploited by smart people," Singh said in a free-wheeling interview to Karan Thapar on CNN-IBN's programme Devil's Advocate.
"Poor Anna is being made a scapegoat or a mask to fulfil their agenda because he has greater credibility than them... He is extremely simple (man), who is being exploited by some very wise people with huge political ambitions," he said.
Asked whether he is suggesting that Anna is something more than simple not to understand the gameplan, Singh said, "Baba Ramdev said something more than that. He said he (Hazare) was speaking the truth and he was lying".
'Why Anna praised Modi?'
Last updated on: November 6, 2011 14:53 IST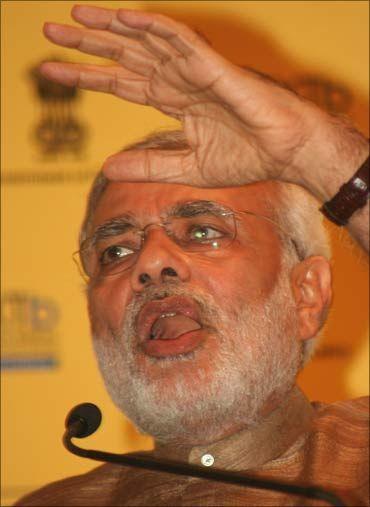 Repeating his charge that Rashtriya Swayamsevak Sangha and Bharatiya Janata Party were behind Anna Hazare's anti corruption agitation, he asked, "Why Anna is hesitating to accept that RSS has not only planned his movement but even provided man-power and supported it?"
He also recalled that Hazare had thanked RSS and BJP from the stage for their cooperation in anti-corruption agitation and questioned his "double standards" for praising Narendra Modi who had not appointed a Lokayukta in Gujarat for so many years.
Singh said he has no regrets on whatever remarks he made against Hazare and his team so far and will do so in future if circumstances remained the same.
He said Hazare is unfortunately not realising that he is being misused by RSS and BJP and cautioned him, "Beware of RSS and BJP. They will lead you to a place from where it will be very difficult for you to come back."
'I don't know what kind of accounting Kejriwal did'
Last updated on: November 6, 2011 14:53 IST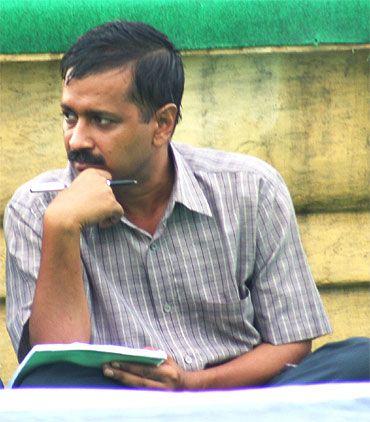 Asked about Hazare's recent change of stand in which he said he would campaign against Congress in Uttar Pradesh assembly elections if the Jan Lokpal bill was not passed by Parliament in the Winter session, Singh said, "I do not know how many times, he will go on U-turns."
He also took a dig at Arvind Kejriwal on the issue of Team Anna returning the donations by unknown persons saying he was not very sure of Kejriwal's accountancy.
"He (Kejriwal) is an IRS officer. I do not know what kind of accounting he did there. He has been taking money from unknown donors and returning money to unknown donors. That's why I said there is neither account nor any book but only that is true what Kejriwal says," Singh said.
He said this meant money was being taken without giving receipts so "it cannot be confirmed whether the amount was only Rs 42 lakh or Rs 42 crore". 
Justifying his tweet against Hazare on his vow of silence, Singh said it was his perception that he undertook the 'maun vrat' to avoid the uncomfortable questions involving the actions by his Team members.
"We have known Anna Hazare for going on a fast and not on maun vrat. It was the first time he did it. It was a good strategy on part of Hazare to go on maun vrat to avoid the uncomfortable questions," he said.
'It's an observation made by someone who likes Anna Hazare'
Last updated on: November 6, 2011 14:53 IST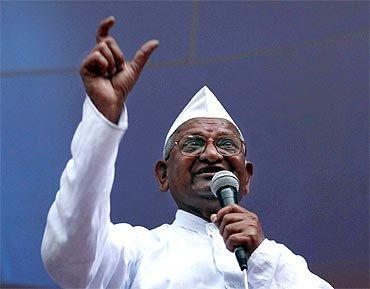 At the same time, he added he was not mocking him. "It was just an observation made by someone who likes Anna Hazare," Singh said adding he respects the Gandhian for his works in social arena.
He said he tweeted about BJP's offer to make Hazare their Presidential candidate because he had heard about it from someone in media and provided Hazare a chance so that the latter could make it absolutely clear that he has no political ambition.
He also took a jibe at those saying that Digvijaya Singh was damaging his party's fortunes by attacking Hazare and thereby bringing sympathy for Team Anna and that his keeping quiet will serve the party better.
"People living in Delhi claim to have their fingers on the pulse of nation without moving out of their drawing room," he said suggesting that the views of Indians living in rural parts about the Hazare agitation are not the same as of those in the metros.
Singh, however, did not elaborate whether he meant Hazare lacked intelligence when he called him simpleton. "That may be your understanding. Simpleton is a simpleton," he merely said.
© Copyright 2021 PTI. All rights reserved. Republication or redistribution of PTI content, including by framing or similar means, is expressly prohibited without the prior written consent.