Our National Capital of Rape gets worse by the day
Last updated on: December 14, 2010 08:39 IST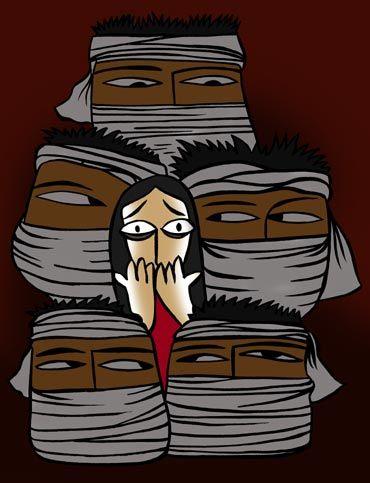 Delhi has not only been unable to shake off its tag of being the 'rape capital' of India, the city has actually become much more unsafe for women this year. The number of abduction and rape incidents this year are equal to the combined number of such cases in the last four years.
Also Read: Delhi cops told to make city safer for women
Official statistics have revealed that in the past five years, 23 women have been abducted and raped. Most of these women have been targeted by criminals while on their way back from their offices -- mostly BPOs -- after their late night shifts.
Of this, 11 women have been abducted and raped this year alone, while 12 women were raped between 2006 and 2009.
 
These figures have been collated on the basis of cases which are reported. Many rape cases never reach the police as the victims fear social stigma.
Reportage: Sahim Salim in New Delhi
All illustrations by Uttam Ghosh
Click NEXT to read further..
'Most of the rape cases go unreported'
Last updated on: December 14, 2010 08:39 IST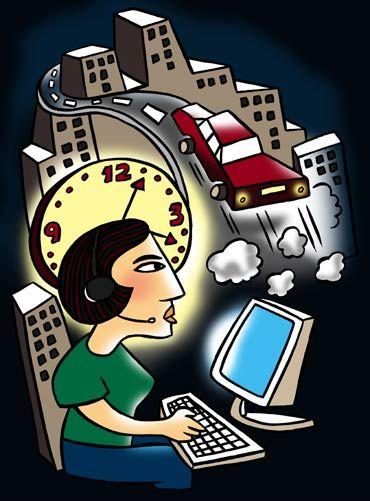 During the investigations into the recent Dhaula Kuan gang rape of a 30-year-old girl, who was abducted and raped by five men, the police stumbled across many cases that went unreported. 
A senior police official from south district, which cracked the Dhaula Kuan case, said, "While the 15 specialised teams were working on the Dhaula Kuan case, we sent out policemen across NCR to develop sources."
"We met women, mostly from Gurgaon and Ghaziabad, who told us their horror stories. Most of these cases went unreported because of the fear of social stigma," the police officer added.
In the fourth such incident in Delhi within the span of a month, an 18-year-old girl was abducted and raped allegedly by a group of youths in outer Delhi on Saturday after she protested against lewd remarks being passed at her.
Two youths -- Rama, 28, and Chanderpal, 23 -- allegedly raped her in a secluded locality in Mongolpuri on Saturday night while two others -- Manish, 25, and a 15-year-old boy -- helped them in abducting her.
"All the four persons have been apprehended. We located the girl inside the car used for her abduction along with two men at around 12:30 am," Chhaya Sharma, Deputy Commissioner of Police (Outer), told mediapersons in New Delhi.
Figures don't endorse Delhi Police's claims
Last updated on: December 14, 2010 08:39 IST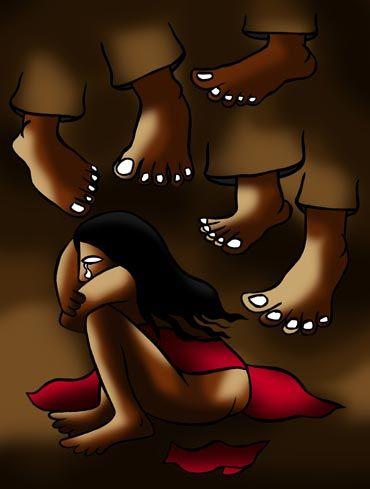 In their annual press conference, the Delhi police had been maintaining that incidents of such kind are decreasing. But the figures speak otherwise.
 
Till October 31 this year, 402 cases of rape were registered in Delhi. Last year the number stood at 452, while 2008 saw 466 such incidents.
 
The break-up of the figures reveal that most of the victims are between the age group of 18 and 30 years. And surprisingly, of all the cases reported, very few involved strangers.
Strangers are not involved in most of the abduction cum gangrape cases. In 2009, the police had arrested 452 people for rape. Of these, only 12 were men the victims had not known previously. In all other cases, it was a relative, a friend or a neighbour. What is even more surprising is that contrary to the recent notion, almost all of the arrested rape accused (346 this year) are first-timers," a senior police official said.
 
Though the Delhi police deny it vehemently, data compiled by the National Crime Records Bureau since 1971 indicate that rape cases have shot up by a chilling 678 per cent.
 
"The records compiled by the NCRB do not take demographic changes into consideration. Crime is usually calculated in international cities by taking various factors into consideration. Delhi's population has been rising steadily since 1971, so obviously the number of crime incidents will also go up. As in other international cities, crime in Delhi also should be calculated in incidents per one lakh population. If you look at it like that, crime has been decreasing consistently," the police officer said. 
Most of the arrested men have gone scot-free
Last updated on: December 14, 2010 08:39 IST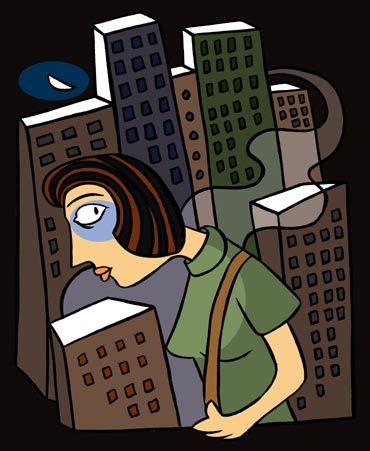 Even if the figure of crimes per lakh population is going down, rape incidents are on the rise in the capital, which is a major cause for concern. And as figures show, abduction and rape cases are at an all time high.
What's more, most of the men caught by the police go scot-free. According to the data collected by the NCRB, till 2008, the police have convicted only 27 per cent of the accused they arrested.