Why are BJP leaders worried about Narendra Modi?
Last updated on: March 30, 2013 12:12 IST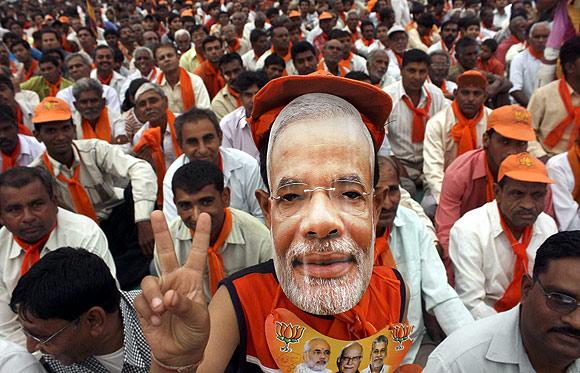 Does the Supreme Court have a funny bone?
What strange habits does Jairam Ramesh have?
Why is Manish Tiwari after national editors?
All this, and more, in this week's Dilli Gupshup...
He's apparently the biggest threat in Indian politics today.
Congress leaders are walking around with furrowed brows, wondering how they will combat his popularity.
Bharatiya Janata Party leaders too are losing sleep over the rising clamour for Narendra Modi.
If one goes by the mood in election-bound Karnataka, Modi clearly seems ahead of his party.
The BJP unit in Karnataka, including Chief Minister Jagdish Shettar, wants Modi to campaign extensively in the state to shore up the ruling party's poll prospects.
In the 2008 assembly poll, Modi had campaigned in a few constituencies, but the BJP did not fare too well there.
Now, state BJP leaders believe Modi's image as 'Mr Development' and the 'Hindu Hridya Samrat' will tilt the scales in their favour on May 5 when Karnataka goes to the polls.
Modi's office in Gandhinagar is flooded with requests from almost every assembly constituency in Karnataka.
Please click NEXT to find out what has united the Congress and BJP...
Bura na mano, Holi hai
Last updated on: March 30, 2013 12:12 IST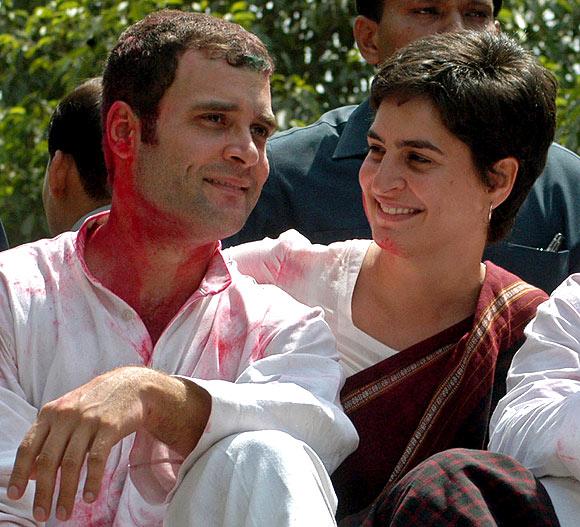 You can spot a lot of glum faces in Delhi these days.
This is because Team Rajnath Singh's much awaited expansion is yet to take place.
The revamp of the All India Congress Committee, as per party Vice-President Rahul Gandhi's wishes, has also been put on hold.
The reason behind this sudden lack of activity is Holashtak -- an eight day period that is considered inauspicious.
No auspicious ceremonies -- like marriages, housewarming ceremonies, mundan sanskar (where a newborn's head is shaved for the first time) or naamkaran sanskar (naming ceremony) -- are conducted during these days.
Holashtak began on March 19.
Clearly, when it comes to superstition and ritual, both the Congress and BJP are on the same page!
Please click NEXT to read about the Supreme Court's sense of humour...
The 'Jolly' Supreme Court
Last updated on: March 30, 2013 12:12 IST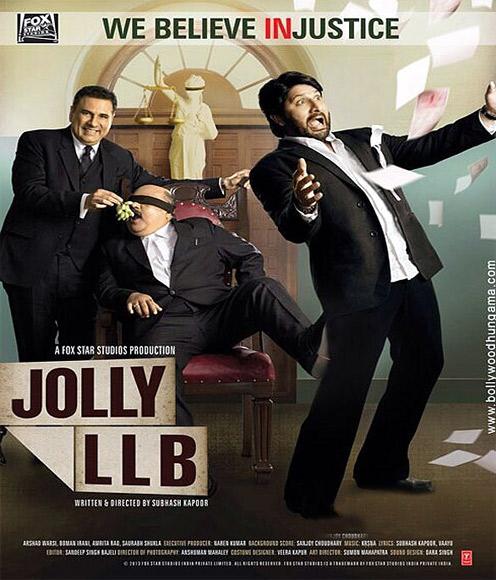 The Supreme Court sure has a sense of humour!
A recent example involves the recently released film, Jolly LLB.
In the film, the judge, played by Saurabh Shukla, chastises a struggling lawyer from Meerut (played by Arshad Warsi) for spelling prosecution as prostitution.
A group of lawyers from Meerut found the dialogue offensive and said it was contempt of court. They petitioned the apex court to stay the film's release.
The law firm representing the defendants showcased the Meerut lawyers's petition to substantiate why the film need not be taken to heart. Apparently, the Meerut petition had as many as 60 mistakes.
The apex court said it did not find the dialogues offensive towards the lawyers's profession.
The bench, comprising Justices R M Lodha and Madan B Lokur, were heard telling the Meerut lawyers: 'What is your problem with the dialogues? In our courts also, we get several petitions with spelling and other mistakes. Appeals are spelt as apples, section 171 as section 17 and similar such mistakes. These things do happen in courts.'
When the petitioners's counsel attempted to draw the court's attention to allegedly defamatory dialogues in the film, Justice Lodha recalled a dialogue from Shakespeare's Measure For Measure where the bard famously wrote, 'The first thing we do, let's kill all the lawyers.'
"We are not using those words here, but you don't have to bother about everything," he said. "It is for the Censor Board to consider the language of a film; it is not our job."
Justice Lodha, who spent 13 years as a judge at the Bombay high court, added, "These things happen in movies. They show the Bombay high court's door and gate and then show something else happening inside. These are all fictitious things."
Please click NEXT to find out what Jairam Ramesh will do...
Jairam's strange habits
Last updated on: March 30, 2013 12:12 IST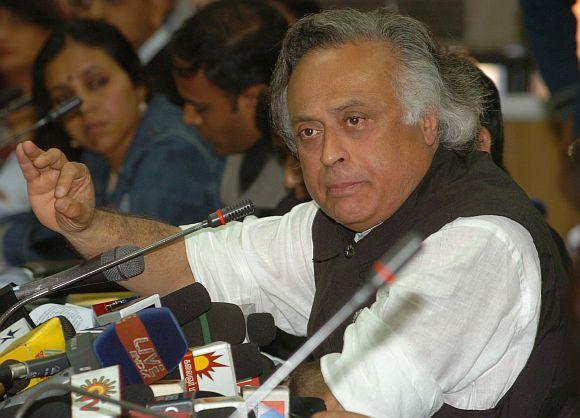 Rural Development Minister Jairam Ramesh has an unconventional work style.
The minister is often seen walking from his office to his home without security cover.
Ramesh is known to drop in to meet his colleagues without prior appointment or intimation.
A few days ago, Ramesh turned up at Food Minister K V Thomas's office and offered him advice on the much-awaited Food Security Bill.
Thomas, we hear, now wants to send Ramesh's suggestions to the Prime Minister's Office.
What's I&B Minister Manish Tiwari up to? Please click NEXT to read more...
Manish Tiwari wants national editors!
Last updated on: March 30, 2013 12:12 IST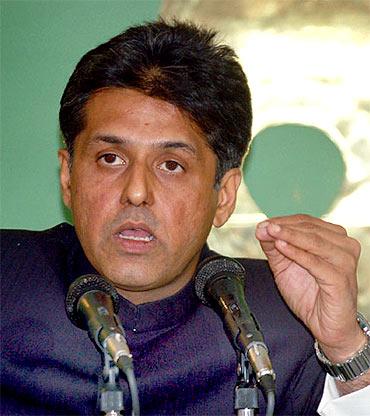 Information and Broadcasting Minister Manish Tiwari is trying his best to improve the United Progressive Alliance's sagging image.
He has suggested holding a 'national editors' conference' in New Delhi so that the government can 'educate' the masses about its achievements, schemes and programmes.
His initial idea, to hold a 'social editors' conference' in Bengaluru, fizzled out the moment the assembly polls were announced in Karnataka.
The annual 'economic editors' conference' is held in October, but Tiwari felt it would be close to the general election.
Thus came the idea of a 'national editors' conference!