'Their door is a plastic sheet'
Last updated on: February 8, 2011 08:48 IST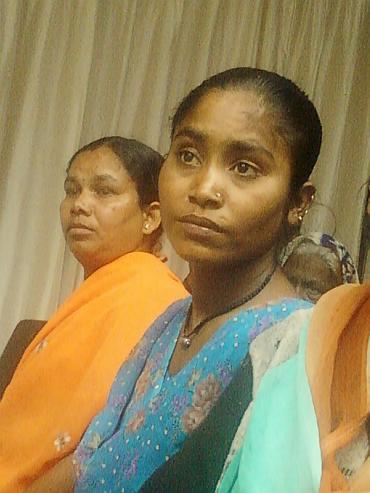 Rediff.com's Sahim Salim finds that the evictions for the CWG have had a lasting impact on people's lives in the national capital region.

"
Gyarah din ke khel ke liye woh aaye,dhoom mahcaye aur humein phas ke chale gaye
," (They came for the games for 11 days, had their fun and left, leving us trapped in the middle of nowhere).
26-year-old Zora is angry as she says this. She is one of the estimated 200,000 people who were forcefully evicted from slums in the National Capital Region as a part of beautifying the capital in preparation for the Commonwealth Games 2010.

Zora, who is married and stays at her in-laws house, keeps coming back to what once used to be her paternal house in Indira Gandhi Camp II in Sewa Nagar in South Delhi, for she does not have parents, but has two younger sisters and a brother. Her two sisters live in a plastic tent, which is often targetted by miscreants at night.
"Each night I go back home after visiting my sisters, I go with a fear. I kiss them on their forehead daily, not knowing what awaits them in the night. They have a plastic sheet as a door and it is well known in the area that there are two women in the tent, with just a 11-year-old boy for protection," Zora said.
'We were assured that our houses would be regularised'
Last updated on: February 8, 2011 08:48 IST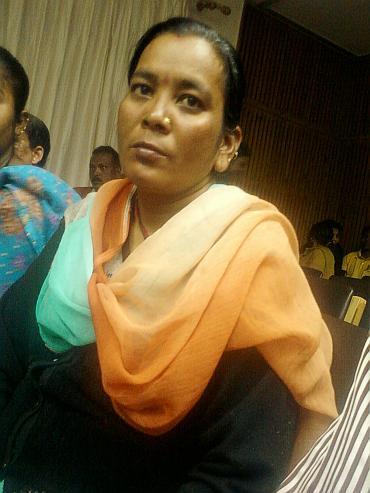 The slum, which has been housing migrants from Madhya Pradesh for the last twenty years, was razed, without any notice in January 2009. The slum cluster consisted of approximately 300 homes, with legal water supply and electricity connections.
"We were granted ration cards, voter identity cards and an identity card, which makes us eligible for rehabilitation. When Sheila ji (Delhi CM Sheila Dikshit) came to our basti asking for votes, she had assured us that our colony would be legalized. Instead, it was razed. I was cooking food when they came with the bulldozers. They did not even give me the time to collect valuables or even identity cards from my jhuggi," says 35-year-old Kamla, a single mother, who has two children.
'The stadiums are empty now'
Last updated on: February 8, 2011 08:48 IST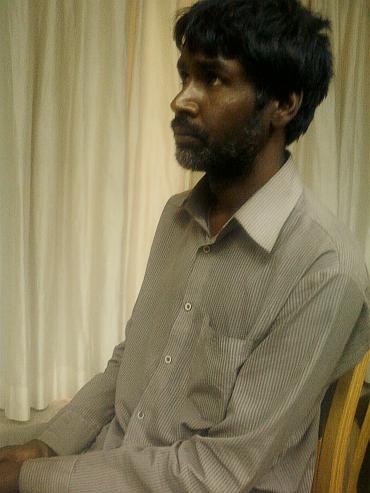 "And all this for what? That parking lot remains empty today. There are no events in those stadiums today. The foreigners have gone," chips in Anoop, a resident of JJ Valmiki camp near Thyagaraj stadium.
The men and women were speaking at the launch of a report titled "Forced evictions and Commonwealth Games" prepared by NGO Housing and Land Rights network. The HLRN had undertaken a fact finding mission across 19 sites in Delhi, where the government forcefully evicted colonies while preparing the capital for Commonwealth Games.
"Basic human rights have been violated during these evictions. Most of the evictions happened during extreme weather conditions, during festivals or prior to school examinations. Atleast three instances of deaths and several other cases of injuries have been reported during these evictions. The affected families have not been compensated or rehabilitated, forcing them to continue a life which lacks security and violates the basic right to live with dignity. The most alarming violation is the violation of human rights of women. Young women are vulnerable to sexual abuse and violence resulting from exposure to insecure and inadequate living conditions," says Shivani Chaudhry, associate director of HLRN.
'The rights of the child have been subverted'
Last updated on: February 8, 2011 08:48 IST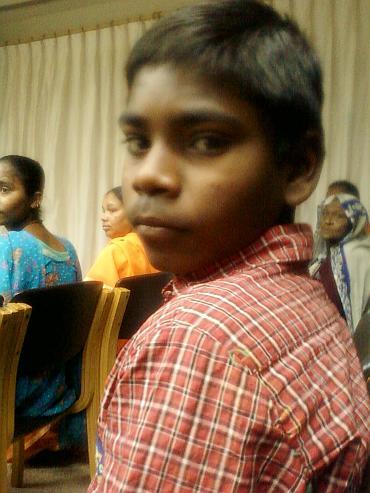 In addition to women facing problems like harassment, lack of security and lack of space for personal hygiene, another direct consequence of a mass scale eviction like the one that took place in Delhi since 2004, was violation of rights of children.
Many children were forced to drop out of schools, as atleast three schools Deepshika Primary School (sector 52, Gurgaon), Pragati Wheel School (Yamuna  Banks) and Viklang Basti Informal school were razed for preparations. Many of these children were forced to take up jobs to supplement family incomes.  
Sher Singh, who was in class VI of the privately-run Pragati Wheel School on the Yamuna Banks (opposite Commonwealth Games Village), recounts how the government bulldozers razed the school while they were inside studying.
"They came and asked all of us to leave. We pleaded with them not to do it, but they told us they had to do it for security reasons. Since then, I have not been able to get admission in any school," says Sher Singh.  
Schools are half full
Last updated on: February 8, 2011 08:48 IST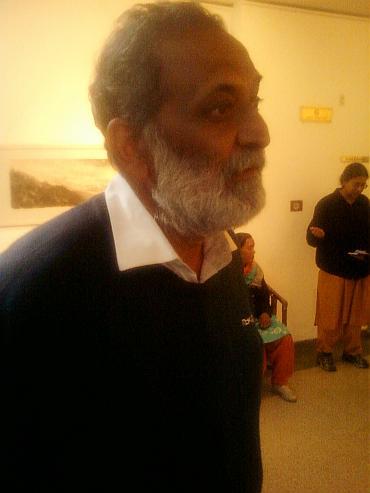 Raman Khanna, who runs the school, said, "We reopened the school last month. I am running a school with no roof. I have to, as the families of the boys and girls who used to study there, requested me repeatedly to. As long as the rainy season does not start, it will be okay, I think. There were about 180 students with us before evictions and now we have about 90. I am running the school literally by paying a daily bribe to beat policemen."
Former Chief Justice of the Delhi High Court, Justice AP Shah, who released the report, told rediff.com, "In 2009, a night shelter had been razed. I had initiated a suo moto case against the MCD regarding the demolition of the night shelter and ordered the MCD immediately to restore the Pusa Roundabout night shelter. Till date this order has not been followed. The government hid behind a technicality, as they so often do. In addition, not even a single notice has been sent to any of the officials connected with such mass scale demolitions. And I am also surprised that the National Human Rights Commission has been silent on the issue for so long."
On suggestions given by Justice Shah, the HLRN has decided to submit the report to the NHRC and file a PIL in the Delhi High Court.
Miloon Kothari, the executive director of HLRN said, "We have enough evidence. We will also submit the report to the UN as well. If there is international pressure, the government will budge. The tragic violations of basic human rights should not go unpunished like this."