Cricket, dinner and diplomacy in Mohali
Last updated on: March 31, 2011 00:30 IST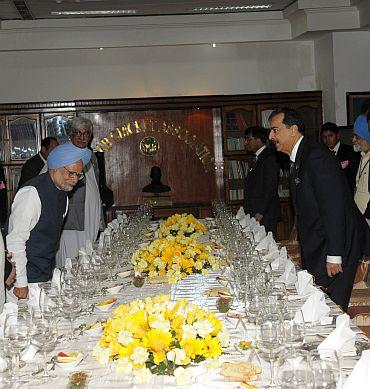 Mixing cricket with diplomacy, Prime Minister Manmohan Singh held wide-ranging discussions with his Pakistani counterpart Yousuf Raza Gilani when he favoured the need for an "atmosphere free of violence" in order to ensure thorough mobilisation of bilateral ties.

At a dinner Dr Singh hosted in honour of Gilani on the margins of the high-voltage Indo-Pak semi-final match at Mohali, the Pakistani premier shared this sentiment, Foreign Secretary Nirupama Rao told media persons, briefing them on the meeting.

Dr Singh told his guest "We should put our ancient animosities behind to attend to the problems of our nations. We have the will to persevere, we have the will to overcome."

Present at the dinner table at the Club House of the Punjab Cricket Association stadium were a mix of leading political personalities from both sides, including Congress President Sonia Gandhi, her son Rahul Gandhi, Lok Sabha Speaker Meira Kumar, ICC President and Union Minister Sharad Pawar.

The Pakistani side included Interior Minister Rehman Malik, Defence Minister Chaudhary Ahmed Mukhtar and Minister of State in Foreign Ministry Hina Rabani Khar, Awami National Party President Asfandyar Wali Khan and Pakistani High Commissioner to India Shahid Malik.

Click on NEXT to read further...


Cricket, dinner and diplomacy in Mohali
Last updated on: March 31, 2011 00:30 IST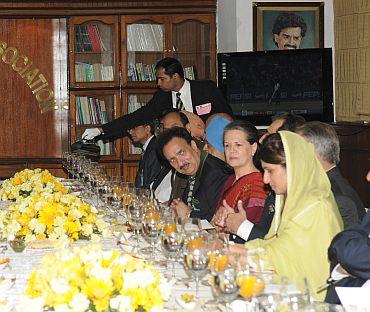 From stuffed meat to ghosht palak sag to shahi idly -- it was a lavish spread of north and south Indian cuisine Dr Singh laid out for his guest from Pakistan.

For starter, the guests had carrot soup (gajar ka shorba). Spicy delicacies prepared by the chefs at the Taj in nearby Chandigarh included ghosht barra (stuffed meat), tandoori pink salmon, murg lazeez, ghosht palak saag, chaamp briyani, tawe ka machili (roasted fish) and Indian breads.

Vegetarian fare included subz galoti, shahi idly, kadai paneer, bindi nayantara, ghia malai kofta, subz biriyani and dal makhani.

The dignitaries rounded off their dinner with apple cinnamon crumble, kesar phirni and fresh fruits.

The dinner saw a mixed seating of the guests with Sonia Gandhi seated in between Gilani and Rehman Malik.


Cricket, dinner and diplomacy in Mohali
Last updated on: March 31, 2011 00:30 IST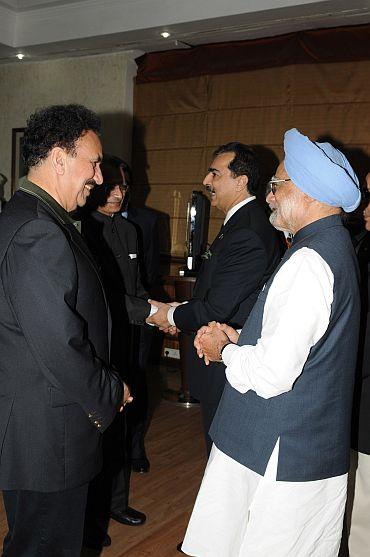 Dr Singh said India and Pakistan "should be working together to find cooperative solutions. We need permanent reconciliation to live together in dignity and honour".

Describing Dr Singh's initiative as a "re-engagement" between India and Pakistan, she said the cricket encounter provided the "setting, locale and impetus" for the meeting.

"Not at all," was Rao's response when asked whether 26/11 attacks have been left behind and brushed aside or put under the carpet in the dialogue.

The Prime Minister, she said, insisted that there should be an "atmosphere free of tension and violence" and the meeting of the Home Secretaries of the two countries had discussed the issue.

"We have said it is very important that evidence is scrutinised properly and those responsible are brought to justice. There should be a proper closure and that does not mean that we have set aside or brushed aside or put it under the carpet. Not at all," she said.

Rao said the outcome of the meeting was that the two countries will stay in touch and keep up contact. "There will be further directions from the leadership," she said.

Gilani renewed his invitation to Dr Singh to visit Pakistan, but Rao said the dates need to be discussed and finalised through diplomatic channels.


Cricket, dinner and diplomacy in Mohali
Last updated on: March 31, 2011 00:30 IST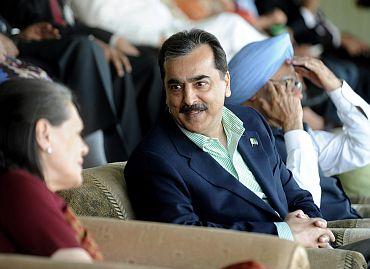 Rao said the meeting has once again reaffirmed the intention of both the governments to take forward the dialogue process because "dialogue is a process through which we can understand each other better, through which we can resolve our outstanding issues and the goal of this dialogue is normalisation of relations in an uninterrupted manner."

"It would be fair to say just as we spoke of the spirit of Thimphu after the Prime Ministers met on the margins of SAARC in April last year today there is a Mohali spirit that pervades our relationship," she said.

Commerce Secretaries of two countries will meet next month and she will meet her Pakistani counterpart Salman Bashir in the middle of this year, she said, adding, "This will be followed by the meeting of Foreign Ministers of both countries."



Cricket, dinner and diplomacy in Mohali
Last updated on: March 31, 2011 00:30 IST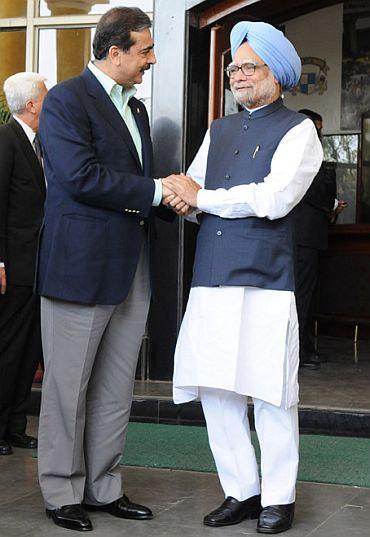 "It is extremely positive and encouraging spirit that has been generated as a result of today's meeting. It was a wide-ranging conversation," she said.

It was a wide-ranging conversation in the backdrop of the spirit of sporting combat, which strengthened the competitive game, she said.

"Sporting contacts epitomises many other contacts like people to people contacts and helps a great deal in cementing understanding and friendship between the two countries," Rao said.

Gilani suggested that the Indian cricket team should visit Pakistan and play matches there.

The two Prime Ministers also spoke about the need for Parliamentary visits which could be a good channel for friendly exchange.

Gilani told the accompanying Pakistani media that the talks were "positive" and he discussed with Singh "all the core issues" between the two countries.


Cricket, dinner and diplomacy in Mohali
Last updated on: March 31, 2011 00:30 IST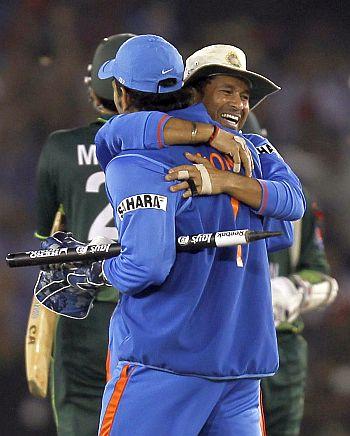 For the record, India vanquished Pakistan to storm into the final of the cricket World Cup in a high-voltage match.

The 29-run victory, which enabled India to maintain its unbeaten record against the arch rivals in 36 years of World Cup history, was the result of some brilliant bowling and fielding show by the home side after its much-vaunted batting line-up had posted a modest 260 for nine to which man-of-the match Sachin Tendulkar made a lucky 85-run contribution.

India now meet Sri Lanka in the final in Mumbai on Saturday in a bid to win the coveted Cup for the second time since it first stunned the cricketing world by beating West Indies in 1983 at the Lords.