'Middle-class Indians find it easier to BRIBE'
Last updated on: December 27, 2011 09:06 IST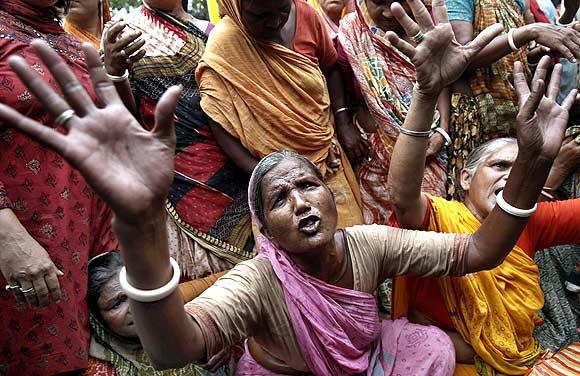 The anger against corruption, independent India's deadliest disease, spilled over on to the streets this year. Thousands of Indians voiced their collective disgust against the blatant, uninhibited corruption that has infested our country.
A final nail in the coffin was the report on corruption by non-governmental organisation Transparency International, which put India at a dismal 95th rank among 183 nations.
Transparency International's Corruption Perceptions Index ranks countries and territories according to their perceived levels of public sector corruption. This year, the index ranked New Zealand as the least and Somalia as the most corrupt nation on earth.
In an e-mail interview with rediff.com's Sanchari Bhattacharya, Transparency International's research team and the organisation's India chapter's executive director Anupama Jha explains to how the organisation collates its information, assigns ranks to various nations and tries to battle global corruption.
Click on NEXT for more...
'Middle-class Indians find it easier to BRIBE'
Last updated on: December 27, 2011 09:06 IST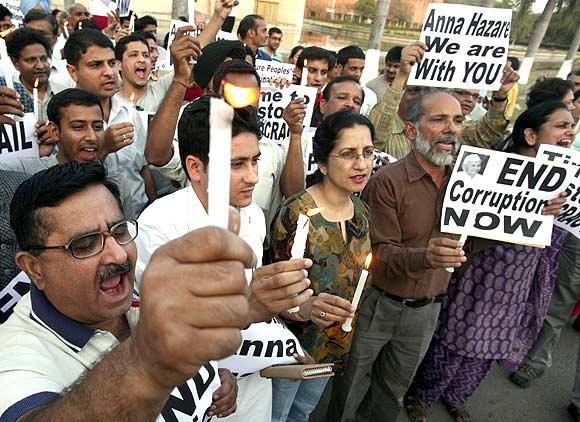 Why has India failed to curb corruption?
We have to understand this in the context of both the demand and supply side of corruption. There are several reasons for this. Lack of political will to check corruption, weak anti-corruption agencies and no merit based promotion for hard working, effective and honest administrators has led to cynicism among bureaucrats.
There are other reasons like collusion between private companies including MNCs, politicians and corrupt administrators, no code of conduct for private companies, not following the international best practices on governance and conventions.
Middle-class people find it easier to bribe rather than going through the hassle of waiting for a long time to get their work done. Lack of role models for children and not enough emphasis on ethics and values among children and not enough NGOs in the country working on improving governance in the country also contribute to corruption.
Click on NEXT for more...
'Middle-class Indians find it easier to BRIBE'
Last updated on: December 27, 2011 09:06 IST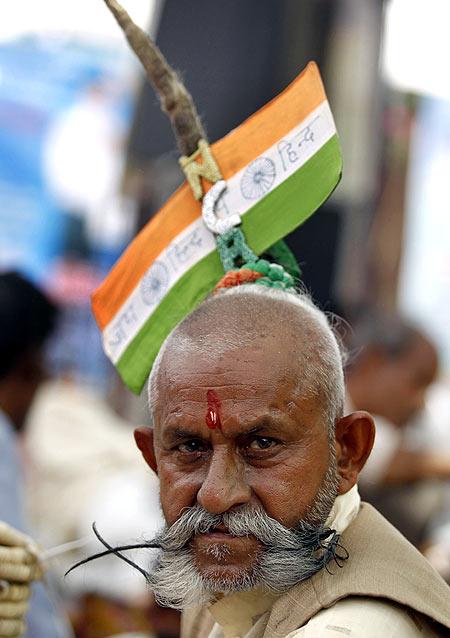 How does Transparency International compile the Index of Corruption Perception? What are the sources or indicators that you rely on?
The 2011 CPI draws on 17 data sources from 13 institutions. The information used for the 2011 CPI is survey data from these sources gathered between December 2009 and September 2011. The CPI includes only sources that provide a score for a set of countries/territories and which measure perceptions of corruption in the public sector.
Transparency International ensures that the sources used are of the highest quality. To qualify, the data collection method must be well-documented and the methodology published to enable an assessment of its reliability.
The data for the 183 countries is based on 17 separate assessments and surveys which cover multiple countries. We assess each survey as a whole on its validity as a CPI data source and once selected as a data source, we include data on all countries that are covered by the survey or assessment.
Click on NEXT for more...
'Middle-class Indians find it easier to BRIBE'
Last updated on: December 27, 2011 09:06 IST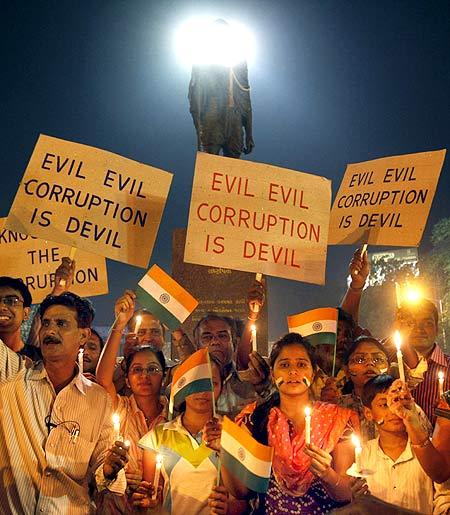 How long does the process take and how many people are involved in it?
The vetting of the surveys and assessments begins at the start of 2011 as the basements and surveys become available. These are gathered in August and September and once the full set is confirmed, the standardisation calculation can take place.
This process is managed by a senior research coordinator in the research department, with support from the director for research.
Throughout the process an independent Index Advisory Committee comprised of senior academic advisors are consulted and the final index is co-calculated independently by the German Institute for Economic Research in Berlin.
Click on NEXT for more...
'Middle-class Indians find it easier to BRIBE'
Last updated on: December 27, 2011 09:06 IST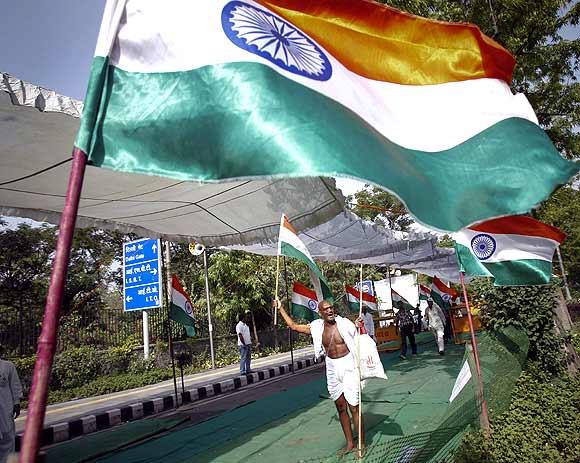 On your website, it is stated that the index "measures the perceived levels of public sector corruption". Doesn't that leave a margin of error in the final results?
Corruption generally comprises illegal activities, which mainly come to light only through scandals, investigations or prosecutions. It is thus difficult to assess absolute levels of corruption in countries or territories on the basis of hard empirical data.
Possible attempts to do so such as by comparing bribes reported, the number of prosecutions brought or court cases directly linked to corruption cannot be taken as definitive indicators of corruption levels.
Rather they show how effective prosecutors, the courts or the media are in investigating and exposing corruption. One reliable method of compiling comparable country data is to capture perceptions of those in a position to offer assessments of public sector corruption in a given country.
Which nation has had had the most dismal record in tackling corruption?
The countries that score worst on the CPI tend to have little or no democratic or accountable government infrastructure, be it because of internal conflict or dictatorship, such as the bottom scoring countries in the 2011 CPI -- Somalia and North Korea.
Other low scorers are affected by the 'resource curse', like Equatorial Guinea.
Click on NEXT for more...
'Middle-class Indians find it easier to BRIBE'
Last updated on: December 27, 2011 09:06 IST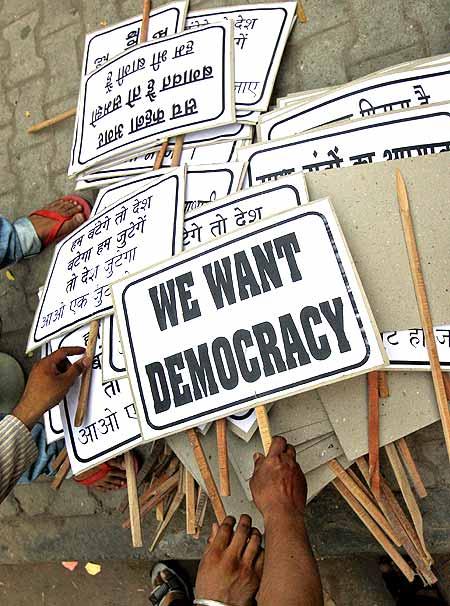 What is the aim of putting together such an index? Do you ever get any kind of tangible response from authorities?
Addressing a problem is the first step toward solving it. Transparency International's main aim and achievement is to have placed corruption squarely on the political agenda of many countries around the world and with it the Corruption Perceptions Index.
Transparency International has managed to generate political pressure for substantive reforms around the globe.
Internationally, the approach to corruption has changed dramatically. While corruption was very much a taboo issue in the early 1990s, thanks in part to the efforts of Transparency International, there are now several important international conventions in effect, most notably the Organisation for Economic Co-operation and Development's Anti-Bribery Convention.
Transparency International has played a crucial role in arguing for co-ordinated, multilateral action against corruption. 
Transparency International has also played a pivotal role in establishing an independent network of resource persons and in developing a solid knowledge base for those that are serious about fighting corruption and is making this knowledge accessible through such things as the National Integrity System.
Click on NEXT for more...
Other Top Photo Features
Last updated on: December 27, 2011 09:06 IST
Click on MORE to see another set of PHOTO features...