'There is something valuable to learn from Netaji's life'
Last updated on: June 3, 2011 14:15 IST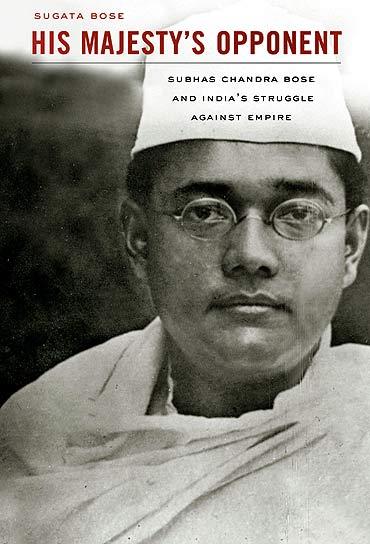 In the last piece of this four-part interview to Arthur Pais, biographer Sugata Bose dispels rumours that Netaji is still alive.
Part I: Grand nephew turns Netaji's biographer
Part II: 'Netaji had a romantic, deeply emotional side to him'
Part III: 'Netaji was able to both respect and transcend religious
You have had a few book readings. What have the audiences been like?
So far I have spoken on the book in the United States. I had book readings in and in Cambridge, United Kingdom. I have book events in Japan in late June and Singapore on July 5 and finally in India between July 10 and 25.
I think the audiences in the US felt they were learning something new about Subhas Chandra Bose as a human being, and not just an unreal figure whom we worship in South Asia, but someone who could be understood, somebody for whom you can have a great deal of sympathy, someone whose choices of allies you might somewhat be troubled by but at the end of the day someone from whose book of life there is something valuable to be learned.
The revolutionary Bhagat Singh was a leftist and atheist. But over the years he has been appropriated by religious Sikhs as well as the Hindu right. Could you share the thought about the communists and the Hindu right appropriating Netaji?
I think Netaji Subhas Chandra Bose should not be allowed to be appropriated for the wrong reasons. And that is why I think it is important to be knowledgeable about his life.
We talked about the communists. While to some extent, there has been a genuine change of heart, there is also an element of political expediency in the re-evaluation.
About the Hindu right, they will laud his military heroism but completely ignore all that he did for Hindu-Muslim unity and the deep concern and commitment that he had for minority rights.
He was one man who was implicitly trusted by the minorities in India. And if the Hindu right ignores that aspect of Netaji's politics, and simply puts him on a pedestal as a military hero, that is not doing justice to the man and that is not the right kind of lesson that we ought to be drawing from his life.
So, difficult questions need to be posed to those who appropriate him. And he should be kept above party politics.
Click NEXT to read further...
'People believed that he would come back one day'
Last updated on: June 3, 2011 14:15 IST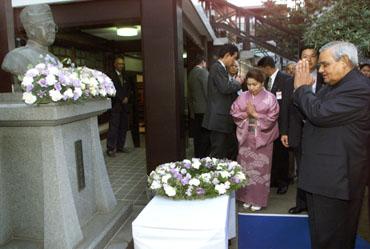 Why did the myth that Netaji never died in the air crash persist for many decades?
The mass psychological phenomenon of an initial refusal to accept Netaji's death in the early decades after independence, and the hope that he would one day return as the deliverer of his country was perfectly understandable.
People missed a selfless and unifying leader.
Who were the people who sought to exploit the myth?
The popular sentiment about Netaji came to be exploited by a handful of people and fringe political parties.
The self-selected group that typically came forward to depose before judicial commissions on the question of his death did not represent the vast populace that celebrated the life and work of India's leader.
What kind of the investigation did your own father undertake, and what convinced him of Netaji's death in the air crash?
He went through all the documentary evidence available, including the testimony of the survivors of the air crash, the medical personnel who attended on Netaji and the interpreter who was brought to translate what he was saying.
My father visited Taiwan in 1965 and went to the airfield, the hospital and the crematorium cross-checking eye-witness accounts with the actual geography of the place.
The same year in Tokyo he met the Buddhist priest, the elder the Reverend Mochizuki, who accepted Netaji's mortal remains at the Renkoji temple. After conducting prayers for a whole day, the Rev opened the urn so that my father could see the mortal remains.
He told my father that he had opened the urn only once before -- for Prime Minister Jawaharlal Nehru -- during his visit in the late 1950s.
Click NEXT to read further...
'Ideals and dreams do not perish'
Last updated on: June 3, 2011 14:15 IST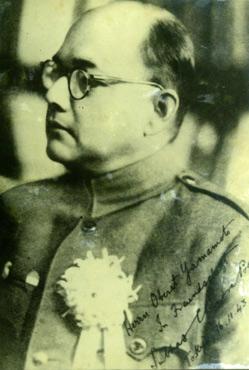 While growing up, did you have any doubts about Netaji's death?? What convinced you that he had indeed died in the air crash?
I was always more interested in Netaji's life and work than in fruitless controversies over his death. The basis for my conclusion is a close study of the historical evidence, especially the testimony of a broad range of eye-witnesses.
What can the young generation of Indians take from Netaji's life, and from your vivid and mesmerising account? 
They can find inspiration in and become heirs to Netaji's life immortal. As Netaji had said, "In this mortal world, everything perishes and will perish, but ideas, ideals and dreams do not."
Through his life of suffering and sacrifice, he has bequeathed his ideas, ideals and dreams to the next generation. As for my narrative of his life, I hope it will reveal to readers what he was like as a human being, and the major role he played as a beacon of freedom in twentieth-century world history.