Congress performance in assembly polls 'dismal': Swaraj
Last updated on: March 6, 2012 14:50 IST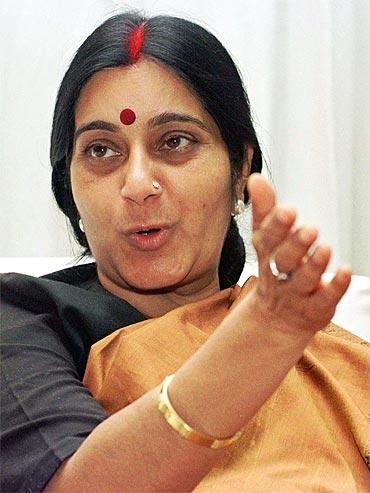 Terming the "dismal performance" of Congress in the assembly polls as the "second consecutive defeat" of Rahul Gandhi, Leader of the Opposition in Lok Sabha Sushma Swaraj on Tuesday said the Congress had made the elections a prestige issue.
"Congress and the media had created a big hype about Rahul Gandhi. Congress had made it a prestige issue. These results show that this is the second consecutive defeat for Rahul," she told PTI.
She said the mandate in the elections is against "corruption, price rise and communal politics" of Congress.
Asked about the BJP's performance in the elections, she said the results were "not unexpected for us in Punjab and Uttarakhand, but we could not do well in UP as it has been a mixed bag for us. We could have done better in UP."
Click NEXT to read further...
Congress performance in assembly polls 'dismal': Swaraj
Last updated on: March 6, 2012 14:50 IST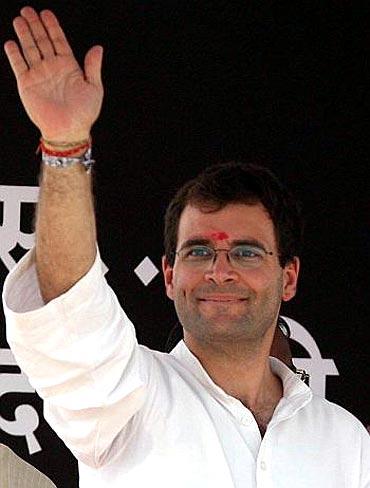 The BJP leader reasoned that in UP there was a four-cornered contest and this has gone against her party.
"Wherever there is a three or four cornered contest, the voter rejects a party and has to choose one as an alternative. The voter in UP has decided to defeat BSP but it selected SP as its choice. That is why SP has crossed 190 seats," she said.
Swaraj maintained that there is a need for serious introspection about why the BJP could not do well in UP and it will be discussed within the party.
The BJP Parliamentary Board is meeting on Tuesday evening to discuss the poll outcome in all the five states.
© Copyright 2022 PTI. All rights reserved. Republication or redistribution of PTI content, including by framing or similar means, is expressly prohibited without the prior written consent.