Congress has gold medal in scams, says Ramdev
Last updated on: September 1, 2012 15:50 IST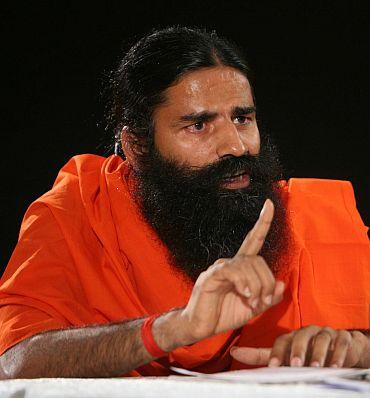 Yoga guru Ramdev on Saturday announced a fresh agitation targeting Congress from October 2 that will last till next Lok Sabha elections with immediate attention on upcoming Assembly elections in Gujarat and Himachal Pradesh.

Addressing a press conference, Ramdev said he will continue his work despite Congress targeting him and his fight will be for a change in power and system.
"People will give a suitable answer to Congress (for targeting us). What will it do to us when it is on a dissolving path on its own," he said.

Though the location of launch of the fresh campaign was not announced at the press meet, Ramdev said the programme is likely to start from Himachal Pradesh.
He said the immediate priority is the upcoming assembly elections in Gujarat and Himachal Pradesh.

Click on NEXT to read further...
Congress has gold medal in scams, says Ramdev
Last updated on: September 1, 2012 15:50 IST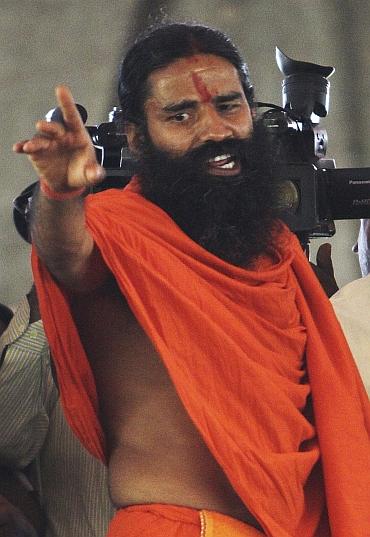 Asked whether he was on a collision course with erstwhile Team Anna as it is likely to announce its political party on the same day, he said he was not in competition with anybody and that he will not comment on whether he will support them.

Queried about a survey which put Anna Hazare above him, he refused comment initially but later said it was done by a foreign agency.
"Media only said when I came (to Jantar Mantar for Hazare's agitation), crowd came and when I went, the crowd left," he said.
Targeting Congress on the coal block allocation issue, Ramdev alleged the party has garnered "gold medal in scams" and described it as a "sinking ship".
Asked why he was shying away from pointing fingers at BJP, whose state governments were also named in the CAG report that he used to target Congress, he said, "Many parties are involved in this. But Congress is in the leadership. They have got the gold medal in scams. Whoever is involved in corruption should be punished. This whole allocation should be cancelled."

Click on NEXT to read further...
Congress has gold medal in scams, says Ramdev
Last updated on: September 1, 2012 15:50 IST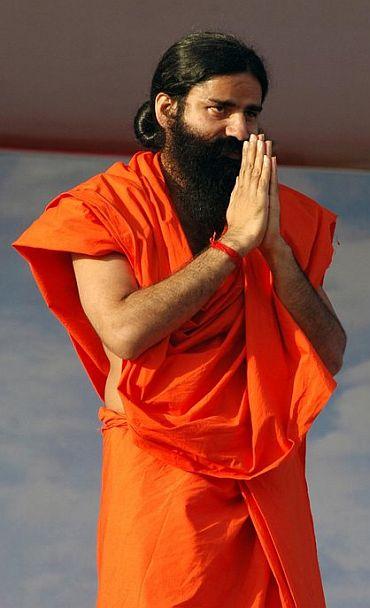 He alleged the amount involved in the coal scam was much more than the figure of Rs 1.86 lakh crore provided by CAG and Congress received commission for it.

Ramdev alleged the government was using several machinery to harass him and his aides, including Balkrishna who was arrested in connection with allegedly providing fake documents for obtaining an Indian passport.

He also alleged some people, probably at the behest of government, had approached his people, offering them money to defame those associated with him and his movement.

"We have filed a complaint with police regarding persons who came to our institution and offered money. They told aides, including my driver, to defame those involved with me. They also asked them to plant some articles. It could be dangerous substances also," the yoga guru claimed.

Ramdev also asked Congress chief Sonia Gandhi to restrain her party leaders not to use "derogatory words" against him and his associates.
© Copyright 2023 PTI. All rights reserved. Republication or redistribution of PTI content, including by framing or similar means, is expressly prohibited without the prior written consent.