CPC emerges largest political party in the world
Last updated on: June 24, 2011 16:06 IST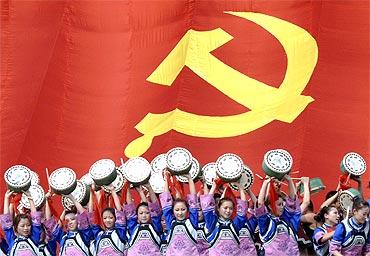 Flourishing well in one-party system, the Communist Party of China's membership exceeded 80 million, making it the largest political party in the world.
The CPC had 80.269 million members by the end of last year, Wang Qinfeng, deputy head of the Organisation Department of the CPC Central Committee told mediapersons in Beijing which was organised in connection with the 90th anniversary of the party.


CPC was founded by Mao Zedong with just 50 members and became 4.5 million when it took over power in 1949 defeating the Kuomintang forces led by Ching Kai Shek.
Please click NEXT to read more..
3.075 million people joined CPC last year
Last updated on: June 24, 2011 16:06 IST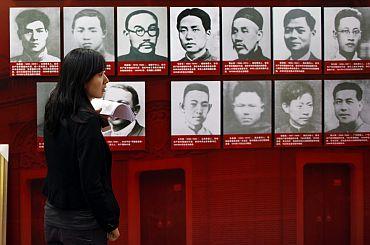 The party was later well integrated into state, with party units in the army and every ministry and government office.
Despite in power for 62 years, the party continued to attract large number of people as 3.075 million people joined the CPC last year, Wang said.
The net increase last year was 2.274 million taking into account members who died or left the party.
The two leading groups in new members were college students and people at the frontline of production or work, such as industrial workers, farmers, herders and migrant workers, both accounting for more than 40 per cent of total new CPC members.
CPC has established 6 schools to provide ideological education
Last updated on: June 24, 2011 16:06 IST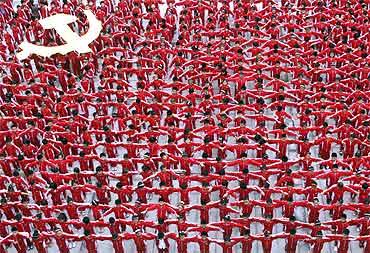 The CPC received 21.017 million membership applications last year, a year-on-year increase of 861,000, he said.
Of CPC's members, 18.03 million were women and 5.338 million were from ethnic minority groups in 2010, accounting for 22.5 per cent and 6.6 per cent of the total respectively, according to Wang.
About 6.812 million members worked in CPC and state agencies, and 18.413 million were managerial staff and professional technicians working in enterprises and non-profitable organisations, and 2.539 million were students, Wang said.
Keen to avert a soviet style collapse, the party has established six schools to impart ideological education and to chalk out future ideological direction.
© Copyright 2021 PTI. All rights reserved. Republication or redistribution of PTI content, including by framing or similar means, is expressly prohibited without the prior written consent.