'Communication gap cause of protests at Koodankulam N-plant'
Last updated on: October 18, 2011 10:11 IST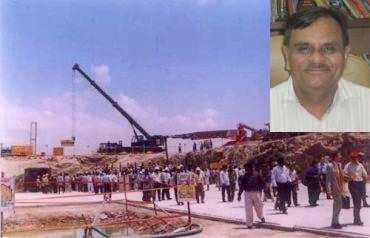 The Koodankulam Nuclear Power Project has been jinxed ever since it was thought of. It was first talked about in 1988 when the Soviet Union agreed to build a plant in India and also supply it fuel. The Soviet Union broke up soon after. 

Years later, India decided to go ahead with the project with some other country as the collaborator. Russia intervened and said it would take over from where the Soviet Union left off. 

Land was purchased but for years together there was only a huge wall around the huge site. In 2000 work started in earnest. A decade later the plant was ready. In late 2005 there was a bomb explosion at the Koodankulam police station. Nothing happened to the plant though. 

Even when the Tsunami struck coastal Tamil Nadu, this area was saved by Sri Lanka, which took the brunt of the giant waves. 

Since 2009 the KNPP regularly puts out press reports that they will be going critical in the next three months. But this has never happened. 

For the last two months, protests have been on in Koodankulam against the project. The protests have been supported by the Tamil Nadu chief minister; while the prime minister has sent his emissary. 

Swapnesh Kumar Malhotra is the head of the public awareness division of the department of atomic energy, government of India. He has been in this post for the past 22 years. Malhotra proudly tells you that he renamed his department because the earlier name 'publicity division' sounded like they were making movies or selling biscuits. 

Rediff.com's A Ganesh Nadar spoke with Swapnesh Kumar Malhotra.
Click NEXT to read further...
'There was a lot of delay in getting safety clearance'
Last updated on: October 18, 2011 10:11 IST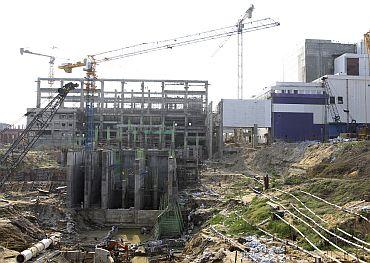 What is the gestation period of the Koodankulam power project?

Let's take the date when we started work. It was in the year 2000. It has taken a decade to build the two reactors and the necessary infrastructure.

Since 2009 you have been saying that we will be going critical in the next three months. But in two years it hasn't started.

It is a major project in India. We had problems meeting the supply schedules. As this is a new technology and most of the equipment came from Russia, there were delays. For the next reactor this delay will not be there. Shipping and clearances took a lot of time. 
I am proud to tell you that there was a lot of delay in getting safety clearance. There are safety clearances at every level, first at the construction level then at the erection level and then at the operating level. 

As this is the first time we are using this technology it has taken more time than we first expected. These things happen. The next two reactors, whenever they come, will take much shorter time. 

So can I say that you are finally ready?

Yes, you can say that. We were aiming for October, but it can get pushed to November. Our chairman had said in Kottayam that we are ready to start production of power. Unfortunately the protests there have delayed the start of the reactor.
Click NEXT to read further...
'We have had cordial relations with the villagers'
Last updated on: October 18, 2011 10:11 IST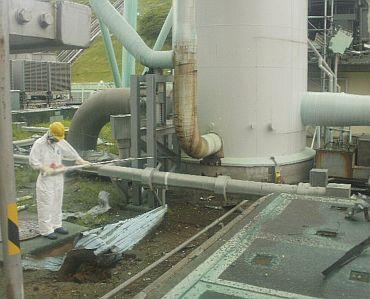 The project has been on for ten years now, how come the protests started two months back?

We too are amused that it took them so long to protest. We are shocked. We have photographs of us with the neighbouring villages. They had a very good relationship with us. We used to have one Agarwal as the project director there. He was so popular that some of the locals named their new born child after him. 

When he came back to Mumbai on promotion 400 people came to the airport in Thiruvananthapuram to see him off. They had put up arches on the road wishing him luck. Then there was Purohit and now Balajee. They all have had good relations with the locals. 

In terms of corporate social responsibility too we had done a lot of work in the nearby villages.
There are forces that are inimical to any project anywhere. Even a flyover is opposed. They cannot stop the project but they are able to delay things. 

Sardar Sarovar project was opposed, Tehri dam was opposed and so was the Narmada dam project. This project also faced opposition from day one. But the locals had not entertained the protesters. 

Suddenly in the last two months they are listening to them. For this I think we are to be blamed. We should have explained to the villagers what we were doing. 

We did not communicate to them what will happen once the plant is in operation. For instance, we have a process called hot conditioning of the plant before we make it critical. We generate steam and we test the various equipment and systems for leakage. 

We put a lot of steam into the system in non-active conditions and test at higher pressures than what is required for the plant. This is normal. When the pressure increases considerably, there are valves that open to let the steam out. 

When these valves are opened there is a loud, shrieking sound. Imagine a thousand pressure cookers blowing their whistles at the same time. Anybody would be petrified. We did not communicate this to the locals properly. If we had told them about the valves opening noisily they would have been prepared for it and not got scared. 

These valves are also opened during the night. Imagine being woken up with this loud noise.

The opponents of the project used this as an opportunity to instigate the villagers against us. The villagers were told that this is only the beginning and when the plant starts this will happen regularly. 

Actually when the plant is in operation the pressure will be much lower and we will not allow steam to escape just like that. The villagers told us that we cannot live with this kind of noise. Forget radiation, this noise is sufficient reason for us to oppose. 

Then when the villagers came to meet the plant officials, they were not allowed to meet them. This further alienated them. 

It is mandatory that we hold an emergency preparedness evacuation exercise before starting the plant. This exercise has to be real. They have to be told to come to a rallying point with their belongings. Then they have to be taken to a place at least 20 km away from the plant. They have to stay one night there and be brought back the next day. 

The opponents told them that we were preparing them for final evacuation. This was a practice drill to get rid of them permanently. 

They have to be given iodine tablets when they assemble at the rallying point. The villagers said, "We were living here happily without iodine tablets and without that noise. We don't want electricity from this dangerous plant. You go away. We will not allow this plant".
Click NEXT to read further...


'Coolant released in the sea will not affect marine life'
Last updated on: October 18, 2011 10:11 IST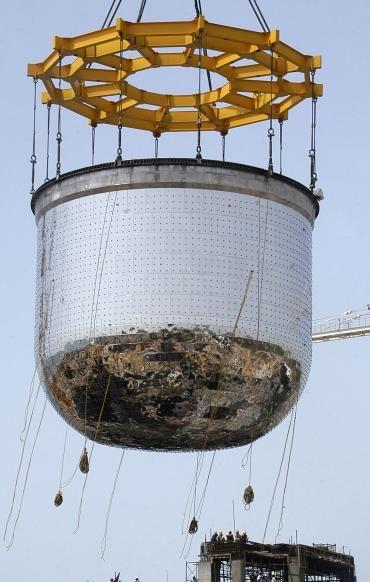 You say you are prepared for a Tsunami. Will the plant survive a three meter wave, a four meter wave, a five meter wave?

Yes, it will survive and you can get the technical details from our website.

What about an earthquake?

Whenever we select a site among, one important parameter is seismic activity. We have to see which seismic zone that area falls under. These zones are prepared by looking at the history of seismic activity in any given area. A zone is defined by the IMD (Indian Meteorological Department). 

There is a seismic map of India. Koodangulam is in zone 2, which is the least problematic. 

Tell me about the waste water that will be going into the sea. 

In a nuclear reactor the primary coolant does not go out of the reactor. The tertiary coolant is sea water. It comes, cools and then goes back into the sea. It goes half a kilometer into the sea. The difference in temperature of the sea water will be about 3 degrees in winter and 5 degrees in summer. Up to 7 degrees increase in temperature is permitted as per international standards. 

Even half a kilometer away the water is distributed like a sprinkler system it does not go out in once place. It will not affect marine life. This fact has been established by research by independent agencies. 
Click NEXT to read further...


'Wherever we put up a plant we are looked upon with hostility'
Last updated on: October 18, 2011 10:11 IST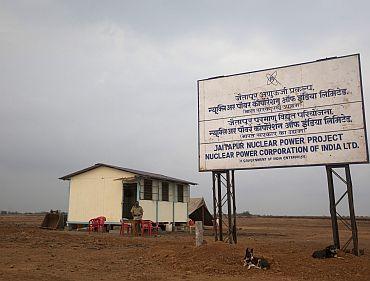 How far is fishing allowed from the plant?

It is not allowed for half a kilometer for security reasons. Beyond that they can fish. It is half a kilometer because it is in the sea. On land our security wall is 1.6 km. No one is allowed within that radius. 

So 1.6 km is the danger area?

It is not the danger area, it is the safety area. If there was danger we would not be working inside the plant, we would not design a plant that is dangerous. Wherever we put up a nuclear plant we are always looked upon with hostility. No one welcomes us with open arms. Later they realise that our plant is safe only after it operates without accident for years together. Trust is built over time. 

What happens in the event of a power failure?

We have four mobile power generators that will come up immediately and the plant will continue to run as usual. These emergency generators do not need any infrastructure to function. 

What is your plan of action?

We are first going to meet influential citizens in the area. Then we will meet the public and the protestors. Now there are panchayat elections there, so we will wait for that to get over on October 21st.