'China thinks there is no question of anyone being superior'
Last updated on: March 1, 2012 17:27 IST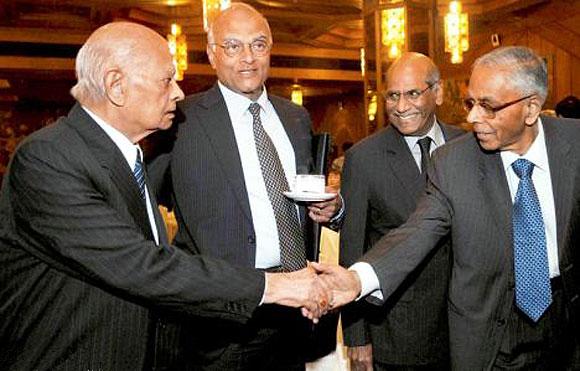 A recent event in Delhi witnessed an interesting debate among strategic gurus about whether India could still claim its adherence to the policy of non-alignment. Sheela Bhatt and Priyanka listen in.
"The strategic objective of China is to become the Middle Kingdom of the region. China thinks there is no question of anyone being superior to it. China wants to become the number one country of the region."
These comments about India's powerful neighbour were made by former National Security Advisor Brajesh Mishra, while speaking at a seminar organised by the Centre for Policy Research.
"China knows that as long as you are embroiled in South Asia, India will not be able to play a larger role in Southeast Asia or in the larger world," said Mishra.
At the seminar, a first-of-its-kind research document -- Nonalignment 2.0 -- was released in a packed hall in a Delhi hotel, in the presence of a galaxy of strategic gurus of today's India.
CPR Chief Pratap Bhanu Mehta managed to get together on the same platform National Security Advisor Shiv Shankar Menon as well as two pioneering and former NSAs -- Brajesh Mishra and M K Narayanan.
Nonalignment 2.0 attempts to provide a comprehensive insight on how India's strategic and foreign policy should evolve in the years ahead. The document is the combined effort of a panel comprising Pratap Bhanu Mehta, Nandan Nilekani,  Srinath Raghavan, Luetenant General (retired) Prakash Menon, Rajiv Kumar, Sunil Khilnani, Shyam Saran and Siddharth Vardarajan.
Click on NEXT for more...
Click here for Rediff Realtime News
'Can't dismiss the possibility of a military offensive'
Last updated on: March 1, 2012 17:27 IST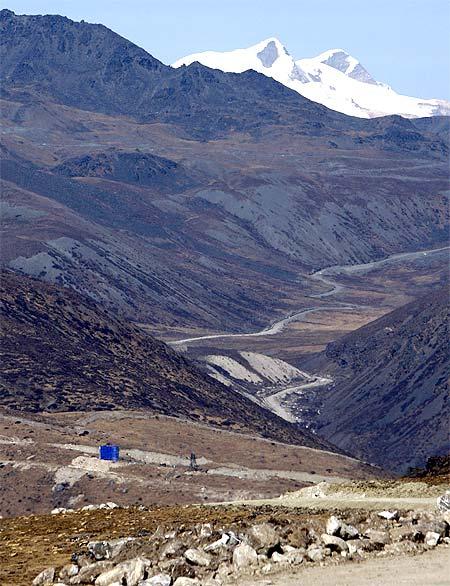 The authors of Nonalignment have, among many trends, taken note of China's significance and the challenges before India in view of the rise of the communist nation.
In the chapter titled Asian Theatre, China, Pakistan, South Asia and West Asia has been discussed.
Significantly, in the chapter titled Hard Power, the authors have even claimed, "Our frontiers with China have been mostly stable for some years now. But China could assert its territorial claims (especially in the Arunachal sector or Ladakh) by the use of force. There is a possibility that China might resort to territorial grabs. The most likely areas for such bite-sized operations are those parts of the Line of Actual Control where both sides have different notions of where the LAC actually runs. These places are known. We cannot also entirely dismiss the possibility of a major military offensive in Arunachal Pradesh or Ladakh. But such an offensive will not come as a bolt from the blue -- there will be some warning in terms of an overall deterioration of diplomatic ties and significant military preparation by the Chinese as long as we have sufficient and reliable surveillance and intelligence capability."
The paper then goes on to suggest what should be India's reaction. "In either case -- whether China resorts to a limited probe or to a larger offensive -- our aim should be the restoration of status quo ante. But this does not mean that we will have to resort to a purely defensive strategy. Indeed, given the fact that the combat ratio and logistic networks favour China and that the attacker will always have the advantage of tactical (if not strategic) surprise, we will need a mix of defensive and offensive capabilities that can leverage the advantages that the terrain offers."
Click on NEXT for more...
Click here for Rediff Realtime News
'China is our most sensitive strategic challenge'
Last updated on: March 1, 2012 17:27 IST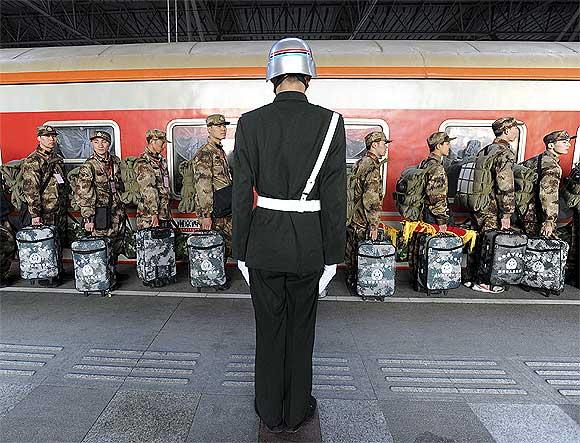 Sunil Khilnani, author and thinker, while providing a summary of the papers, said, "Within Asia, China is by some way our most sensitive strategic challenge. Given the asymmetries between our respective capabilities and influence, it will take considerable skill to reconcile our desire to cooperate with the realities of competition."
While talking about the changing nature of international domain and power equations, Khilnani said, "Power is increasingly diffused and complex in its nature: alongside superpowers like the US and China, the world will contain more hubs and centres of power than ever before."
Mehta invited a debate and dialogue on the course of India's strategic and foreign policy.
It happened too soon!
Just as the paper reached the public domain, NSA Menon, as well as former NSAs Mishra and M K Naraynan, questioned few reasoning in the Nonalignment 2.0 in its understanding and its comments on the strategic and foreign policy issues of the country.
Mishra unambiguously said that the option of following the policy of non-alignment may not exist anymore if India and US become "strategic partners" on equal terms.
He said two countries may not be strategic allies but they can become partners. Mishra opined that India should ideally keep Russia by its side and work on becoming a real strategic partner to the US by actively discussing issues and telling explicitly what it can and cannot do.
"And that is where it ends. Once you join US, there is no non-alignment," he said.
Click on NEXT for more...
Click here for Rediff Realtime News
'US is a difficult partner'
Last updated on: March 1, 2012 17:27 IST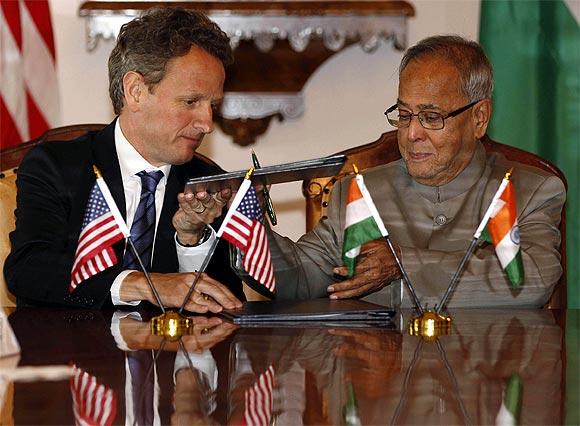 Mishra's argument was that during the Cold War era, the policy of non-alignment was suitable. He posed a question: 'Can India remain non-aligned between the United States and China?"
He also pointed out that in the US State Department, there are people who are not favourably disposed towards India and they advocate stronger relations with China.
In Mishra's experience, he said, in case of America, the decision has to travel from bottom down so that some people (favouring China) in the State Department don't overrule it.
Speaking in a straightforward tone, Mishra stated explicitly that as the struggle between the US and China to attain the top spot of the most powerful nation in the world intensifies, India through its strategic and foreign policy cannot remain a meek spectator and stick to a policy of non-alignment.
"US and China are constantly vying to become supreme global powers today," he argued, "And hence the question of non-alignment just does not exist. It is impossible," he said.
Mishra pointed out that as the Cold War is over, India has been strategically and gradually moving towards the US, in terms of aligning its foreign policies and self-interests with America.
"India wants to be a constant ally of the US," he said, "And the citizens of India are also likely to agree to it, more or less," he added. 
"But US is a difficult partner simply because it has agendas and things to do in every part of the world. At times, this could directly lead to a conflict of interest like it did with Iran," he said.
Click on NEXT for more...
Click here for Rediff Realtime News
'Non-alignment is very difficult today'
Last updated on: March 1, 2012 17:27 IST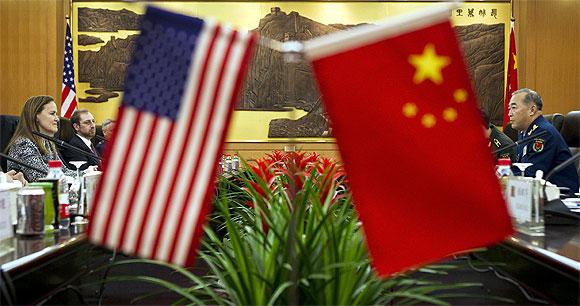 Mishra stated that the US has an international agenda while India has a regional one.
During the tenure of the Atal Bihari Vajpayee-led government, when Mishra was the NSA, Indian soldiers were not sent to fight the war in Iraq or other countries because the prime minister did not want Indian soldiers to fight a battle in a foreign land that was not backed by the consent of people back home.
Mishra also pointed out the doubtful role US played in supporting Pakistan.
"The US policy in Pakistan is more or less the same as the policy which China upholds towards Pakistan, even though US is a friend of ours," he said to an amused audience which nodded in confirmation.
"Non-alignment is very difficult today," he repeated.
NSA Menon also voiced his disagreements on a couple of points of this report. "At the outset, the report says that we need to develop a consensus on the strategic policy, and I am a little cynical about this point of view because I don't think this is either attainable or desirable," he said matter-of-factly.
He explained that it is a popular myth that the foreign and strategic policy of India has never faced stiff domestic opposition and we are made to believe that in the golden age of India's foreign policy, everybody was in agreement.
"Let me correct, there was never such a stage. We have had serious arguments about India's foreign policy right through all the periods of our history," Menon clarified.
"And as a consequence of such arguments, we have always managed to come up with the good, if not the best, decisions. And that debate is necessary especially in a plural society like ours. We need that debate," he observed.
"Hence, for me to reach a consensus on strategic policy is certainly not desirable," Menon concluded with a touch of cynicism. He argued that the non-alignment should be used as a strategy, and not as an ideology.

Click on NEXT for more...
Click here for Rediff Realtime News
'We tend to overestimate or underestimate the role of China'
Last updated on: March 1, 2012 17:27 IST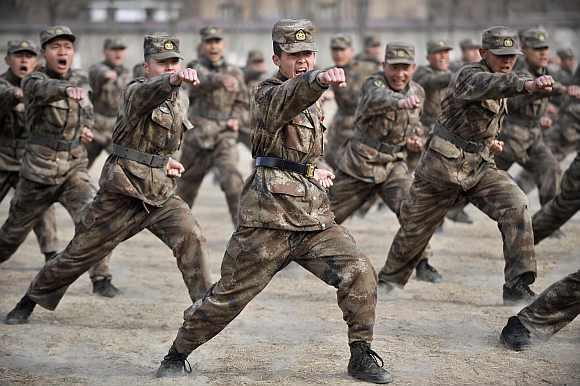 Former foreign secretary Shyam Saran talked about observing keenly how US finalises its policy towards China.
He said, "China is seen to be more amenable when you are seen to have many options."
Former NSA Narayanan, who is currently the governor of West Bengal, was prepared to argue out his take on the document.
He said that the impetus of strategic and foreign policies of India has been derived from our history of handling matters of importance in a non-aggressive and passive manner.
He stated plainly that India has, always, refrained from demonstrating its might openly.
"I believe that the resurgence in the Asia region has brought about dramatic changes in the power structure here," he explained.
"The simultaneous rise of India and China in the world stage is today a salient factor in driving strategic efforts and policy in the region. And hence the underlying theme of this document is that we do not have the same luxury of following a passive tone," he said.
Governor Narayanan said he had expected to see an answer to China's aggressive diplomacy in the research paper.
"I feel that such a distinguished panel should give us a more detailed insight into what we face from China, because I think we tend to overestimate or underestimate the role of China," he said.

Click on NEXT for more...
Click here for Rediff Realtime News
'India should set new standards for what the powerful must do'
Last updated on: March 1, 2012 17:27 IST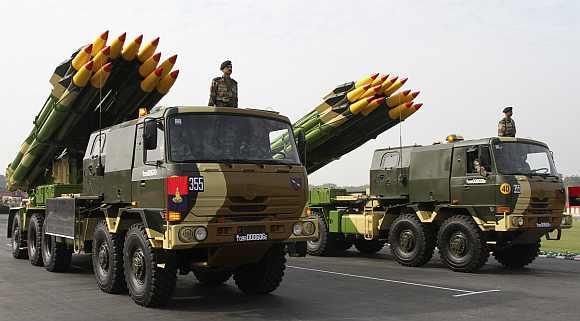 On the issue of India's border disputes with China, the document mentions at one point: "The superiority of current Chinese deployments".
But Narayanan disputed the claim, saying, "We have an advantageous position too." He had a different take on a few aspects of internal security too.
Earlier, while inaugurating the event, Khilnani had said that India must establish new standards of leadership.
"India's adherence to values is a source of its legitimacy in the international system -- and that itself is a form of power. As India's global capacities rise, we need to sustain the legitimacy bequeathed by our national movement. Such legitimacy, if squandered, cannot be easily recovered. India should aim at not just at being powerful: It should set new standards for what the powerful must do."
Mishra also countered the authors of the document on the "values" that they had talked about.
Mishra pointed out, "The report talks about the values of India. But by seeing what is happening in the Parliament, where are the values of the country? We have no values left."
Click on NEXT for more...
Click here for Rediff Realtime News
Check out our top slide shows
Last updated on: March 1, 2012 17:27 IST
Click on MORE to see another set of PHOTO features...